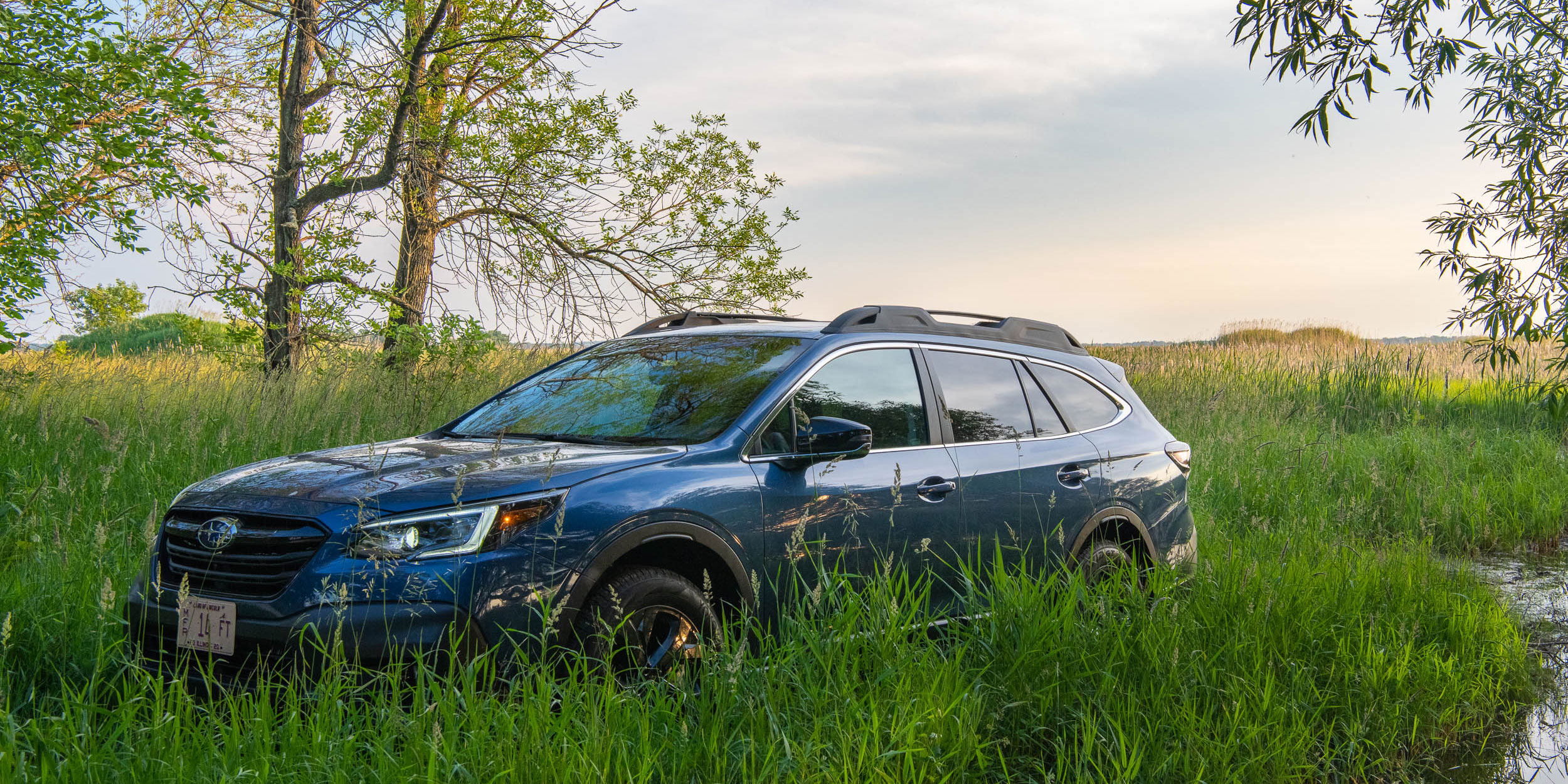 2020 Subaru Outback Onyx Edition XT: Won't get fooled again
Words by Brian Griebenow
Photos by Jennifer Jensen
A HANDSHAKE
As I approach the Abyss Blue Pearl 2020 Subaru Outback that I am about to spend the weekend with, my first thought is how familiar it looks. The color is distinctly different from my own Wilderness Green 2019 Outback, but the shape strikes me as identical.
Doing a quick walk-around, my eyes narrow a bit at the details. The shape of the taillights, the vertical slit running lights where I expect round driving lights. Some differences are noted. 
Arriving at home, I park Outback aside Outback and hop out to compare.
Amazing.
Closer inspection reveals perhaps not a single bit of sheet metal carried over from old to new. Huh, fooled me.
THE NEW
Why invest millions in new tooling to crank out a new car that looks just like the old one?
That's marketing.
Apart from the Etch-A-Sketch, every product needs to be updated from time to time or consumers will feel it's gone stale. If sales are falling away, give it a completely new look.
But if it's a booming success—can you say Outback—then keep it familiar and just touch up the grey.
While the sheet metal initially fooled me into believing this 2020 edition was the same as the 2019 Outback I'd been driving for the past 2 years, I knew better long before I pulled it into my driveway.
My first clue was the touchscreen of near-Teslan proportions.
Impressive, I thought, until I realized the fattened touchscreen had annexed real estate formerly occupied by simple buttons and knobs. That change could have been an acceptable techie update, if it hadn't included some brand-new inefficiencies.
For example…the space occupied by a seat heater pushbutton in the 2019 has now become a seat heater icon on the lowest portion of the 2020's touchscreen.
Pushing the seat heater button in the 2019 turns on the seat heater. Touch the seat heater icon on the 2020 touchscreen and a "Climate" window appears, including an HVAC temperature selector, a lovely image of a seat, and another seat heater icon.
Touching that icon finally turns on the seat heater, after removing the driver's eyes from the road for quite some time. 
The same multiple menu drudgery occurs when trying to turn off the Outback's auto stop/start feature. 
Dear automotive manufacturers, please jot this down…more complicated and better are not synonymous.
Overall, the system menus are intuitive and graphics are fine. But I need to mention the system response feels generally sluggish, a problem I have not experienced with the system in my 2019 Outback.
Please, Subaru and all other manufacturers, do not roll out technology before it is ready. OK, enough tech whining.
THE BOSS
The 2020 model we're reviewing today is called the Outback XT Onyx Edition.
One of seven Outback trim levels available, the Onyx Edition is the least expensive of the three XT offerings.
All Outbacks are powered by an H4, or horizontally opposed flat four-cylinder engine.
Where the base Outback engine is a naturally aspirated 2.5-liter making 182 horsepower and 176 lb-ft of torque, the XT's up the ante to 260 hp and 277 lb-ft from their turbocharged 2.4-liter.
In all cases, the only transmission offered is a CVT (continuously variable transmission). 
My 2019 Outback is the 3.6R Touring. Among 2019 Outbacks, this one was the boss.
The Touring trim with its java brown leather is a thing of beauty, but what really made this the boss was it's silky smooth 3.6 liter, 256 horsepower, naturally aspirated flat-six engine.
For 2020, the 3.6 liter flat-six was put out to pasture, replaced by the new boss… the aforementioned 2.4-liter turbo flat-four.
Way back around the time Subaru was introducing its first all-wheel-drive vehicle to the market, Pete Townshend wrote one of rock's all-time great songs, "Won't Get Fooled Again" ending it with the line, "meet the new boss, same as the old boss". Oh, if only Subaru's new boss was the same as the old boss. But four isn't the same as six, is it?
IS IT BETTER?
Four cylinders may be fewer than six, but realizing that this new four cylinder makes essentially the same horsepower as my trusty old six, it was reasonable for me to assume this new engine would feel familiar to me.
Fooled again!
In reality the XT turbo-four feels and sounds totally different than the retired 3.6R. The old six sounded and felt smooth. The new engine delivers a grumbly four-cylinder sound.
The 3.6R always felt ready to deliver. Small and medium throttle inputs were rewarded with small and medium grunt, right now.
The XT throttle feels like a Slinky. Small and medium inputs often deliver nothing, or a delayed response that may or may not resemble what you asked for.
And full-on wide-open-throttle results in absolutely nothing for a full second and a half, followed by the noise of four angry cylinders delivering pretty-good acceleration.
In contrast, the same sudden WOT in the 3.6R delivered satisfying pull accompanied by a hardy soundtrack.
While this new 2.4 turbo is 1/3 smaller than the old 3.6 flat six, it is rated at slightly more horsepower. And it would likely beat the 3.6 in a flat-out drag race. All true. But regardless, it is fully 1/3 less satisfying to drive than the old naturally aspirated six-cylinder.
But a car is more than the sum of its cylinders. And there is much to like about this new Outback.
THE PROS
The Outback has historically been seen as a lifted station wagon rather than a full-on SUV, and that's still the case.
The cabin is comfortable for five adults and cargo capacity is just right for many of us. Overall, the look and feel of the new Outback's interior are a notch above its price point.
However, this Onyx Edition includes seats upholstered with something Subaru calls StarTex water-repellent upholstery and it's weird. Smooth, rubbery, with a distinctly cheap feel. With lime green stitching. Uh-huh.
I'm happy to report all six of the other Outback models come with either cloth or leather that all look and feel very good.
THE EXPERIENCE
The driving experience of this new Outback is much the same as the previous generation. 
Sound isolation is unexpectedly good with very little wind or road noise. And cornering, while not exactly sporty, is well planted and the 2020 feels a bit less roly-poly than the 2019.
There are certain values that draw buyers to the Subaru Outback.
An Outback should be up to the task of hauling humans, dogs, and cargo over any type of road–and maybe slightly off the road–in any weather, in comfort and safety. And it should do it reliably and easily.
I expected to find all of that in this 260 hp 2020 XT Onyx Edition, and I did. It's a fine car.
It's just not the same…not as wonderful…as the sadly underappreciated 256 hp 3.6R was. I naïvely thought it would be. But I won't get fooled again.