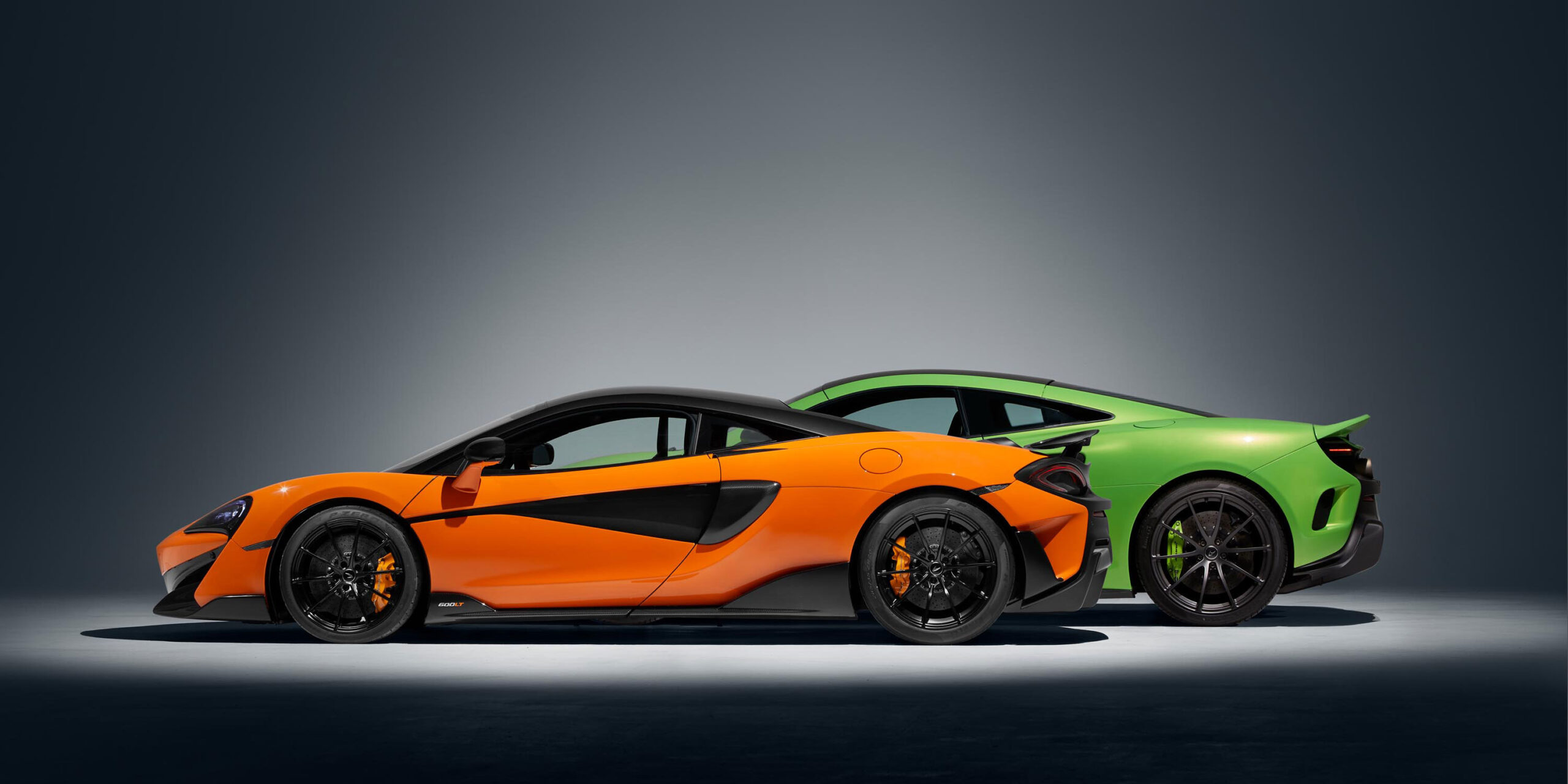 The lightest, most powerful and quickest road-legal Sports Series McLaren makes its world dynamic debut on July 12 in the UK, at the Goodwood Festival of Speed
592bhp and 457 lb ft torque ensures blistering acceleration: 0-62mph is the equal of a McLaren 675LT at 2.9 seconds (0-60mph in 2.8 seconds); 0 – 124mph in just 8.2 seconds
New aerodynamic carbon fibre bodywork – including front splitter, side sills, extended diffuser and fixed rear wing – contributes to 220.5lbs of downforce at 155mph
220.5lbs lighter* than 570S Coupé DIN kerbweight, with a lightest dry weight of 2,749lbs giving a power-to- weight ratio of 474bhp/ton
Optional Clubsport and Clubsport Pro packs available from McLaren Special Operations (MSO) for even lighter weight and more track-focused features
Nearly a quarter of McLaren 600LT parts new compared to McLaren 570S Coupé, including unique top-exit exhaust system and two all-new, ultra-lightweight alloy wheel designs
Forged aluminium double wishbone suspension derived from the McLaren Super Series combine with stiffer anti-roll bars and an 8mm reduction in ride height to help deliver enhanced dynamic performance and new heights of driver engagement
Bespoke Pirelli P ZeroTM Trofeo R tires work in harmony with increased downforce to generate circuit cornering speeds that exceed those of a McLaren 675LT
Latest-generation lightweight brake calipers, carbon ceramic discs and a McLaren Senna-inspired brake booster ensure precise pedal feel and phenomenal stopping power: 124mph to standstill in just 383.9 feet
600LT opens next chapter in the McLaren 'Longtail' (LT) story; production volume strictly limited
Available to order now, priced from $240,000 (US), which includes** a Pure McLaren Road Owner Track Day experience with driver training
The quickest, most powerful and most track-focused – yet road legal – Sports Series McLaren will make its dynamic world debut July 12 at the 2018 Goodwood Festival of Speed. The arrival of the new 600LT, which is built to excel on roads and race circuits alike, marks both the beginning of the next chapter in the McLaren 'Longtail' (LT) story and the setting of a new benchmark for super-sportscar performance.
"The new McLaren 600LT is our most extreme road-legal Sports Series model and possesses the optimized aerodynamics, increased power, reduced weight, track-focused dynamics and enhanced driver engagement that are the hallmarks of any McLaren ''LT'. Only the fourth McLaren in more than two decades to be designated a 'Longtail', the 600LT redefines expectations of super-sportscar performance, delivering astonishing acceleration and outstanding track cornering speeds with a truly extraordinary dynamic connection between driver and car." Mike Flewitt, Chief Executive Officer, McLaren Automotive
The new McLaren 600LT epitomises the McLaren philosophy of producing lightweight super-sportscars that deliver extreme performance and are exceptionally rewarding to drive. With the engine management system of the 3.8-liter twin-turbocharged V8 recalibrated and less back pressure from a top-exit exhaust system that is even shorter and more extreme than that of the McLaren Senna allowing the engine to breathe more freely, the 600LT can call on peak power of 592bhp at 7,500rpm and a maximum torque output of 457lb ft at 5,500-6,500 rpm. These outputs deliver astonishing levels of performance: 0-62mph takes just 2.9 seconds, matching the acceleration of the revered
McLaren 675LT Super Series model (0-60mph in just 2.8 seconds). 0-124mph is achieved in a remarkable 8.2 seconds
and the 600LT can continue gathering speed to a top speed of 204mph.
Inspired by the renowned McLaren 675LT models and their iconic 'Longtail' McLaren F1 GTR racing predecessor, the new addition to the LT family has all the physical hallmarks of a true McLaren 'Longtail', including an extended front splitter, lengthened rear diffuser, fixed rear wing and elongated silhouette – in this case by 2.9in compared to a McLaren 570S Coupé. The unique bodywork optimises aerodynamic performance, working in conjunction with the flat carbon fibre floor of the 600LT to produce the 220.5lbs of downforce at 155mph that generates more grip and greater high-speed stability and is a significant contributor to the car's excellence on a track.
Extensive use of carbon fibre – including for the monocoque chassis that is some 25 percent stiffer than a comparable aluminium chassis and for the new aerodynamic features– together with lightweight materials throughout the track-focused cockpit, helps the McLaren 600LT to achieve a lightest dry weight of 2,749lbs and equivalent power-to-weight ratio of 474bhp/ton. With the optional Super-Lightweight Carbon Fibre Racing Seats developed for the McLaren Senna fitted, the 600LT weighs 220.5lbs less than a 570S Coupé – a remarkable reduction that delivers tangible benefits in every aspect of the car's performance.
McLaren 600LT buyers wanting to go to another level of weight-saving can specify the MSO Clubsport or MSO Clubsport Pro packs from McLaren Special Operations. The MSO Clubsport Pack, which adds $29,370 to the price of a new 600LT, features the Super-Lightweight Carbon Fibre Racing Seats; a Carbon Fibre Interior Upgrade that includes extended gearshift paddles and steering wheel spokes and switch and IRIS display surrounds in the lightweight material; Carbon Fibre Roof and Cantrails, Visual Carbon Fibre Fender Louvres in gloss finish; and titanium wheel bolts. The MSO Clubsport Pro Pack, which adds an MSO Defined Harness Bar and 6-Point harness for track use, in either black, blue, red or McLaren Orange, is priced at $34,600. The Super-Lightweight Carbon Fibre Racing Seats are available as a stand-alone option, costing $6,060.
The remit of any McLaren 'Longtail' model is to engage and excite to the absolute maximum, encouraging – and enabling – drivers to fully exploit the dynamic performance inherent in the car. The ethos underpinning every aspect of the development of the McLaren 600LT was therefore a determination to deliver the purest possible connection between car and driver. To this end, the McLaren 600LT has lighter and stiffer suspension components from the McLaren 720S, the adoption of the forged aluminium double wishbones and uprights not only improving dynamic capabilities, but also reducing weight by 22.5lbs. Ride height is reduced by 8mm over other Sports Series models and front track is increased by 10mm, to deliver a more precise driving experience. The independent, continuously variable adaptive dampers and front and rear anti-roll bars featuring on all McLaren Sports Series models have been retained but are significantly re-engineered to work with the new suspension geometry and create the track-focused performance demanded of the new 600LT.
The adoption of the braking system from the McLaren Super Series, which features lightweight aluminium calipers and stiffer carbon ceramic discs, reduces weight by 8.8lbs, working in conjunction with an all-new brake booster developed using learnings from the McLaren Senna, the result is incredibly responsive and progressive pedal feel during braking and a 124mph to standstill distance of 383.9ft – just 3.3ft more than a McLaren P1TM.
Two new designs of ultra-lightweight aluminium alloy wheels – 10-spoke as standard and a 5-spoke alternative as an $4,950 option – are the lightest wheels ever fitted to a Sports Series, the reduction in unsprung weight bringing a noticeable benefit to the dynamic qualities of the car.
MEDIA Bespoke P ZeroTM Trofeo R tires – developed with McLaren Technical Partner, Pirelli – feature for the first time on a Sports Series model and this unique track-focused tyre is a crucial element in the enhanced dynamic abilities of the McLaren 600LT. Tuned to deliver the immediacy and steering feel for which McLaren is renowned, as well as excellent rear axle stability, the ultra-high-performance tyre features a softer sidewall structure than is usual to improve compliance and so grip levels by ensuring the contact patch with the ground is maintained, even on less- than-perfect surfaces. By contrast, the belt construction of the Trofeo R tyre is stiffer than on any previous Sports Series, to enhance lateral acceleration and improve cornering ability.
The cockpit of the McLaren 600LT exemplifies both weight reduction and a driver-focused environment. Lightweight Alcantara trim material is used extensively throughout and the absence of carpet in the driver and passenger footwells and beneath the seats saves 12.6lbs, while also exposing the carbon fibre beauty of the MonoCell II chassis construction. The glovebox has been removed and the door pockets replaced with lightweight nets, while air-conditioning, satellite navigation and an audio system are all available as no-cost options, not being fitted as standard. Carbon fibre Racing Seats, first seen on the McLaren P1TM and subsequently used in the McLaren 675LT, are standard-fit and save a remarkable 46.3lbs.
Production of the 600LT Coupé will begin in October 2018 and last for around 12 months, with build slots scheduled around existing Sports and Super Series models, as well as the sold-out Senna, Senna GTR and BP23. Availability will be strictly limited, the specialist carbon fibre body panels that require specialist tooling just one of the reasons that the new 'Longtail' will be rarer than its Sports Series brethren. Available to order now from McLaren retailers – subject to availability – the 600LT Coupé is priced from $240,000 (US), which includes** a Pure McLaren Road Owner Track Day at a race circuit, with expert driving tuition.
To discover more about the new McLaren 600LT, visit: http://cars.mclaren.com/sports-series/600lt.
A film showing the car in action can be viewed below.
McLaren 600 LT Coupé technical specification
Drivetrain layout
Longitudinal mid-engined, RWD
Power bhp/kW @ rpm
592/441 @ 7,500rpm
Torque lb ft @ rpm
457 @ 5,500-6,500rpm
Transmission
7 Speed SSG. Normal, Sport and Track modes
Steering
Electro-hydraulic; power-assisted
Chassis
Carbon fibre MonoCell II monocoque, with aluminium front and rear crash structures
Suspension
Independent adaptive dampers, dual aluminium wishbones. Normal, Sport and Track modes
Brakes
Carbon Ceramic Discs (390mm front; 380mm rear); Aluminium Calipers (6-piston front; 4-piston rear)
Wheels (inches)
Front: 8J x 19; Rear: 11J x 20
Tyres
Pirelli P-ZEROTM Trofeo R (P-ZEROTM no-cost option)
Front: 225/35/R19; Rear: 285/35/R20
Length, inches
181
Wheelbase, inches
105
Height, inches
47
Width, with mirrors, inches
82.5
Width, mirrors folded, inches
80.5
Width, without mirrors, inches
76
Track (to contact patch centre), inches
Front: 66; Rear: 62.5
Lightest dry weight, lbs
2,749
DIN Kerb weight, klbs [fluids + 90% fuel]
2,989
Fuel tank capacity, USA gallons
19
Luggage capacity, cubic feet
Front: 5.3
Performance data*
0-60mph
2.8 seconds
0-62mph
2.9 seconds
0-124mph
8.2 seconds
0-186mph
24.9 seconds
0-400m | 1/4 mile
10.4 seconds
Maximum Speed
204 mph
124mph – 0 braking, ft
384
62mph – 0 braking, ft
102
CO2 emissions [NEDC]
EU NEDC: 266 (EU WLTP: 276)
Fuel consumption – (EU l/100km/UK MPG) Combined
Urban
Extra urban
Fuel consumption EU WLTP I/100km (UK MPG) Combined
11.7/100km (24.1mpg)
16.3/100km (17.3mpg)
9.1/100km (31.0mpg)
12.2/100km (23.2mpg)(U.S. Figures TBC)
*McLaren figures, subject to confirmation.