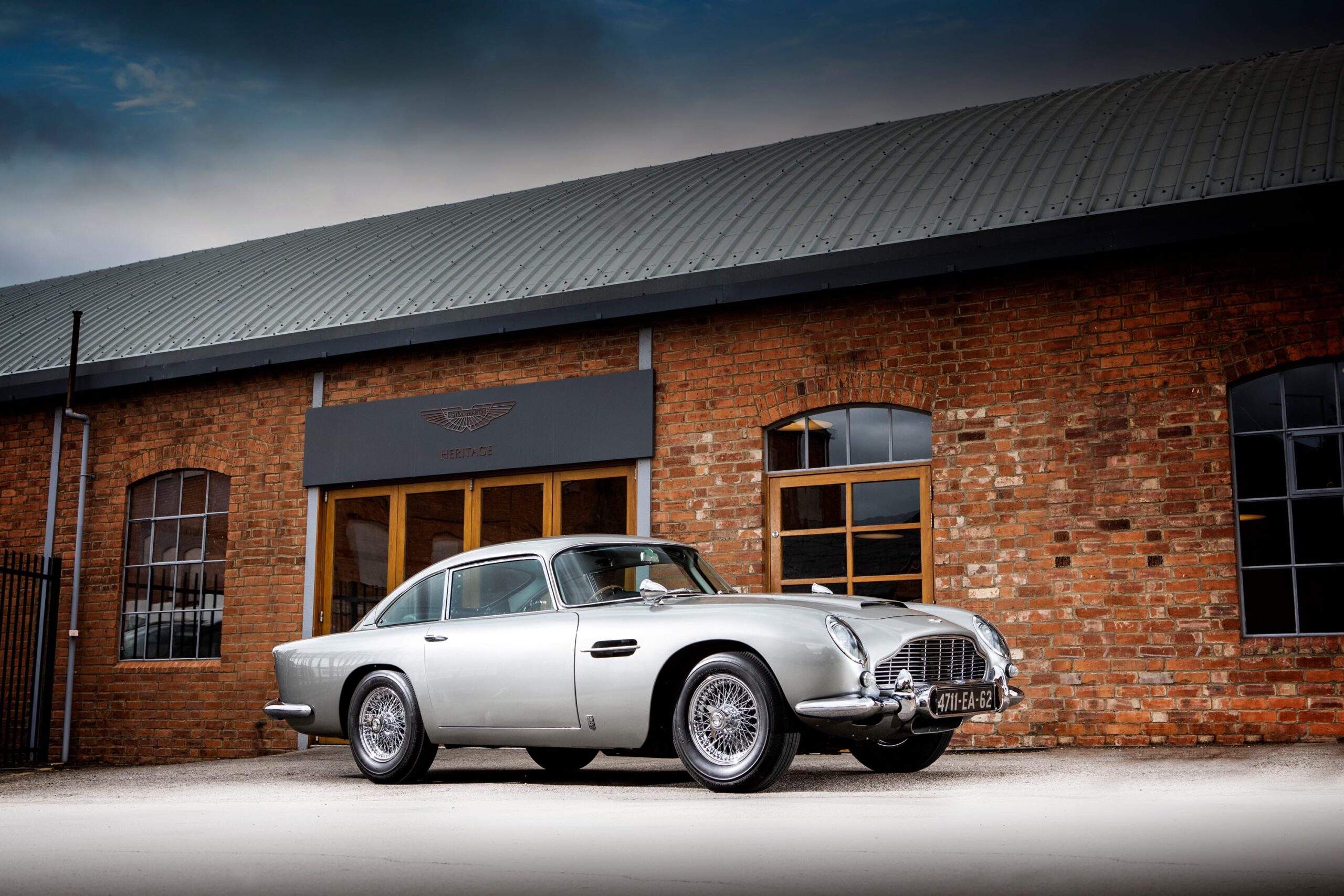 Three North American Debuts for the British Sportscar Maker; exceptional new Valhalla mid-engined hypercar, stunning DB4 GT Zagato Continuation heritage model and Bijan edition bespoke DBS Superleggera
Aston Martin partners with RM Sotheby's for inaugural single-marque auction on Thursday 15 August, featuring a Works DB3S and a James Bond 1965 DB5
Exclusive interactive partner opportunities from Waldorf Astoria, TAG Heuer, Bridge of Weir and more.
8 August 2019, Monterey, California: Aston Martin is gearing up to take Monterey Car Week by storm as it finalises its plans for the annual festival of all things automotive and luxury, on the Monterey Peninsula later this month. The British sports car maker has a comprehensive line-up of events and activities in place for guests to the peninsula to savour from 15-17 August.
Dr Andy Palmer, Aston Martin Lagonda President and Group CEO, said: "This brand is a long-time supporter of the events held during Monterey Car Week and I'm thrilled that we have such a strong and diverse collection of exceptional cars on show there this year.
"With enthusiasts and collectors from all over the world in attendance and some of our most highly prized cars available to order, or on offer at auction, it promises to be another hugely memorable occasion."
AUCTION
Kicking off its activities during this year's car week on 15 August, Aston Martin has partnered with the world's largest auction house for investment-quality automobiles, RM Sotheby's, to host the inaugural one-make sale, An Evening with Aston Martin.
Stemming from Aston Martin's new partnership with RM Sotheby's, the one night event held in the Monterey Conference Center at the Portola Hotel and Spa in Downtown Monterey includes marquee entries for sale such as a 1953 DB3S Works (est. $8,750,000 – $10,500,000) and a James Bond 1965 DB5 commissioned and used in the promotion of Thunderball (est. $4,000,000 – $6,000,000). For further information on RM Sotheby's Monterey auction, to view a complete list of entries, and to register to bid, please visit www.rmsothebys.com
DEBUTS
Leading Aston Martin's activities on the peninsula this year will be North American debuts of two of the brand's most hotly anticipated and highly desirable cars as the Valhalla mid-engined hypercar and the DB4 GT Zagato Continuation heritage sports car both make their public debuts outside Europe for the first time.
The Aston Martin Valhalla will debut on Friday, 16 August at 'The Quail, A Motorsports Gathering' which takes place in a garden-party setting on the rolling greens of Quail Lodge & Golf Club in the picturesque Carmel Valley. Valhalla is a revolutionary mid-engine hypercar incorporating concepts and technologies used in F1™ racing and inspired by Aston Martin Valkyrie. The new car benefits from the close involvement of Red Bull Advanced Technologies in its engineering and continues one of the brightest and most exciting engineering partnerships in the automotive world.
Following its debut at 'The Quail,' the Valhalla will be put on display for the remainder of the weekend at the brand's event space, 'Aston Martin Club 1913,' in Downtown Carmel's Sunset Center.
In addition to the display of Valhalla Saturday and Sunday, the 'Aston Martin Club 1913' venue in Carmel will host debuts of three other important Aston Martins.
The DB4 GT Zagato Continuation heritage sports car will make its North American debut on the Monterey Peninsula accompanied by a 40 percent scale model of the DBS GT Zagato – a very limited edition DBS featuring Zagato coachwork that's paired with the DB4 GT Zagato Continuation as part of the DBZ Centenary Collection. Worldwide volume for this two-car collection is strictly limited to just 19 examples making this a unique project that pays tribute to an icon of the past and while simultaneously creating a classic and future collectible.
Joining the Valhalla, DB4 GT Zagato Continuation and DBS GT Zagato cars, a special edition Aston Martin DBS Superleggera commissioned by iconic luxury brand House of Bijan will also debut during Monterey Car Week. The bespoke special edition DBS is built in partnership with Aston Martin through the luxury brand's bespoke personalization service – 'Q by Aston Martin'.
The special edition DBS features a number of striking enhancements to the car which make it instantly recognizable; perhaps most notably the bespoke 'Bijan Yellow' exterior paint finish which includes a subtle paisley pattern ghosted into the bonnet paint. Inside, interior detailing has been finished in Bijan's characteristic soft alligator leathers; the owners initials can be personalized to the veneer, and the Bijan insignia is found throughout. This new edition will be available in both Coupe and Volante specification by order through Aston Martin authorized dealers worldwide, as well as through the House of Bijan directly.
ASTON MARTIN CLUB 1913
Throughout the weekend, 'Aston Martin Club 1913' at The Sunset Center in Downtown Carmel will serve as the brand's headquarters with several interactive opportunities from both Aston Martin and the company's exclusive partners for guests to enjoy.
Following announcement of a four-year global partnership this past winter bringing together two enduring icons of global luxury to launch a new era of performance and hospitality, Aston Martin and Waldorf Astoria have combined forces this year to serve guests the ultimate VIP experience at 'Aston Martin Club 1913' throughout the weekend.
An exclusive Waldorf Astoria branded pop-up lounge at The Sunset Center featuring light bites; Piper-Heisdeck champagne, Cima Collina wine and Illy Coffee served from Baccarat crystal glassware; Waldorf Astoria spa services; pet amenities and lawn games brings the same levels of relaxation and refinement a guest might experience at a Waldorf Astoria property, repackaged for Monterey Car Week.
On Saturday, August 17, the Aston Martin Club 1913 lounge will include a live DJ spinning music sponsored by Beats By Dre, while Waldorf Astoria will offer artisanal picnic baskets to attendees to dine and relax on the terrace between other activities or to take on-the-go for a visit to the nearby beach or a road trip.
Saturday evening, Aston Martin will once again host its annual 'Crash the Party' event held at the Sunset Center featuring a bespoke flower market and surprise and delight moments from Waldorf Astoria creating an environment where guests can 'Live Unforgettable'.
In addition to Waldorf Astoria, a number of other Aston Martin partners will be joining the British brand in celebration of Monterey Car Week.
Swiss watchmaker and brand partner, TAG Heuer, will join Aston Martin at 'Club 1913' where they will establish a pop-up retail shop featuring the brand's latest timepieces. For more than 150 years, TAG Heuer has faced down every challenge, and then pushed past it. By defying the time-honored conventions of Swiss watchmaking, it has led it to ever higher levels of precision and performance. It makes its own rules, chooses its own path, never quits moving forward, never compromises, never cracks under pressure.
Joining TAG Heuer and Waldorf Astoria, iconic leather company Bridge of Weir will be present on the promenade of 'Aston Martin Club 1913' creating bespoke leather luggage tags for guests to take home with them as a memento of their time with Aston on the peninsula. Crafted from the very same upholstery materials Aston Martins are finished in, the Bridge of Weir luggage tags – just like their other products – blend old-world craftsmanship with the latest technologies to produce some of the finest quality leather upholstery surfaces within the automotive industry.
TEST DRIVES
The highlight of any Monterey Car Week is always the cars themselves. The 'Aston Martin Club 1913' venue in Carmel is the best place for consumers to get up close and personal with the brand's latest sportscars. Guests holding a valid California license will have the opportunity to sample the entire Aston Martin product range with special, curated, test drives around the peninsula. Available cars include the 2019 DB11 AMR, DB11 Volante, DBS Superleggera, DBS Superleggera Volante and the 2019 Vantage.
For details of Aston Martin's activities during Monterey Car Week, and to register interest in attending a particular event or booking a test drive, please visit: AstonMartinClub1913.com