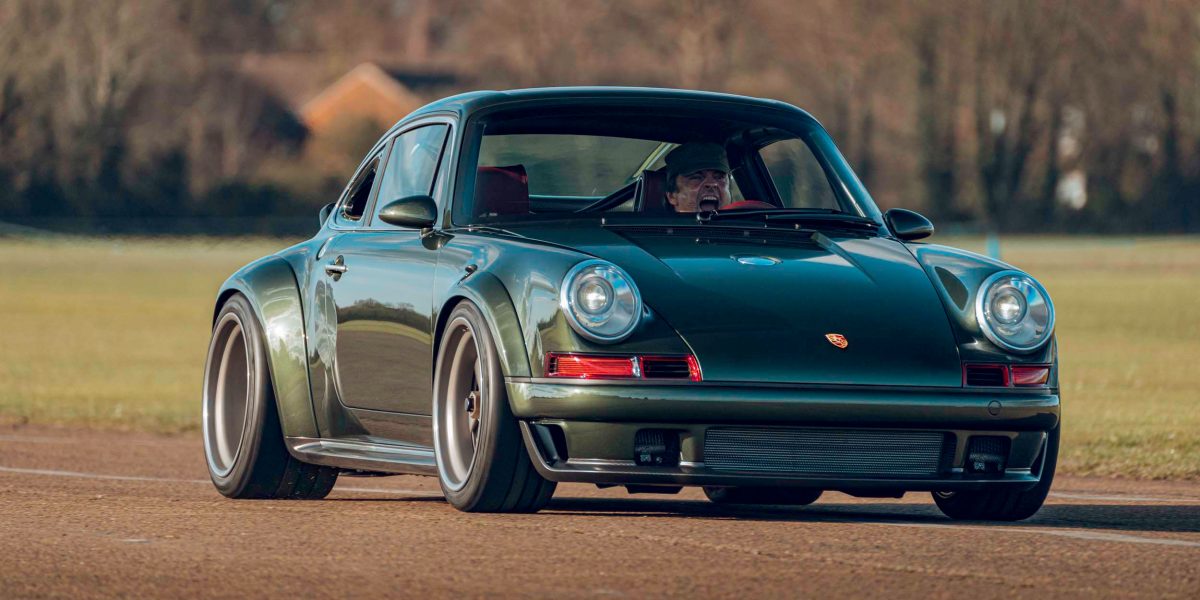 LATEST MILESTONE ROUNDS-OUT SIGNIFICANT 12 MONTHS FOR SINGER – CLIENT-SPECIFICATION DLS RESTORATIONS MOVING THROUGH FINAL ASSEMBLY
Despite global pandemic, Singer has grown with record new orders and expanded team.
UK – March 31, 2021 – Last Wednesday, Singer's Founder and Executive Chairman, Rob Dickinson, experienced pure joy at the company's new UK HQ at Bicester Heritage, when he drove the first client-specification example of the results of the Dynamics & Lightweighting Study (DLS) for the car's shakedown.
The study represents Singer's exploration of the ultra-high-performance potential of the air-cooled Porsche 911, on behalf of its clients. With a formation of some of the most important automotive performance brands, Singer has pursued light weight, high performance, and extraordinary execution to delight owners and enthusiasts. Restorations representing the results of the Dynamics and Lightweighting Study are moving through final assembly and anticipated to be in their owners' hands in the coming months.
"What a fantastic* experience! The towering team of talented heroes we managed to assemble for the Dynamics and Lightweighting Study has produced an astonishing result – the car is simple extraordinary." noted Dickinson.
He added, "I am so happy for our commissioning clients – we will be repaying their immense patience and trust with a truly remarkable machine."
Dickinson was joined at Bicester by Singer's Head of UK Operations, Dave Embling; Head of Dynamic Development, Marino Franchitti; Chief Engineer Paul Eastman; Head of Engine Development John Magee; Head of Electrical System, Adam Lister.
Mazen Fawaz, CEO of Singer Group, Inc. explains – "The last year has been unlike any other and has presented incredible challenges for a growing automotive company employing teams on both sides of the Atlantic. We've risen to every one of them.
We've seen a record 12 months for new orders for our restoration services, despite the absence of the usual events calendar. We reopened our operations in both California and the UK after the enforced shut-downs of COVID-19 and grew our team size from 120 to 150 across the US and UK. We've kept cars moving through the restoration process, despite the shutdown of the global supply chain. We've adapted our working practices to the pandemic world and cars will continue to be completed and presented to their owners.
To achieve all this and maintain our extreme quality standards has taken an incredible team effort. To see the cars being completed, hear them running and feel how special they are to drive means everything to us. I would like to say thank you to every one of our clients. They have supported and encouraged us every step of the way."
(*fantastic was not the exact word Rob used but it does share appropriate letters.)