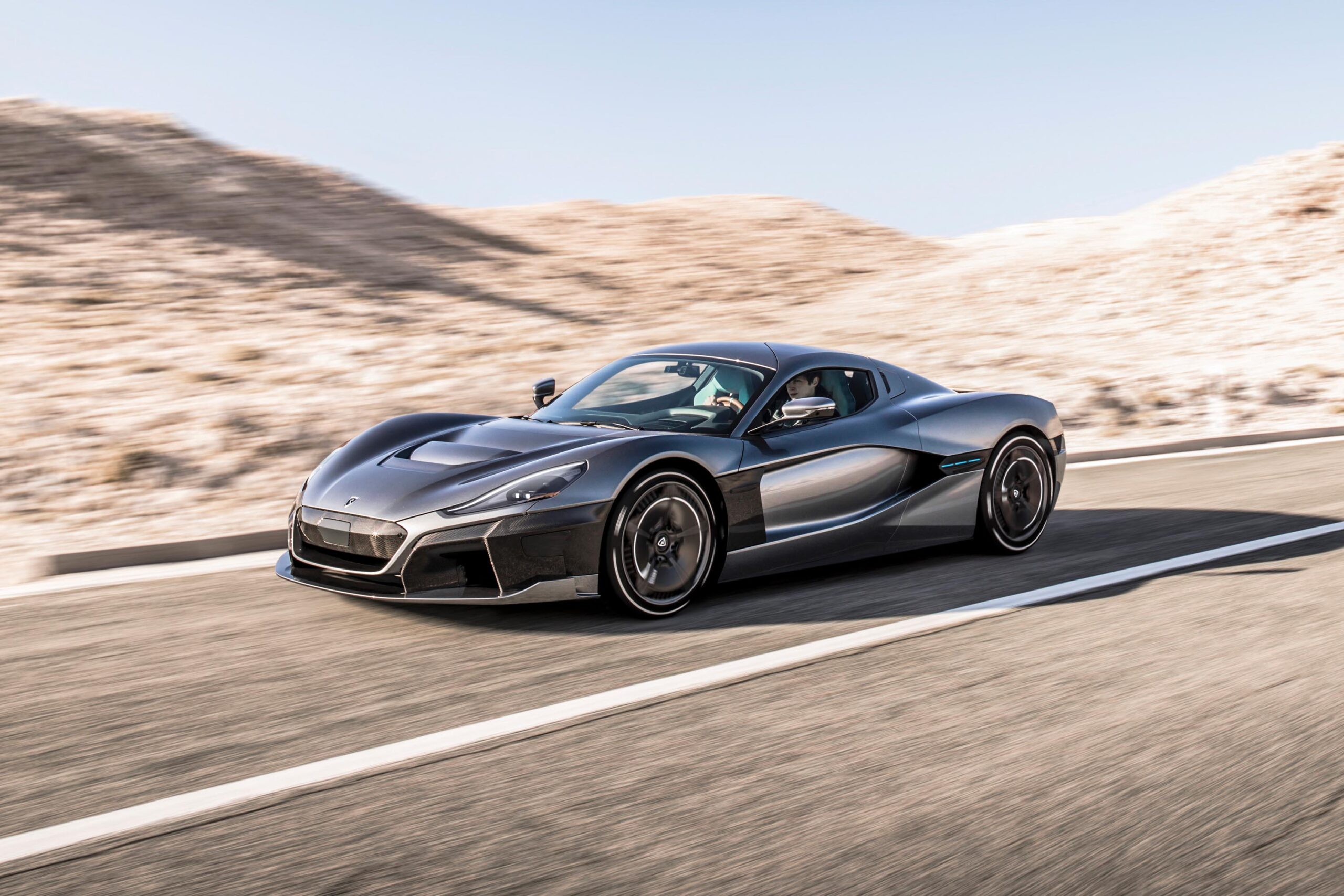 Fastest accelerating, most technologically-advanced hypercar ever built
0 to 60mph in 1.85 seconds
0 to 186mph in 11.8 seconds
Top speed of 258 mph
4 electric motors and a 120 kWh battery generating 1,887 bhp and 2,300 Nm of torque
Limited to 150 units
First deliveries 2020
Windsor 30th July: The Directors of Salon Privé are delighted to announce another spectacular launch at this year's event with the return of Rimac Automobili who will present their sensational Rimac C_Two.
In less than 10 years, Rimac Automobili, based in Croatia, has become a technoloigcal powerhouse not only creating its own spectacular hypercars, but also developing full technology solutions for global automotive manufacaturers such as Aston Martin, Automobili Pininfarina, Koenigsegg, Porsche and many more. Porsche AG and Hyundai Motor Group have also become minority shareholders in the last two years.
The all-new Rimac C_Two is a testament to the company's tehcnological advancements. Engineered as a pure electric GT and using the expert knowledge gleaned from the brilliantly powerful Concept_One, first shown at Salon Privé back in 2012, the Rimac C_Two combines the very best materials and bespoke technology to create the most technologically-advanced as well as fastest accelerating hypercar ever built.
David Bagley, Co-Founder & Sales Director commented, "What Mate and his team have achieved in such a relatively short period of time is simply extraordinary. Not content with designing, engineering and building their own amazing hypercars, they have become technological partners and OEM suppliers to some of the world's oldest and most prestigious automotive brands which is an incredible achievement in itself. Having first met Mate at Villa d'Este when the company and Concept_One were newly-launched, on a personal level, it's thrilling to see the company where it is now, leading the world in EV technology systems."
Designed and produced in-house, it is made entirely from scratch with all-new, groundbreaking technologies such as a full carbonfibre monocoque with bonded carbon roof, integrated battery pack and powertrain. An innovative battery pack in technology and layout delivers 120 kWh energy and 1.4MW of power with exceptional thermal management. With a top speed of 258 mph (412 km/h), a zero to 60mph time of 1.85 seconds and a zero to 100 mph (161 km/h) time of 4.3, the Rimac C_Two makes devastating use of the instant-torque available to an electric vehicle and the traction made possible by the unique drivetrain and bespoke tyres. More than that, the Rimac C_Two maintains its sensational acceleration throughout the full-throttle cycle, achieving 186 mph (300 km/h) from rest in just 11.8 seconds. Next-generation R-AWTV (Rimac All-Wheel Torque Vectoring) controls four electric motors, one per each wheel and is available (and necessary!) to harness 1,887 bhp (1,408 kW) of power and 2,300 Nm of torque – two and a half times the torque output of a contemporary hypercar.
With protoypes now in production, the Rimac C_Two will soon take its final shape and the first customers cars will be delivered in 2020.
Rimac Automobili Founder & CEO, Mate Rimac said, "We are very excited to be back at Salon Privé, celebrating automotive history and bringing a taste of the future. 2012, when Rimac Concept_One – the world's first all-electric supercar made its debut at Salon Privé, seems light years away. This time around, we will join with our new generation, the Rimac C_Two – the fastest accelerating, most exciting, and most technologically-advanced hypercar ever-built. We are looking forward to sharing the event with H.R. Owen, our Official Partner in the UK."
EDITORS' NOTES:
Now in its 14th year, Salon Privé is a must-attend event for any car enthusiast or aficionado. Having been invited into the Peninsula Classics Best of the Best Award, the Concours is now recognised by the experts as one of the top events in the world alongside Pebble Beach, Villa d'Este and Amelia Island to name a few. It is an automotive Garden Party held within the grounds of 'Britain's Greatest Palace', Blenheim Palace and firmly established as the UK's most exclusive automotive Garden Party.
Salon Privé showcases a globally-recognised Concours and a one-marque 'Masters' celebration within the same four-day event; firstly, the 'Salon Privé Concours d'Elégance by Chubb Insurance' on Thursday 5th September comprising 50 eclectic historic cars and 20 motorbikes, followed by 'Salon Privé Bentley Masters by Chubb Insurance, Pirelli & Lockton Private Clients' celebrating Bentley's 100th Anniversary on Saturday 7th September. 'Salon Privé Ladies' Day by Boodles', a favourite on the British social calendar sits between the two on Friday 6th September as does the first of 2 new events, Salon Privé LIVE that evening located in nearby Woodstock. Finally, the newly-formed Salon Privé Classic & Supercar featuring the Lockton Club Trophy and Salon Privé GT Tour by Lockton Performance will become our finale day for the public on Sunday 8th September. For more information, please contact David Bagley – [email protected]
Tickets can be purchased via the website www.salonpriveconcours.com or by calling the Ticket Hotline: 0808 100 2205.