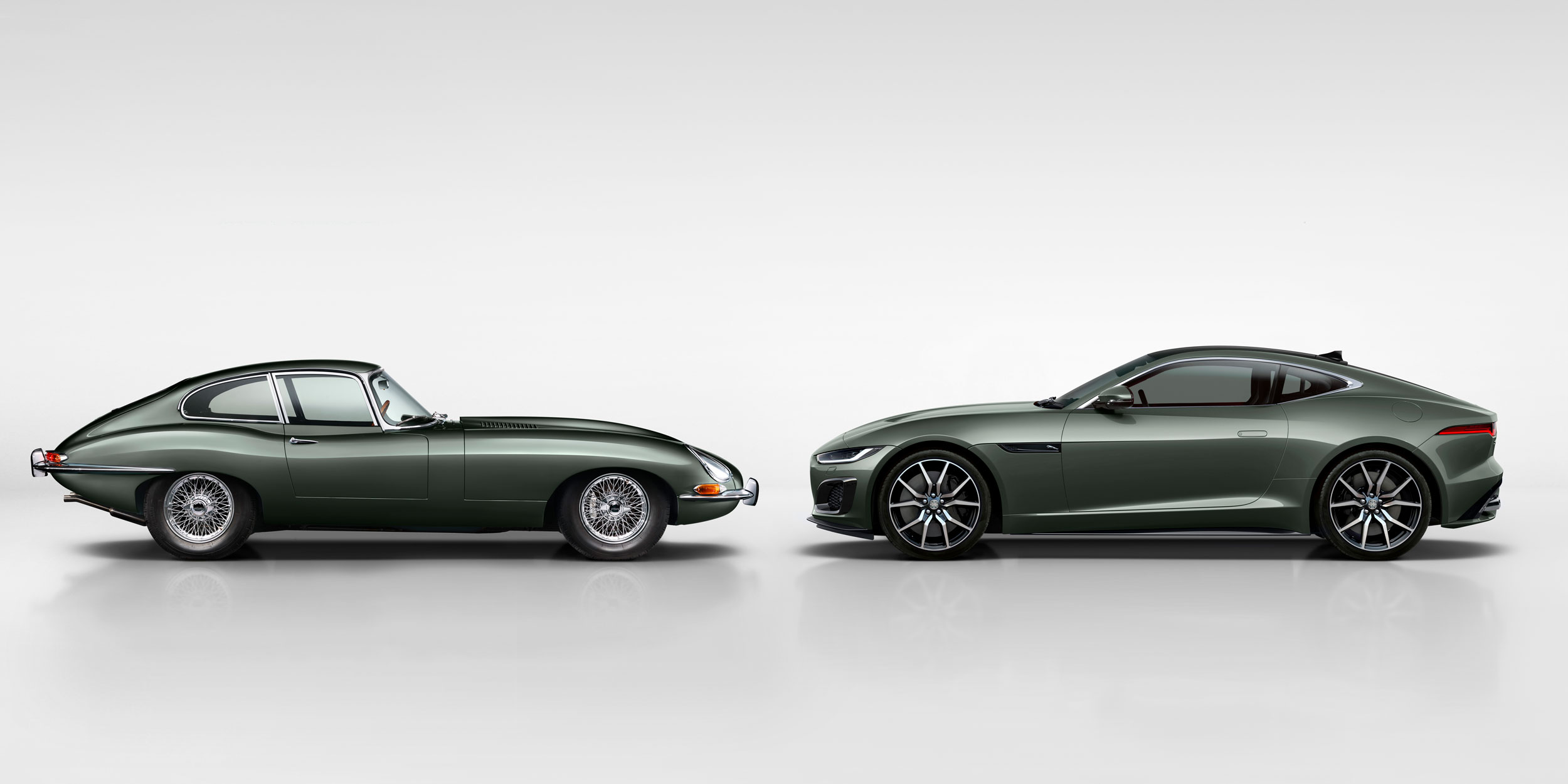 Commemorating a milestone: Jaguar will celebrate the diamond anniversary of the legendary E-type in March 2021 with distinctive new F-TYPE Heritage 60 Edition from SV Bespoke
Sixties-inspired: F-TYPE Heritage 60 Edition revives Sherwood Green paint from E-type palette not offered since the 1960s
Limited availability: Sixty hand-finished cars available worldwide, in either convertible or coupe body styles, feature exclusive, heritage-inspired Gloss Black and Chrome accents and Diamond Turned Gloss Black 20-inch forged alloy wheels
Bespoke interior: Heritage 60 Edition also includes specially curated interior materials and features including bespoke duo-tone Caraway and Ebony Windsor leather, E-type-inspired aluminum console finisher and SV Bespoke commissioning plaque
A nod to the past: Commemorative "E-type 60" badging shared with the six limited-edition matched pairs of 3.8-liter E-type 60 Collection cars restored by Jaguar Classic
(MAHWAH, N.J.) – December 9, 2020 – Jaguar is marking the sixtieth anniversary of the E-type sports car in 2021 with the introduction of a limited-edition F-TYPE Heritage 60 Edition. Only 60 of these all-wheel drive sports cars, which are based on the supercharged, 575-hp F-TYPE R, will be available for sale worldwide—each one hand-finished by the personalization experts at SV Bespoke.
"Celebrating 60 years of the iconic Jaguar E-type is the perfect moment to create our first-ever SV Bespoke limited edition – and the rarest F-TYPE, with just 60 cars available globally," said Mark Turner, Commercial Director, Jaguar SV Bespoke. "We've worked closely with Jaguar Design to develop a theme for the F-TYPE Heritage 60 Edition that pays homage to the E-type in a contemporary way. It's testament to Jaguar's sports car design lineage that the 1960s Sherwood Green color looks as though it was designed for today's F-TYPE."
A specially curated commemorative specification includes solid Sherwood Green paintwork, an original E-type color not offered on a new Jaguar since the 1960s, and a model-exclusive, extended duo-tone Caraway and Ebony Windsor leather interior trim. The limited-run F-TYPE Heritage 60 Edition also features a unique aluminum console finisher, inspired by the rear-view mirror casing of E-type; the E-type 60th anniversary logo, which is embossed on the headrests of the lightweight Performance seats; and E-type 60 badging shared with the limited-edition E-type 60 Collection vehicles, which were announced by Jaguar Classic earlier this year. Commemorative treadplates, an SV Bespoke commissioning plaque and Caraway-edged carpet mats provide finishing touches.
The F-TYPE Heritage 60 Edition is available in both coupe and convertible body styles with exclusive Diamond-Turned Gloss Black 20-inch forged alloy wheels, Gloss Black and Chrome exterior accents, and black brake calipers. Each Heritage 60 Edition will be built at the Castle Bromwich plant in the United Kingdom and finished by the SV Bespoke team at Jaguar Special Vehicle Operations in Warwickshire.
"The F-TYPE Heritage 60 Edition is a fantastic example of what the SV Bespoke team is capable of," said Clare Hansen, Director of Vehicle Personalization, Jaguar Special Vehicle Operations. "With unrivalled access to original drawings, paint codes and reference materials, working hand-in-hand with our colleagues at Jaguar Classic, we've created a distinctive and highly collectible interpretation of the definitive Jaguar sports car."
To celebrate the 60th anniversary of its iconic sports car, Jaguar Classic is creating six limited-edition matched pairs of restored 3.8-liter 1960s E-type vehicles paying tribute to two of the most famous examples: '9600 HP' and '77 RW', known as the E-type 60 Collection.
F-TYPE R, which forms the basis of the F-TYPE Heritage 60 Edition, embodies Jaguar design DNA in its purest form. The two-seat, all-wheel drive sports car offers a perfect balance of performance and driver reward with an even more muscular, assertive design and a cabin defined by rich, luxurious materials and beautiful details. The sprint from 0-60mph takes just 3.5 seconds, while maximum speed is an electronically limited 186mph.2
Pricing for the F-TYPE Heritage 60 Edition in the United States is subject to future announcement. Every new Jaguar vehicle, including F-TYPE Heritage 60 Edition, comes with Jaguar EliteCare, a best-in-class ownership package.3 Jaguar EliteCare coverage offers:
5-year / 60,000-mile new vehicle limited warranty
5-year / 60,000-mile complimentary scheduled maintenance
5-year / 60,000-mile 24/7 roadside assistance
5-year / unlimited-mile Jaguar InControl® Remote & Protect™ connected services
1.These features are not a substitute for driving safely with due care and attention and will not function under all circumstances, speeds, weather and road conditions, etc. Driver should not assume that these features will correct errors of judgment in driving. Please consult the owner's manual or your local authorized Jaguar Retailer for more details.
2.Always follow local speed limits.
3.Class is cars sold by luxury automobile brands and claim is based on total package of warranty, maintenance and other coverage programs. For complete details regarding Jaguar EliteCare coverage, please visit JAGUARUSA.COM, call 1.800.4.JAGUAR or visit your local Jaguar Retailer.