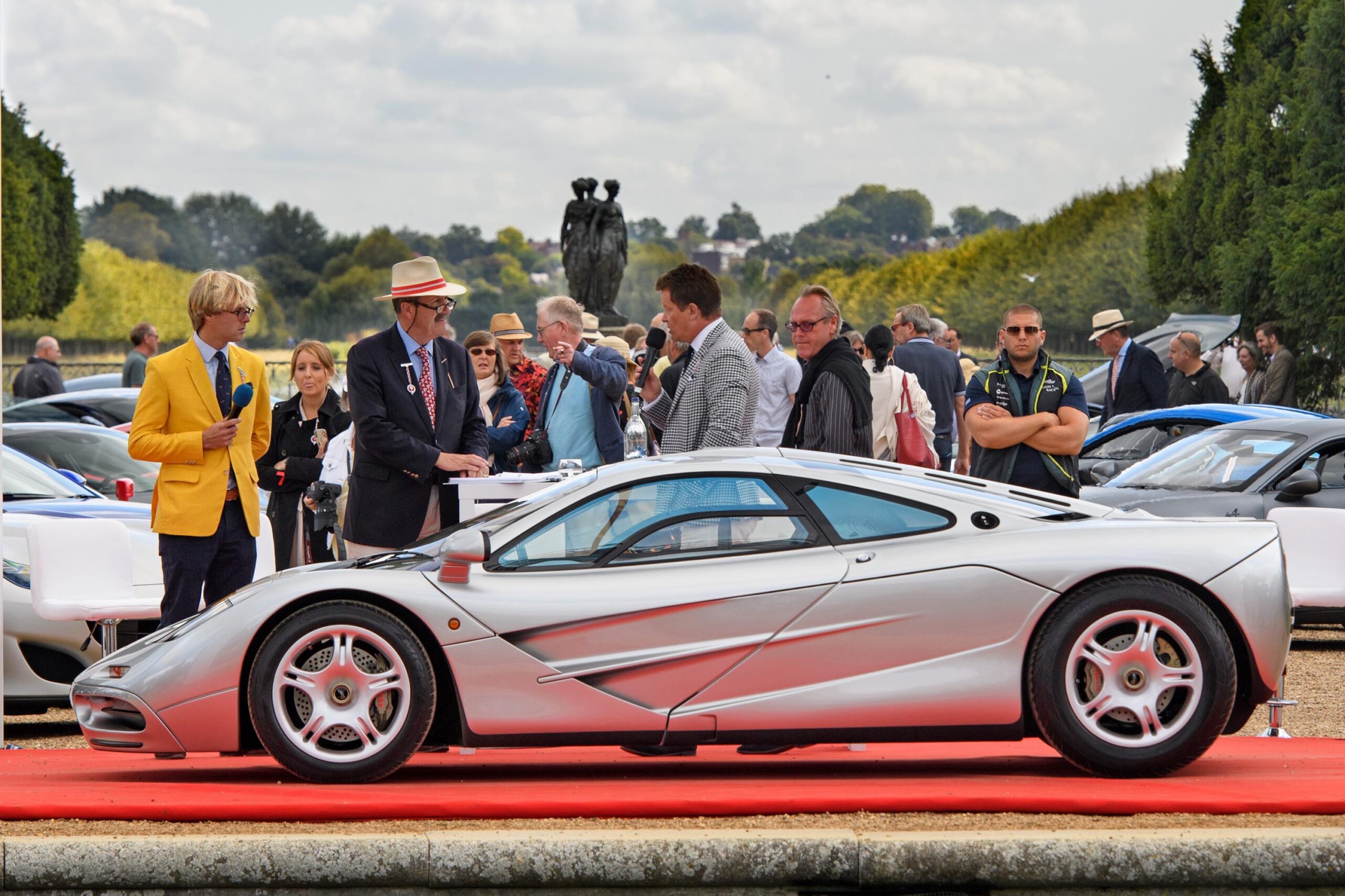 Newly-restored McLaren F1 chassis 63 wins Best in Class at Hampton Court Concours of Elegance
McLaren Senna claims Best of Show honours at Salon Privé Classic & Supercar
New GT showcased at Hampton Court Concours of Elegance
McLaren Special Operations (MSO) displays 720S Spider in Coriolis and 600LT Coupé at Hampton Court
A magnificent, fully restored McLaren F1 won Best in Class at the Hampton Court Concours of Elegance, whilst a McLaren Senna claimed the same honours at Salon Privé Classic & Supercar in the grounds of Blenheim Palace as McLaren Automotive celebrated double successes on Sunday, September 8.
The McLaren F1 Chassis 63 was the subject of a recent restoration by McLaren Special Operations (MSO). Resplendent in its repainted Magnesium Silver body, the F1 was one of the most coveted exhibits at the show, as proven by its award-winning status. Subjected to almost 3,000 hours of work over an 18-month period, this car has also been issued a McLaren F1 Certificate of Authenticity by McLaren Automotive.
The McLaren Senna on display at Salon Privé Classic & Supercar was finished in Nerello Red and Volcano Red – colours first seen in a blend on the 720S Velocity – with Volcano Red wing end plates wearing the Senna Brand Trademark in Gloss Visual Carbon Fibre. Designed to be the world's finest road-legal track-focussed car, the McLaren Senna was launched in late 2017, with all 500 units sold. Production of this Ultimate Series model is almost complete, with 75 track-only Senna GTRs with build having begun at the McLaren Production Centre and every one of these has been allocated.
McLaren's newest car also starred at Hampton Court, with a McLaren GT in Viridian looking entirely at home in the prestigious Hampton Court grounds. The new GT brings McLaren dynamics and light weight to the Grand Touring class, featuring a 620PS twin-turbo V8 engine, a luxurious interior and 570 litres of storage space.
MSO was also represented by a unique McLaren P1TM GTR that was designed to celebrate the 30th anniversary last year of Ayrton Senna's first World Championship with McLaren. Liveried in Rocket Red and Anniversary White, the colours of then-sponsor Marlboro, this McLaren P1 TM GTR has also benefitted from several bespoke enhancements to the power and aerodynamic performance of the already-phenomenal McLaren P1TM GTR. It is the car's stunning bodywork, however, that made it a hit with the Hampton Court visitors.
Further MSO representation included two cars that showcased the possibilities to personalise a McLaren. The Coriolis 720S Spider debuted at the Geneva International Motor Show this spring, and was also on show at the Goodwood Festival of Speed. This stunning car features an innovative Coriolis tri-tone blend of paints that visually describes the aerodynamic abilities of the 720S Spider's bodywork as well as a beautiful flow of visual carbon fibre from the cabin to rear deck.
The 720S Spider by MSO was complemented by a 600LT Coupe in MSO Heritage Volcano Orange, a colour that certainly stood out in the early autumn sun at Hampton Court. With all examples of the 600LT Coupe now allocated, prospective customers should contact their local retailer now to secure the last of the equally- acclaimed 600LT Spiders.
"The Hampton Court Concours of Elegance and Salon Privé Classic & Supercar are two of the most prestigious automotive showcase events in the UK, so it's wonderful to have won Best in Show and Best in Class awards at the events. It's also entirely fitting to have the new McLaren GT on display, which is a perfect fit alongside some of MSO's finest work from the last 12 months, and I'm sure we'll see some amazing MSO treatments on this car over the coming year."
Alex Long, Regional Director, Europe, McLaren Automotive.