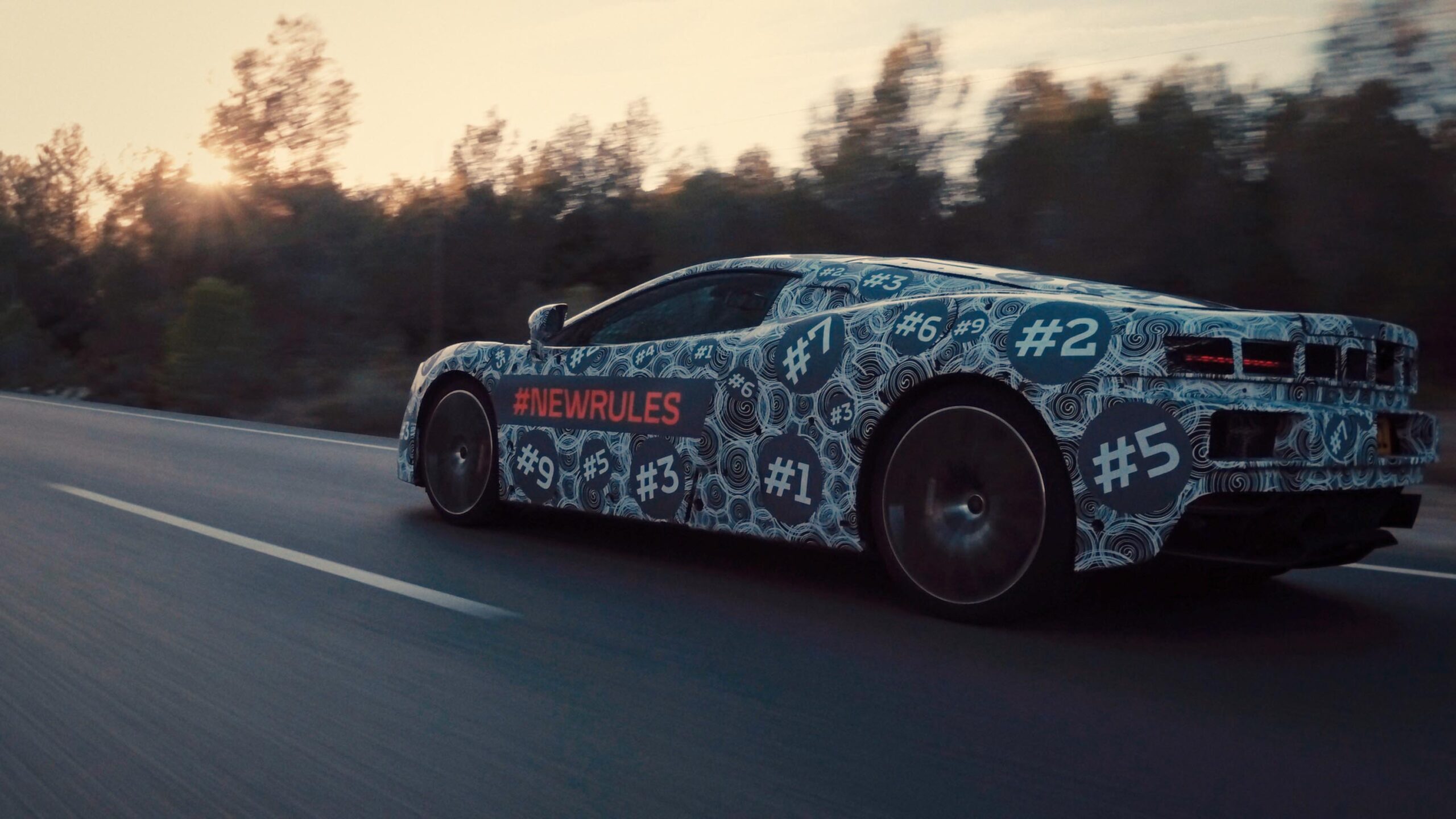 McLaren announces intention to introduce a new Grand Tourer
Announcement made by CEO, Mike Flewitt, during McLaren's Geneva press conference
Image released of a camouflaged car
The fourth McLaren to be revealed under the Track25 Business Plan
Revealed in a few months time; follow cars.mclaren.com/newrules
McLaren promises to redefine the rules of Grand Touring when it releases its own interpretation of the Grand Tourer in just a few months. The announcement was made by CEO, Mike Flewitt, at the company's press presentation during the 89th International Geneva Motor Show.
"The fourth McLaren to be introduced under the Track25 business plan will be our interpretation of the Grand Tourer. It will be a car that combines competition levels of performance with continent- crossing capability, wrapped in a beautiful lightweight body. It's a car that has been designed for distance and one that will also provide the comfort and space expected of a Grand Tourer. But with a level of agility never experienced before in this segment. In addition, it will be the lightest of Grand Tourers and by also having the best power-to-weight ratio, I promise it will be one of the quickest. In addition, it will be the only Grand Tourer to share its DNA with the 250mph McLaren Speedtail."
Mike Flewitt, CEO, McLaren Automotive
Neither the name of the car nor its final design were revealed. But an image of the McLaren of Grand Tourers shown in a distinctive camouflage has been issued. Mike did confirm that it will be a sleek, beautiful and boldly elegant car, one keeping to the McLaren philosophy of every design detail being present for a reason. The interior will feel spacious, uncluttered and modern with only authentic, high qualitymaterialsemployed. HealsopromisedthattheMcLarenofGrandTourerswillbethemost usable mid-engined car yet.
Mike went on to say that the McLaren of Grand Tourers will not form part of any of the company's existing model Series and will be a unique, tailored model. Its name and more information are set to be released over the coming months.