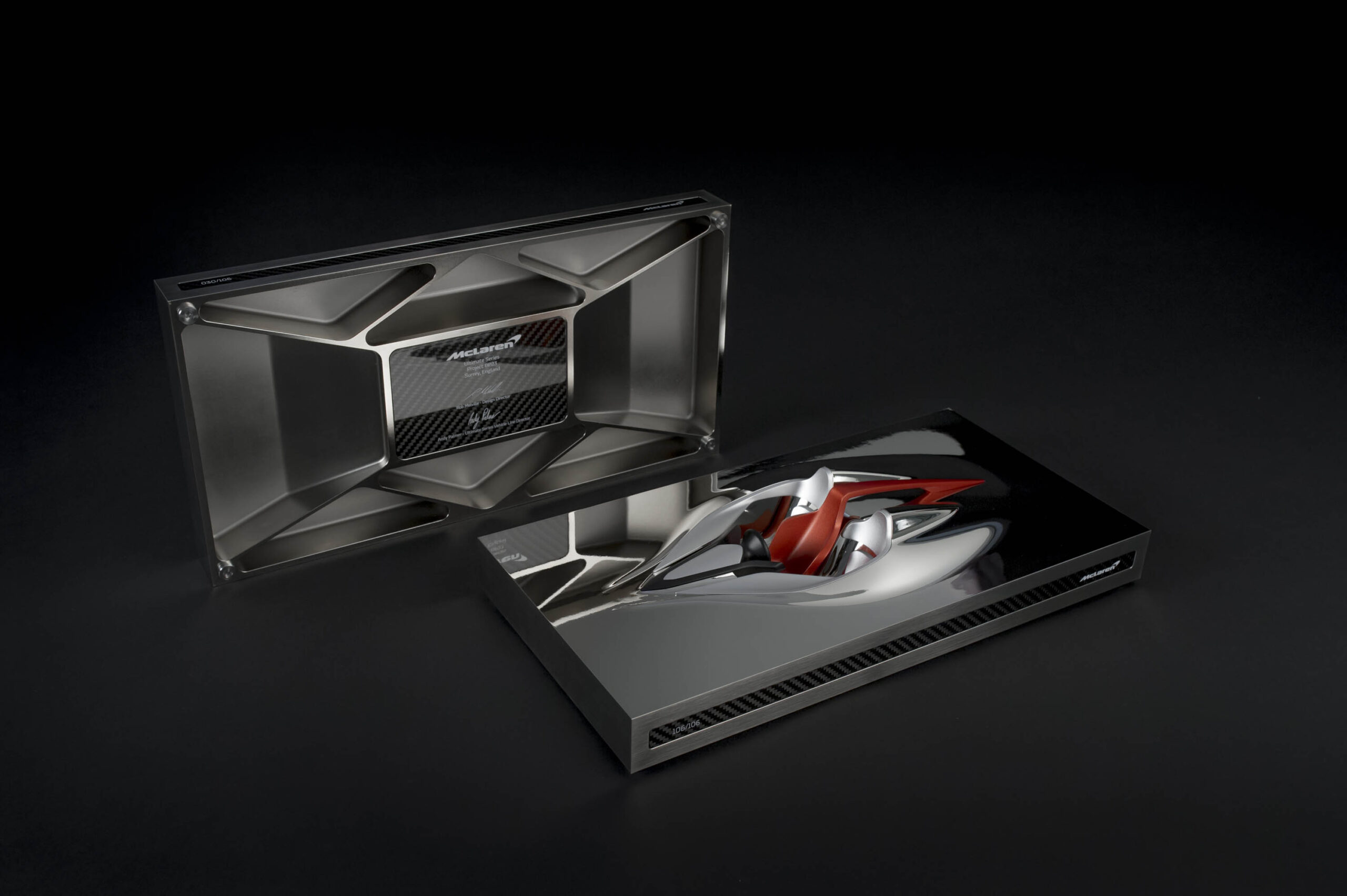 'Money-can't-buy' BP23 sculpture produced for 106 confirmed buyers of new, yet-to-be-named, McLaren Hyper-GT
Over 100 hours to create each 'Speed Form', including 30 hours of expert hand-polishing
Glimpse of exquisitely detailed interior of the fastest and most luxurious McLaren ever
This week, future owners of the still-to-be unveiled McLaren Hyper-GT, codenamed BP23, will receive a sculpture of the car's evocative and luxurious, yet sporting interior. The BP23 'Speed Form' also hints at the bodywork design that will make the next Ultimate Series McLaren the most aerodynamic car to ever be produced from the marque, and will help it achieve the highest top speed of any McLaren, at more than 243mph.
The BP23 'Speed Form' provides a preview of the luxury and imagination that extends under the skin of the vehicle to its icon-eclipsing interior, which is arranged in the same three-seat, central driving position layout as the McLaren F1 that inspired it. As befits a gift associated with such a rare car, examples of the BP23 Speed Form – which are individually numbered – will not be available to buy.
This three-dimensional piece of art, which measures 15.7in x 8.1in x 3.1in and weighs a proud 7.9lbs, is a product of 'extreme craftsmanship', created in the true spirit of leading-edge McLaren automotive design. Each piece is machined using the latest 5-axis CNC cutting technology but is then hand-assembled and finished, relying on the interaction of human hands, eyes and skills for the achievement of excellence.
Each McLaren BP23 'Speed Form' took more than 100 hours to create, with 30 hours of expert hand-polishing alone. A craftsman has checked each sculpture to achieve an exceptional standard of build, and the highest quality possible.
The entire BP23 allocation of 106 – the same volume as the number of McLaren F1's sold – was spoken for within weeks of the gasoline-electric hybrid car being announced. Unlike McLaren Sports Series and Super Series cars, which have an alphanumerical nomenclature, BP23 will carry an as-yet unannounced name that will be disclosed nearer to its reveal.