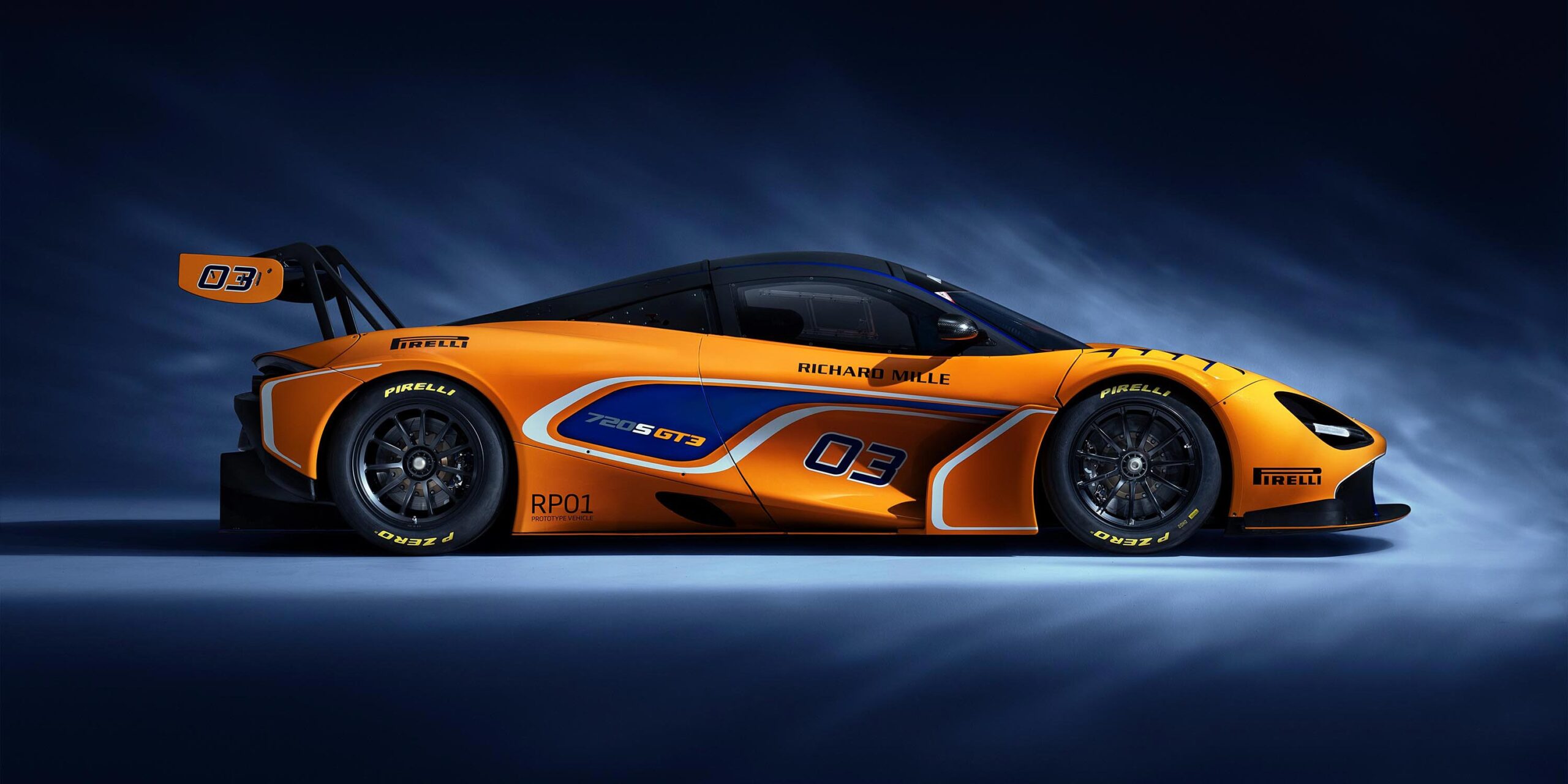 Track testing in Europe and US for McLaren Automotive customer racing division developed GT race car
New 7205 GT3 will elevate the extreme performance of the 7205 road car to world-class track pace – accessible to both professional and amateur drivers
Intensive schedule to include race-speed tests on a variety of demanding circuits, with development prototypes covering more than 30,000km to prove exceptional durability
and efficiency
Pricing for the McLaren 7208 GT3 is confirmed at £440,000 Ex Works, with first examples available to customer teams for entry into major GT3 championships in 2019
Track testing of the first (3T race car to be developed by McLaren Automotive's new customer racing division is well underway and will see the McLaren 7208 GT3 test extensively across Europe, the US and Middle East. The new GT3 challenger, which is based on the acclaimed 7208 supercar, is being readied for its competition debut in 2019 when it will be eligible for all GT3 grids globally.
The track-based phase of the development programme follows extensive computational fluid dynamics (CFD) simulations and incorporates a punishing test regime that will validate key performance data and long-distance durability.
"It was an incredibly exciting moment for us to see our new 7205 GT3 begin the intensive track-based phase of a development programme that we are confident will provide our customers with a first-class GT race car,"commented| Mike Flewitt, McLaren Automotive Chief Executive Officer.

"Enabling our customers to go racing is integral to the business strategy of McLaren Automotive and we are committed to supplying teams with exceptional G T cars and the world-class support to get the most out of them."
As with the road car, at the heart of the 7203 GT3 is the light but immensely stiff carbon fibre MonoCage || Chassis structure. A race-prepared version of the M84OT 4.0-Iitre twin-turbo V8 engine provides the power. The focus on pure engineering, innovative aerodynamics and efficient design that makes the 7205 road car so incredibly impressive provides the ideal starting point for the journey from multi-talented supercar to be the strongest contenderyet from IVICLaren for GT3 racing honours.
The design and development work has been undertaken within a new dedicated GT race facility at McLaren Automotive in Woking, Surrey, where all new GT3 cars will be hand-assembled. The first two development cars have embarked on the extensive, physical test programme, which will initially use tracks on both sides of the Atlantic, followed by an intensive Middle East programme before the end of the year.
Development targets for the 7208 GT3 centre not just on speed and stability but also on making the car accessible for drivers of all abilities, as well as a more efficient one for teams to run — both financially and from a serviceability perspective. Optimized fuel efficiency and tyre management have been prioritized, together with improved reliability, durability and serviceability — both in race conditions and between events. Breadth of handling balance and predictable on-limit behavior for both professional and amateur drivers alike are central to the project, reflecting the make-up of GT3 competitors globally.
Working Closely with technical tyre partner Pirelli, the highly experienced team of CT race engineers from McLaren are running parallel durability and performance programs covering more than 30,000km, with various 24- and 36- hours tests being completed by multiple Race Prototype (RP) cars.
"The McLaren 7.205 is such a multi-talented road car that we always knew honing its pure racing talents and making a GT3 car out of it would be an entirely natural process – and so it has been. While largely a bespoke machine, the GT3 car is still a McLaren 7205 at its core. Developing a race car is about optimizing every component and the lightweight MonoCage ii carbon fibre Chassis is the perfect base for this,"said Dan Walmsley, Motorsport Director, McLaren Automotive.

"The 7205 GT3 is a significant car for McLaren Automotive. It still has the road car's ability to deliver extreme performance in a way that all drivers can access, but taken to an altogether higher, racetrack level. Crucially it also forms a part of our growing customer-focused racing and business strategy which sees dedicated motorsport products developed in-house that draw on our rich pool 0f motorsport experience and expertise", said Jolyon Nash, Executive Director of Global Sales and Marketing, McLaren Automotive.
Announced in November 2017, the McLaren 7208 0T3 race car is on schedule to make its competition debut in 2019. The price of the 7205 GT3 is confirmed at £440,000 EX-Works, and McLaren will look to enter strategically important global Championships with the first examples of the latest 0T3 Challengerthrough engaging with customer teams. When the 7205 GT3 carries the McLaren banner into customer GT3 racing in 2019, it will join the McLaren Sports Series 5703 0T4 race car, which Claimed eight Championship titles in its debut season in 2017, and has now recorded more than 50 Class wins in the hands of customer teams globally.
What it takes to turn a McLaren 7205 supercar into a McLaren 7205 GT3 race car
Although intrinsically the same mid-engined coupe as the McLaren 7205 road car, more than ninety per cent of components have been Changed or optimised in some way for the 0T3 version. The combination of Changes to bodywork, aerodynamics and suspension; revised transmission and a new braking system and the performance of the Pirelli racing tyres will deliver a significantly enhanced car born to race on the most demanding Circuits.
The innovative aerodynamics of the 7205 road car have been further developed to deliver even greater race track stability and aerodynamic efficiency. The lightweight, carbon fibre and composite body panels are all unique to the 7208 GT3, while a bespoke splitter, floor assembly and dive—planes distinguish the front and the tail gets an aerodynamically-optimised 0T3-specification rear wing.
The engine of the 7208 GT3 is a race—prepared version of the McLaren M840T 4.0-litre twin-turbo V8, enhanced to deliver both an improved torque curve for traditional racing as well as even greater efficiency for endurance events. The six-speed sequential paddle gearbox is equipped with a new electronic shift actuatorto increase shift-speed, usability and reliability. An externally adjustable Salisbury-type limited slip differential is fitted, as are cockpit-adjustable traction control and ABS driver aids.
A new braking system comprises an optimised brake caliper design and enhanced brake cooling, for maximum performance and longevity. New rear suspension geometry is matched with four-way adjustable dampers ancl coil-over springs to provide the aerodynamic optimisation needed to ensure balanced handling and improved corner entry stability. Driveshafts and wheel hubs are race-oriented and a fast-Change, centre—lock wheel design minimises the time required for wheel changes during pitstops. An air-jacking system is also in-built.
In keeping with the reputation of its road car sibling, the 7205 6T3 has an exceptional driver environment. There is an adjustable pedaI-box as well as adjustable steering wheel position, while a rear—view camera and radar system with dash display and tyre pressure monitoring system (TPMS) are available as options. All 7208 6T3s are left-hand drive, the carbon—Kevlar race seat fitted with its mountings, in accordance with 2019 FIA regulations.
FIA-approved 6T3 race equipment fitted as standard includes an aII-new roll cage, winged-headrest seat and six-poiht harness, roof-hatch extraction system and side-impact foam.
Further information on the 7203 6T3 can be found at cars.mclaren.com/customer-racing/models/720s-GT3.
To enquire about McLaren 720S GT3 ownership, contact: [email protected]
McLaren 720S GT3 technical specification
Length
4,664
Width
2,040
Wheelbase
2,696
Overhang, Front / Rear
1,155 / 813
Axle body width, Front / Rear
~1,745 / ~1,716
Engine
Motorsport-prepared M840T engine, 4.0—litre twin—turbo V8, 3,994cc
Transmissions
Six-speed sequential motorsport transmission
Chassis
McLaren carbon fibre MonoCage ll chassis
Drivetrain layout
Longitudinal mid—engined, RWD
Bodywork
Bespoke lightweight carbon fibre/composite body panels
Aerodynamics
Bespoke front splitter and floor assembly, dive planes, GT3-specification rear wing
Tyres
Pirelli racing tyres
Suspension
Adjustable dampers with coil-over springs, front and rear
Driver seat
Winged head-rest – FIA Approved
Driver harness
Six-point race harness
Rollcage
FIA approved
Fire extinguisher system
FIA approved
Air jack system
Standard