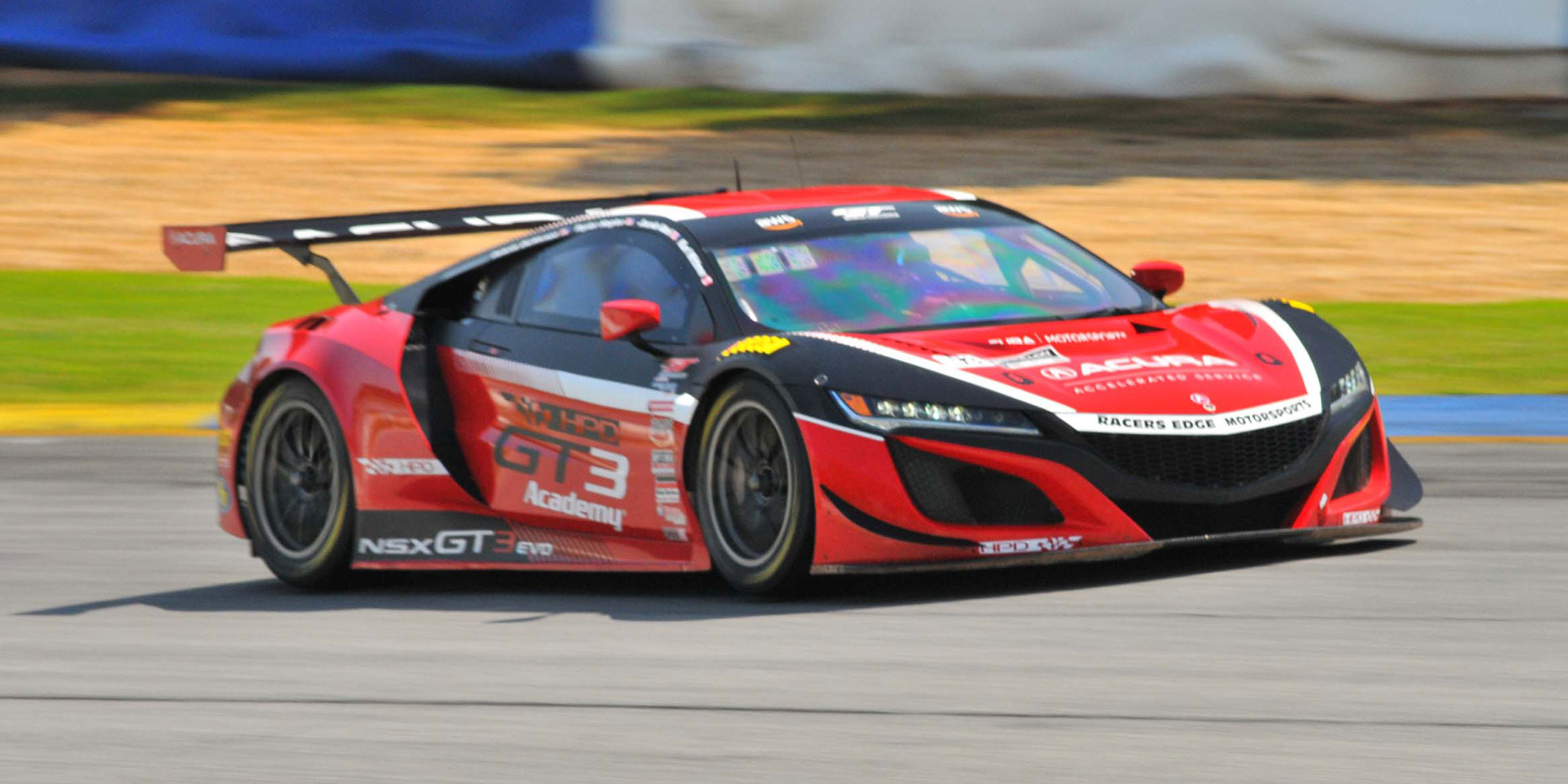 Emerging talents Jacob Abel, Dakota Dickerson, Taylor Hagler and Karl Wittmer work to accelerate their careers with experience behind the wheel of the Acura NSX GT3 Evo
Inaugural GT3 Academy event combined on- and off-track instruction at Michelin Raceway Road Atlanta
Race winners and NSX GT3 Race veterans Dane Cameron and Ryan Eversley provided one-on-one coaching for the candidates
Atlanta, GA – A quartet of promising racers became the first graduates of the Honda Performance Development GT3 Driver Academy earlier this week, as HPD's program to assist young drivers accelerate their careers held its inaugural session at Michelin Raceway Road Atlanta.
The four members of the first GT3 Academy class all were selected for the racing career promise and included Taylor Hagler, Jacob Abel, Karl Wittmer and Dakota Dickerson. All arrived Sunday for an orientation session with the Acura NSX GT3 Evo they would pilot during the next two days. The car, prepped and crewed by the 2019 SRO World Challenge GT America Championship-winning Racers Edge Motorsports team, proved to be an ideal classroom for the challenging Road Atlanta circuit.
Intermittent thunderstorms shuffled the planned schedule for the inaugural HPD GT3 Academy event at Road Atlanta, but the racer/students still each ran 60-plus laps over two days and worked through the full curricula that included one-on-one coaching and instruction. The first group meeting occurred online Thursday evening with Acura's social media staff and agency offering best practices on digital engagement with fans, teams, and large OEMs.
Taylor Hagler, who drives a Honda Civic Type R TCR in the Michelin Pilot Challenge noted, "I had a pretty steep learning curve, but thanks to the pre-track briefings, I felt right at home once I got into the cockpit. The NSX GT3 Evo was amazing, and I'm still processing everything I learned in the last two days. I can't wait for the next event at Mid-Ohio!"
The Road Atlanta program included on-track coaching sessions in the championship winning from NSX GT3 Evo race winners Ryan Eversley and Dane Cameron, as well as off-track instruction relating to effective communication with team personnel and engineers, in addition to driver marketing insights and sponsor searches. As a testament to the drivers' quick learning, the original target lap set for the drivers by Dane had to be reset with an even faster base lap early on the second day.
"The first event of the GT3 Academy went flawlessly," commented F3 Americas race winner Jacob Abel. "The NSX GT3 car was awesome, and having very limited experience in sports cars prior to this opportunity, I was concerned about adapting. However, Ryan, Dane, and everyone at Racers Edge Motorsports made the transition seamless. I'm looking forward to taking what we learned the past couple of days and building on it at Mid-Ohio next month!"
After each on-track session, the drivers immediately reviewed lap data and in-car video with an instructor, while drivers not on track would pair with another instructor at a location around the track. Acura Motorsports/HPD provided engineering support and feedback to increase driver experience in working with OEM engineering staff. With a stated goal of expanding diversity and access for North American racing talent, HPD is committed to bringing more opportunities like this for the future stars of motorsport.
Canadian racer Karl Wittmer said, "I have a lot of experience in Touring Cars, but even so, this was quite different. The pre-track briefings and coaching were really valuable, but the best part was definitely getting behind the wheel and getting faster and faster over the two days!"
The Mid-Ohio GT3 Academy event in July will feature two 2019 NSX GT3 Evo Champions in drivers Kyle Marcelli and Mario Farnbacher as instructors and will focus on communication and feedback with a racer's team and engineering personnel. The remaining two GT3 Academy dates will be announced shortly with a planned bonus event later in the year.
Current F3 Americas Champion Dakota Dickerson concludes, "The first event of the HPD GT3 Drivers Academy was an incredible experience. Being able to work with so many experienced professionals including the Racers Edge Motorsports Team, Ryan Eversley, Dane Cameron, and all of the folks at Acura Motorsports helped accelerate my learning curve and gave me valuable insights. Plus, the Acura NSX GT3 EVO was a blast to drive!"
Next GT3 Academy Event: July 22-23 at Mid-Ohio Sports Car Course
More on the GT3 Academy: LINK