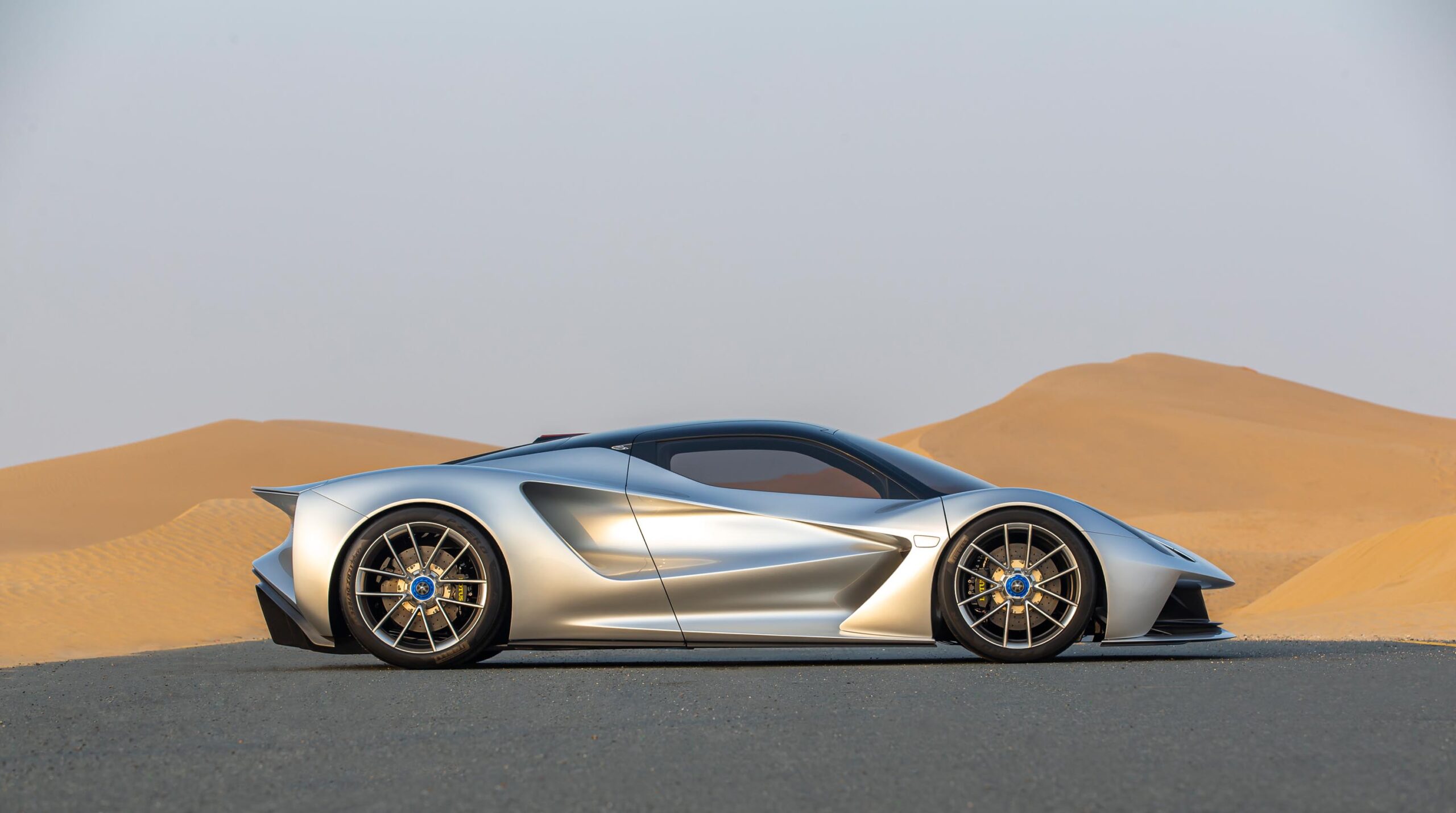 Lotus Dubai retailer hosts VIP media and invited guests as all-electric Evija debuts in the United Arab Emirates
Programme of events includes Lotus Abu Dhabi showroom presentation and private viewings
Latest leg of world tour which has already included Monterey Car Week, USA, and Japan Lotus Day
(Dubai, UAE – 19 September 2019) – The all-new Lotus Evija hypercar has made its debut in the Middle East as part of a series of exclusive media and VIP events.
The covers came off at an unveiling at the stunning Lotus Dubai retail outlet, with Phil Popham, CEO, Lotus Cars and Russell Carr, Director, Lotus Design, presenting the all-electric two-seater to invited guests. They were joined by Karl Hamer, CEO of Adamas Motors, Lotus' retail partner in the United Arab Emirates, plus other members of senior management from both companies.
Phil Popham commented: "It's fantastic to be back in the UAE, and even better to be here as the Evija hypercar makes its regional debut. The Middle East is well-known for its passion for performance models, and this is an important market as we grow the Lotus brand significantly with new products."
He added: "We believe the Evija will really appeal to Gulf state customers, and we're developing the car with them – and particularly the local climate – in mind. Real-world testing of prototype vehicles is now underway to ensure optimum performance in every market."
Karl Hamer said: "We are delighted that our customers have the opportunity to view the Evija in the UAE so soon after its global reveal. We are proud to be in one of the most forward-thinking countries in the world, and this all-electric hypercar coming to the UAE supports our nation's objective to focus on sustainable technologies."
Opened exactly a year ago, Lotus Dubai is on the Emirate's Sheikh Zayed Road. It's a 5,000 sq ft state-of-the-art facility capable of showcasing up to 10 models from the Lotus performance car range. The Evija is remaining in the region for several days. It will also appear at Lotus Abu Dhabi – in Sheikha Salama Building, Zayed The First Street, Al Khalidiyah – then complete a programme of private viewings.
A technical tour de force, the Evija is illustrative of the innovative thinking and ingenuity that has always been part of the Lotus DNA. With a target output of 2000 PS, it is the world's most powerful series production road car. It has been designed and engineered in the UK, and will be produced at Hethel, UK, the home of Lotus since 1966, starting next year. Exclusivity is guaranteed, with production limited to a maximum of 130 cars. Full technical details can be found on the Lotus media website at media.lotuscars.com
The Evija's arrival in the Gulf states is the latest leg of a world tour which began after the car was unveiled in London on 16 July. It has already included Monterey Car Week in the USA, and Japan Lotus Day.