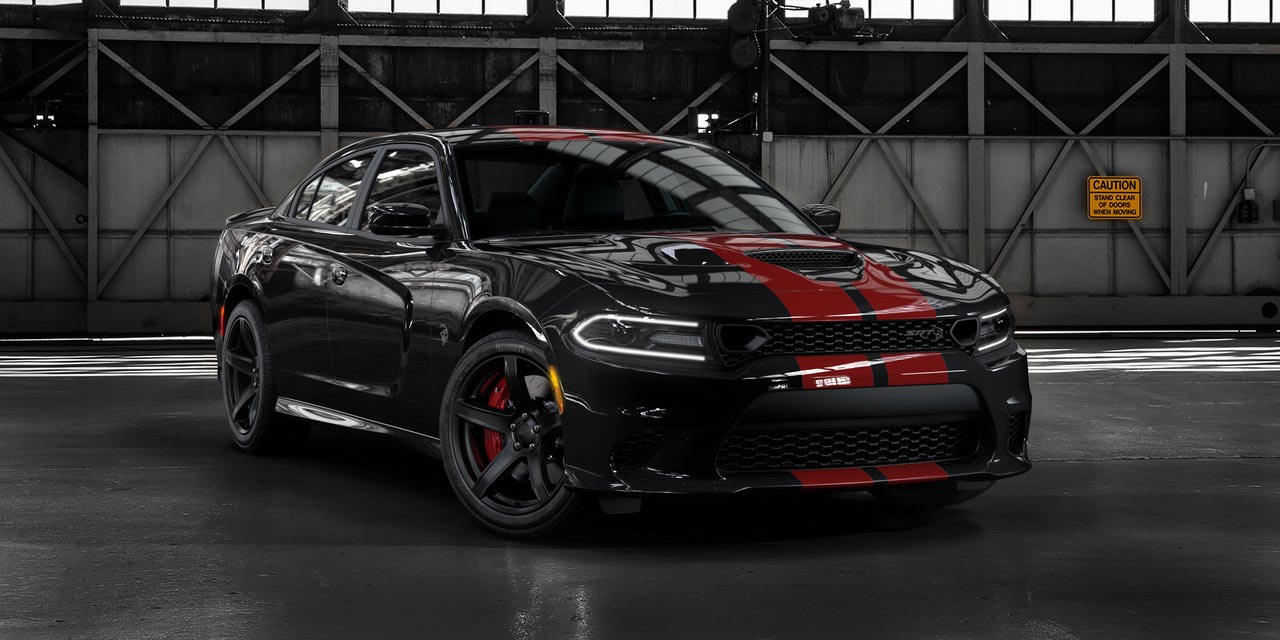 New Red, Blue and Silver dual-center stripes on Charger SRT Hellcat offer custom look from the factory Dual carbon stripes are available for order on Charger R/T Scat Pack and R/T for the first time
Charger SRT Hellcat and R/T Scat Pack feature standard performance upgrades for the 2019 model year, including Launch Assist and Line Lock; a new performance grille with dual air inlets; new Launch Control switch on R/T Scat Pack; and Torque Reserve, After-Run Chiller on SRT Hellcat
Dodge Charger continues its run as the sales leader in the large-car segment for five years running
October 26, 2018, Auburn Hills, Mich. – The Dodge Charger SRT Hellcat, the quickest, fastest and most powerful sedan in the world, looks even more menacing for 2019 as Dodge//SRT adds three new stripe options, giving performance enthusiasts even more custom options straight from the factory.
"The Dodge Charger continues its run as the sales leader in the large car segment for the fifth year in a row," said Steve Beahm, Head of Passenger Cars, Dodge//SRT, Chrysler and FIAT, and Service and Parts (Mopar), FCA – North America. "And as the aftermarket customization business continues to balloon, these new stripe options give Charger buyers the opportunity to make what is already the only four-door muscle car in the market even more unique, and to do it straight from the factory."
The dual-center, full-length, exterior stripe design covers the front and rear fascias, roof, deck lid and is tailored around the signature NACA duct-hood vent to emphasize the Charger model's aggressive yet functional design.
"Exterior stripes, especially when they are a contrasting color, amplify the shape of the hood and highlight how big the air-intake is, all of which combine to truly accentuate the shape of the Charger," said Mark Trostle – Head of Performance, Passenger and Utility Vehicle Exterior Design, FCA US LLC. "Our customers love the ability to make their cars unique and with five different stripe colors and an awesome color palette of thirteen colors, they can truly make their Charger their own."
First introduced in 2016 and 2018, respectively, Dual Carbon and Dual Gunmetal Gray stripes can still be ordered on Dodge Charger SRT Hellcat models. New for 2019, Charger SRT Hellcat buyers can order any of the five available stripe options:
Dual Red (NEW)
Dual Blue (NEW)
Dual Silver (NEW)
Dual Gunmetal Gray
Dual Carbon
For the first time ever, dual carbon stripes are available on Charger R/T Scat Pack and R/T.
All stripe packages are currently available for dealer order and are a U.S. Manufacturer's Suggested Retail Price (MSRP) of $995.