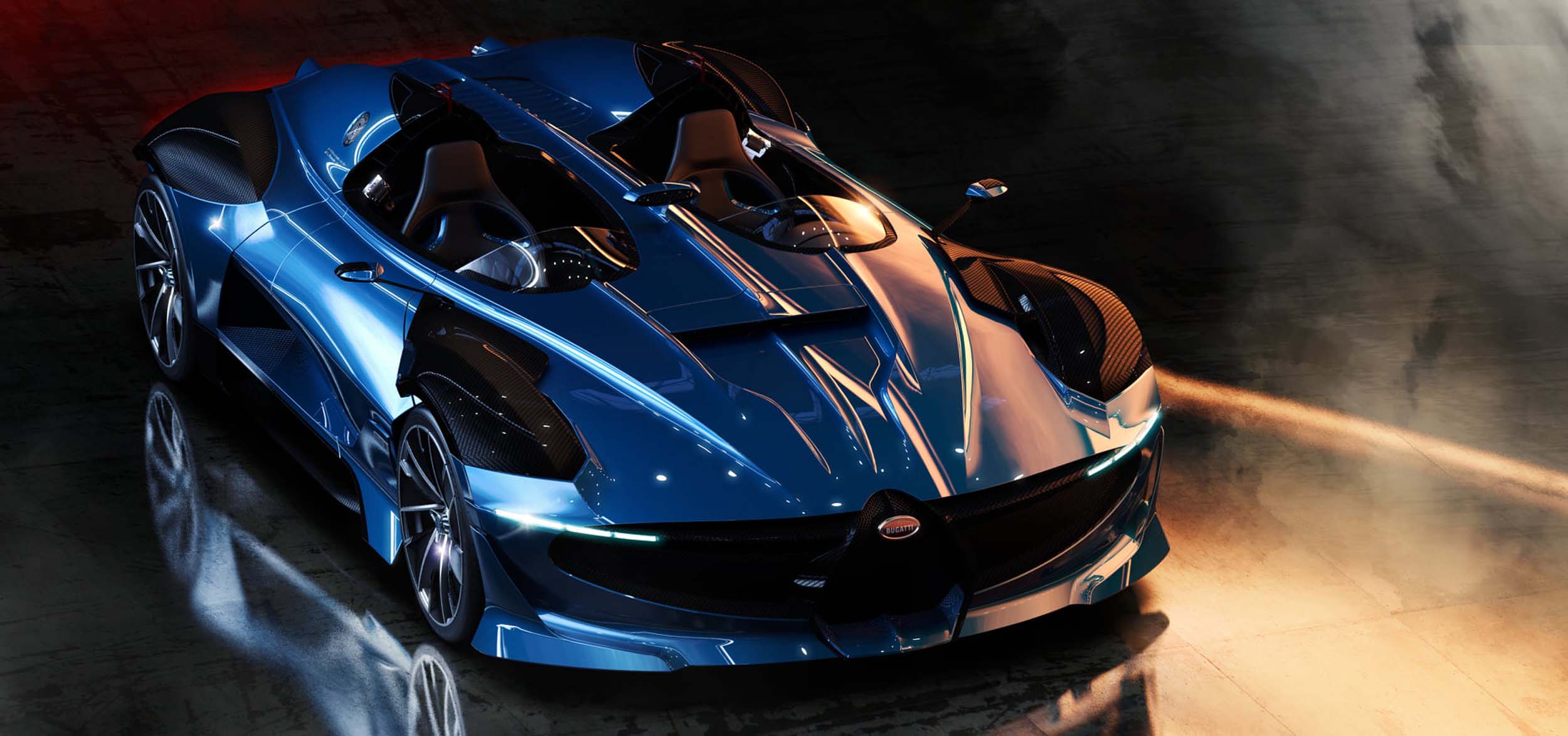 The Bugatti Type 251 Evo is a one-off, bespoke design based on a Bugatti Chiron, conceived by creative car designer Alessio Minchella and virtually brought to life through the 3D modelling of concept artist Luigi Memola.
The exterior design styling cues of the oval front, along with the accentuated top air box ducts and the central intake and spine, were inspired by 1955 classic Bugatti racer Type 251. This was the first ever rear-engined F1 car, and was "remotely" developed by the independent design office of Italian engineer Gioacchino Colombo.
Like Colombo, the design team developed the project remotely (Minchella is based in Surrey, UK, Memola is based in Turin, Italy) and although for the time being this is only a virtual exercise, in order to keep the project credible, all hard points (wheelbase, seats position and dimension, steering wheel, wheel size, track, drive train, and even the rear wing springs and mounts) were kept in exactly the same position as the original Chiron. Special care was taken into a radical strip-down that keeps the good balance and proportion of a very good looking car and maintains a strong allure of sportiness and elegance akin to the Bugatti brand.
PROJECT ACHIEVEMENTS INCLUDE:
Further increasing the dynamic performance of the Chiron by reducing weight; Successfully designing a recognisable Bugatti vehicle without a "C" design element on the car's profile or a carryover single frame grille; Stimulating interest for petrol-heads and for people who are passionate about good design; Testing the authors' synergy as a newly established design team, as well as demonstrating their talents to the ever growing design community worldwide.
All known contemporary design development tools were used in this project, from pencil sketches to photoshop renderings, up to live 3D modeling sessions. Styling lines and surface tensions have been honed with steadfast determination by Alessio and Luigi in order to achieve the best results.
Alessio's professional experience and intuition in finding someone with strong commitment to a project were invaluable, and so was Luigi's speed and expertise in 3D modelling and visualisation. Alessio and Luigis passion and commitment have already captured the attention of many – and among them CEMI, an Italian 3D modelling school based in Piedmont. Therefore, it will be interesting to see how things will further develop in the near future.
RACING VERSION
Following the Bugatti Type 251 Evo (2020) road version, we imagined what the vehicle would look like in a racing environment. Not only we worked on the racing livery inspired by the great Bugatti EB110 LM we also added a single-seater version "Monoposto".