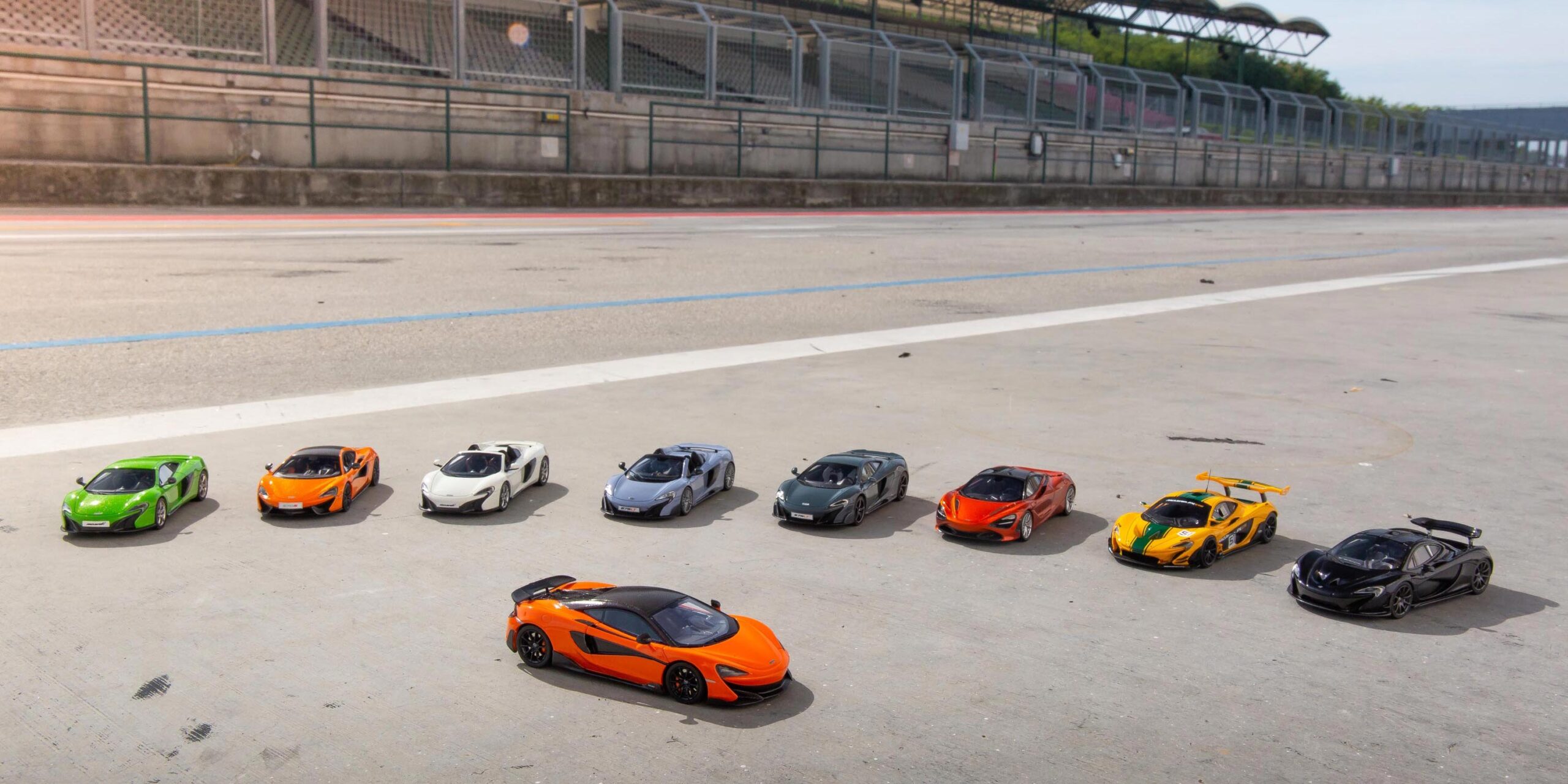 McLaren's newest and most powerful Sports Series model now available in miniature
1:43 and 1:18 scale versions launched to coincide with arrival in showrooms of 204mph track-focused 'Longtail'
600LT joins family of TSM-Model McLarens that gives fans of all ages endless possibilities to curate unique McLaren collections
As McLaren Automotive's fastest, most powerful and focused Sports Series model to date hits the roads, a second version of the new BOOLT is being readied to wow McLareh fans, of all ages. Box-fresh and affordable for all, this factory-approved BOOLT is sporting perfection — in miniature.
Secretly developed in parallel with the EOOPS, 204mph, mid-engined super-sportscar, the collectible 1:43 scale miniature from TSM-Model is available now to coincide with the launch of its big brother. As with the real thing, the resin model initially comes in the McLaren BOOLT launch colours of Myan Orange or Chicane Effect grey, matched with an all-black interior.
The TSM McLareh 6OOLTjoins a burgeoning family of McLaren miniatures that collectively Chart the dramatic rise of the sportscar and supercar maker from Woking, Surrey, UK. With TSM's range including many iconic cars — such as reproductions of renowned McLaren prototypes, some still wearing their camouflage, as well as specific motor show cars — the family of fast cars has become a popular Choice for model-car collectors of all ages.
LT, or 'Longtail', designation is reserved for a McLaren that has particularly extreme performance and Circuit ability but remains road—Iegal. The name first appeared with the legendary McLaren F1 GTR Longtail race car of 1997, a longer and more aerodynamic version of the 1995 McLaren F1 GTR Le Mans winner. It was this first LT that, in more recent times, inspired the McLaren 675LT Coupe and 675LT Spider, themselves both regarded as latter-day road-car legends.
Now the newest Longtail, the BOOLT, takes its place in this hallowed company and the TSM miniature version of it is expected to be equally highly-prized by collectors. While the full-size BOOLT comes with a price tag starting at £185,500, the TSM 1:43 scale version costs just E65. For those with bigger budgets — and larger display cabinets — a 1:18 scale model is also available, at £200. In addition to the launch colours of the full-size BOOLT, the model will be available from McLaren Automotive retailers or the TSM-Model website in an array of different liveries.
The TSM McLaren EOOLT is finely crafted in resin and beautifully detailed, mirroring the life-size car as accurately as possible. Itjoins more than 75 1:43 scale models of McLarehs in TSM's collection, which includes production and development cars, road and race machines and representatives from the Sports, Super and Ultimate Series — all of which ensure that McLaren enthusiasts have the perfect opportunity to curate their own McLaren-themed collection, by series, model, variant or even by colour.