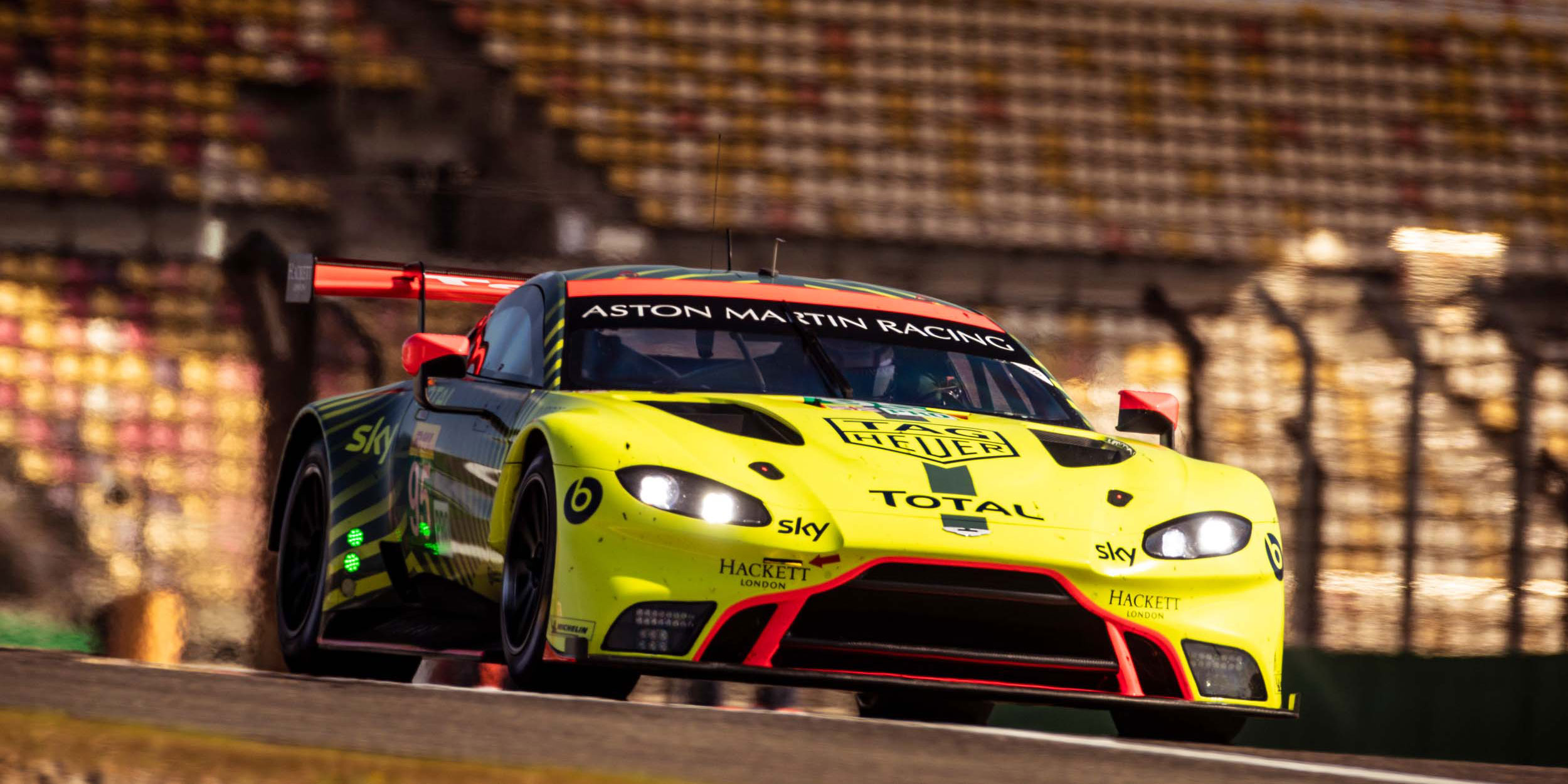 Aston Martin Racing reaches mid-way stage of FIA WEC as team to beat
Team aims to end 2019 with championship leads in GTE Pro and Am
GTE Am squad returns to the scene of Paul Dalla Lana's title glory in 2017
Wednesday 11 December 2019, Bahrain. Aston Martin Racing embarks on its final race of the 2019 calendar year with a point to prove as the Vantage GTE makes its desert debut in the BAPCO 8 Hours of Bahrain.
The Danish crew of the #95 entry, Nicki Thiim and Marco Sørensen, have set the pace in the previous two rounds of the FIA World Endurance Championship GTE Pro category. Having won the 6 Hours of Fuji in Japan, they were all set for a famous back-to-back success in China last month until they suffered a late-race puncture while leading comfortably.
"We head into the final race of the year with a point to prove," said Thiim, "We should be in the lead of the championship with two race wins already, but we have an opportunity to correct that situation in Bahrain. There is no reason for us to think the car will be any less competitive than it was in Asia, where we set the pace, and with a clean run we have a great chance to fight. I've said before that GTE Pro and WEC is the best GT racing in the world and I can't wait to go and fight to end 2019 on a high"
The championship returns to Bahrain after a year's absence for the fourth round of WEC, which runs from summer-to-summer, and as the series reaches the halfway stage it is also racing to a new 8-hour format for the first time. It's a key round of the championship because it is worth 1.5-times the points for the top nine finishers and therefore has the potential to change the complexion of the championship fight.
The #97 crew of Alex Lynn (GB) and Maxime Martin (BEL) are hoping that it will also trigger a change in fortune. Fast all year, the duo have finished on the podium in every race, but the hit ratio could have been even higher had it not been for a run of badly-timed full-course yellows and rain showers that compromised their strategy.
"We've not always been lucky so far this season," said Lynn. "But I think the fact that we have finished third in every race, points to the speed and consistency of the #97 and it feels like it is only a matter of time before we stand at the top step."
The Aston Martin Racing Vantage GTE is already a winner in its debut GTE Am campaign, thanks to back-to-back victories for the customer TF Sport team and their driver line-up of Salah Yoluc (TUR), four-time British GT Jonny Adam (GB) and recently-signed works driver Charlie Eastwood (IRL). But the factory version has been a contender everywhere, despite having had its race compromised in each of the first three events through no fault of its own. The #98 crew of Paul Dalla Lana (CDN), multiple 24 Hours of Le Mans class winner Darren Turner (GB) and works driver Ross Gunn (GB), have charged back into podium contention at both the 4-Hour races, at Silverstone and in the most recent round in China where they finished third. It means that Dalla Lana returns to the scene of his 2017 FIA WEC GTE Am title triumph determined to win, even with the 5kg success ballast the car will carry into the race.
"We have been incredibly unlucky so far, but that's racing," said Dalla Lana. "That being said, our team is gelling well in our first year together and we're learning more about the car's potential all the time. Hopefully we can get a clear run at the start this time and find out what we can do as a team with a clean race."
Aston Martin Racing Team Principal Paul Howarth said: "We're reaching the midway stage of the championship and it's clear that we have a competitive and race-winning package in both classes. It's particularly critical for us to amass the maximum amount of points available in this race where it is worth 1.5-times the normal amount. Through this crucial mid-phase of the season, it's essential for us to establish a foothold in the championship and carry that momentum into the US double-header of COTA and Sebring."
The BAPCO 8 Hours of Bahrain begins at 15:00 local time on Saturday, 14 December.