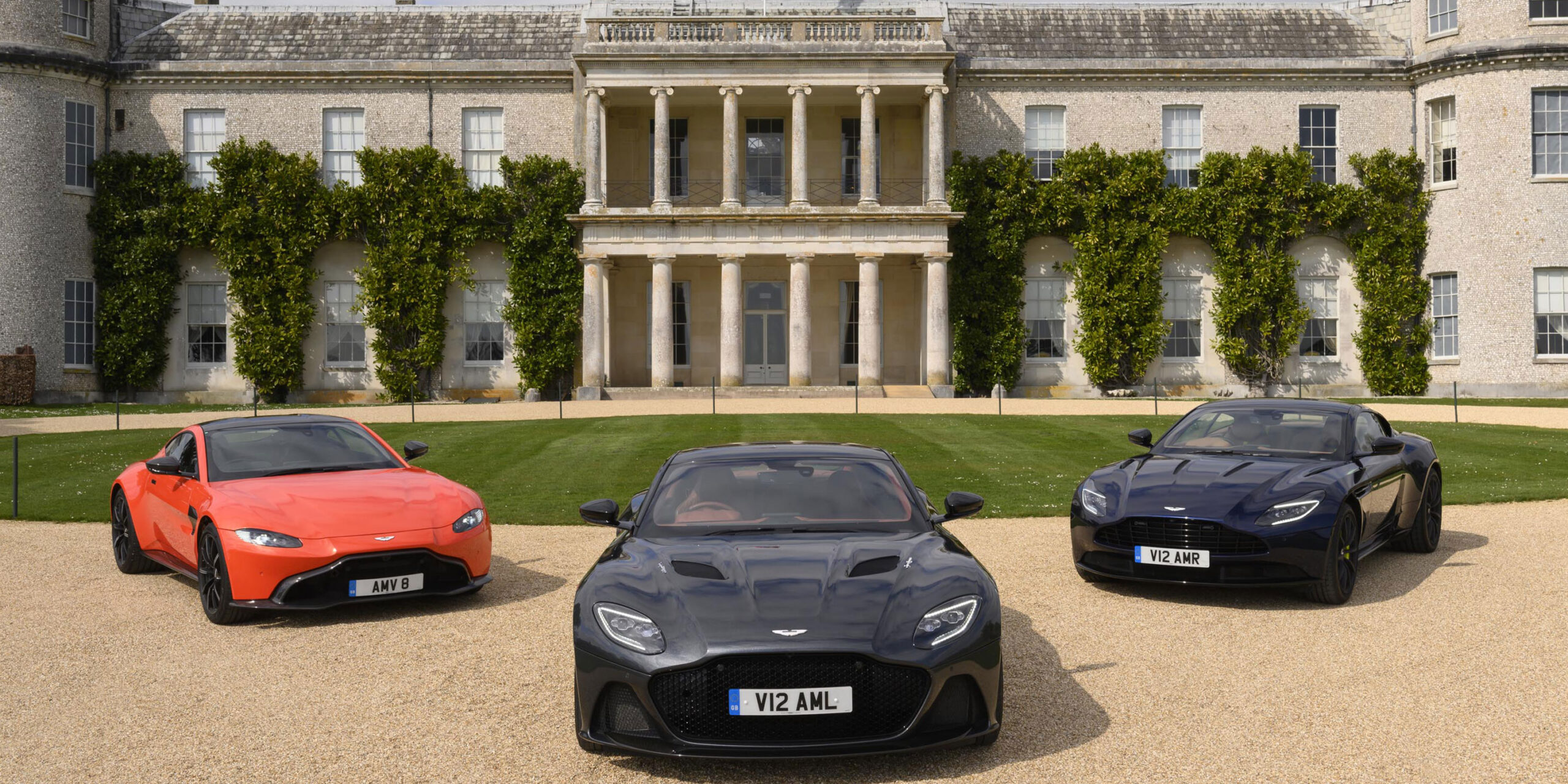 Pre-production DBX SUV, stops at Festival of Speed as part of global testing plan
Global dynamic debut of Vantage AMR and DBS Superleggera Volante
Festival of Speed will be UK dynamic debut of Rapide E
01 July 2019, Gaydon: 70 years since Aston Martin first raced at the Goodwood Motor Circuit, the luxury British manufacturer returns to Goodwood Festival of Speed as this year's featured marque. There have been many significant moments in Aston Martin's long-standing relationship with Goodwood and this year will be no different with Aston Martin showcasing its bold new future and highlights from its past.
Included in this year's event will be the global dynamic debut of the DBS Superleggera Volante and the limited edition, Vantage AMR. Unveiled earlier this year, Aston Martin has introduced a 7-speed manual transmission to its true sports car, Vantage. Also featuring dynamic tweaks inspired by motorsport, Vantage AMR delivers a heightened driving experience while commemorating Aston Martin's 1-2 win at the 24 Hours of Le Mans with a limited edition 'Vantage 59' livery.
There will also be an opportunity to see the Rapide E dynamically for the first time in the UK with the high-performance battery electric sportscar driving up the hill from the First Glance paddock. The first electric Aston Martin, driven at Festival of Speed by Aston Martin Racing works driver Darren Turner, is powered by an 800V electrical architecture battery with a 65kWh installed capacity. The battery system powers two rear mounted electric motors that produce a combined target output of just over 610PS and a colossal 950Nm of torque.
Festival of Speed will also be the first time that Aston Martin's first SUV, DBX, will be heard as it runs up the hill from the First Glance paddock. Due to be unveiled at the end of 2019, the camouflaged pre-production will be driven by Aston Martin's Chief Engineer, Matt Becker, who will put the SUV through its paces as it nears its global launch date.
Included in the Supercar Paddock will be the Lava Collection which features each of the four Vanquish Zagatos in the now iconic paint colour, Lava Red. Between the four V12 engines there is almost 2,400bhp with only 99 Volantes, Coupes and Shooting Brakes built – only 28 Speedsters were made. The project was announced in 2016 with the final car in the series, Vanquish Zagato Shooting Brake delivered to customers this year. The four models will be joined by the DB4 GT Zagato Continuation which will be on display in Aston Martin hospitality, adding to the celebration of 100 years of Zagato. Aston Martin Vulcan AMR Pro will also be running, and the current World Endurance Racing Vantage GTE will also be driven up the hill by Aston Martin Racing works driver Jonny Adam who has just returned from competing in the 24 Hours of Le Mans.
Other nods to Aston Martin's rich history will be made with attendance from great racing cars from pasts successes at Brooklands, Circuit de la Sarthe and Silverstone. Each car will feature in the Aston Martin moment which will occur each day of the Festival of Speed honoring 106-years of racing history.
Aston Martin President and Group CEO, Andy Palmer, said: "We are a business that is currently experiencing a momentous period of growth. Attending the Festival of Speed allows us to showcase our latest developments in electric and SUV technology while celebrating the rich history of our past.
"Aston Martin is proud to have been involved in the Festival of Speed since it began in 1993. It's a nerve-wracking experience every time I drive up the hill in front of the crowds, the margin for error is tiny, but there is such an extraordinary atmosphere that it is like no other motor show on earth. It's this excitement that keeps both participants and visitors returning year after year."
For more information on the attractions at the Goodwood Festival of Speed please visit https://www.goodwood.com/motorsport/festival-of-speed/.