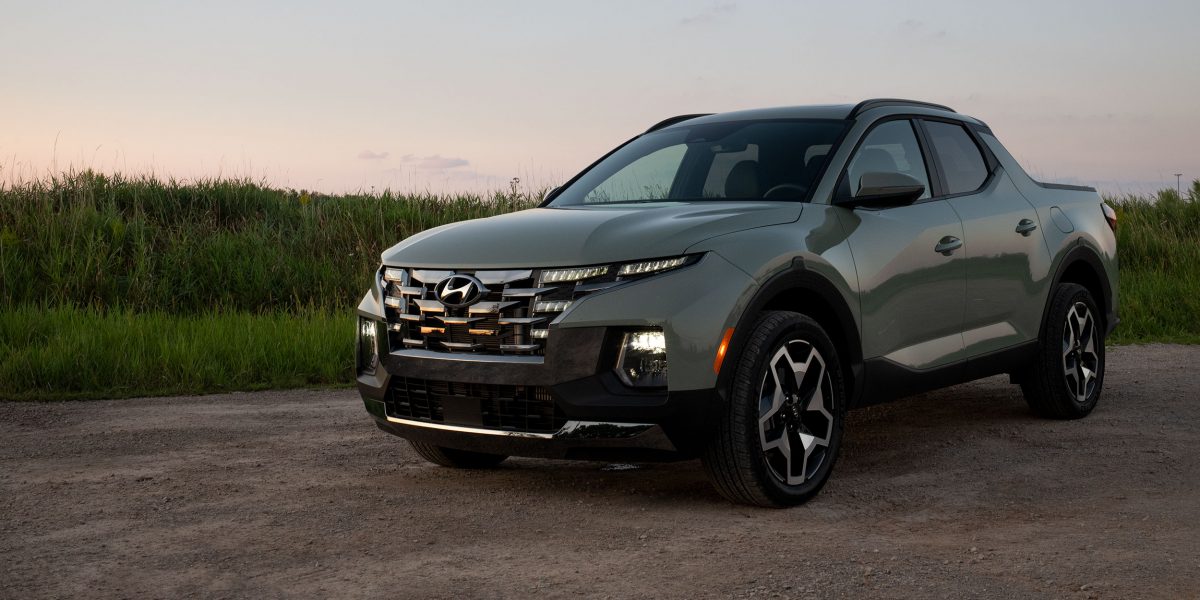 Words and Photos by Jennifer Jensen
ABOUT TIME
Hyundai took their sweet time bringing the Santa Cruz to market.
The original concept was unveiled on January 13, 2015 at the North American International Auto Show. That concept was a modern take on vehicles like the Subaru Baja or even the Chevy El Camino.
It had two standard doors on the front and two small suicide doors on the rear. A short open bed and a jacked-up ride height. It looked awesome to my eyes and, for the first time in a long time, I was excited to see this concept brought to life.
And so I waited.
And waited.
And waited.
Then, on April 15th of this year it happened. Hyundai brought the Santa Cruz to life.
EXPECTATIONS
Six years of development isn't unheard of in the auto industry, but it's certainly not the norm.
Cars like Acura's current NSX and the Lexus LFA both took a very long time to come to market, but those are sports cars vying for buyers in markets that are highly competitive.
Then again, the pickup market is awfully competitive as well. Good thing the Santa Cruz isn't a pickup.
Yes, you read that right. Hyundai reps make it a serious point that the Santa Cruz is NOT a pickup truck. They call it a Sport Adventure Vehicle and they claim it's a new segment. Except it's not.
As mentioned above, you've seen this concept before in vehicles like the station wagon-based Ford Ranchero and Chevy El Camino. Subaru's Brat was produced for years and had good success around the world. The Baja, also by Subaru, has become a cult vehicle and remains highly desirable even though production for the US stopped way back in 2006.
But buyers today are looking for vehicles that can suit all of their needs all of the time. That is the bet that Hyundai is hedging on with the Santa Cruz. And after my time with it I would have to say it's a good bet.
GOODBYE CARS
Cars in the US are going away. Ford is no longer making cars for the US other than the Mustang. And who knows how long that will stick around. People love SUVs.
With an elevated ride height, lots of room for people and stuff, and go anywhere driving abilities, it's easy to see why SUVs have become the flavor of choice for many of today's auto buyers.
But those big trucks have their downsides as well. Fuel mileage is typically not very good, true SUVs tend to ride a little more harsh than their sedan counterparts and they can be unwieldy in traffic or even parking lots.
That is where crossovers have had success. These vehicles look like SUVs but are based on car platforms, just jacked up a few inches.
Hyundai wants to take the best of all of these platforms and roll them into one.
Brad Arnold, Design Manager for Hyundai Design North America, said the Santa Cruz is, "meant to thrive in dense urban environments and the open outdoors. It's small in size, but big in adventure. It supports your work and play activities in both open and closed storage."
So that's the Santa Cruz in a nutshell. Your automotive Swiss Army Knife.
EXECUTION
The Santa Cruz was designed in California and that probably helped make the vehicle gel with the work/play lifestyle so common on the West Coast.
It is built on the same platform as the new Hyundai Tucson and shares some mechanicals as well.
The exterior is striking in its appearance with lights hidden in the front grille, a strong and powerful stance, that open bed and even hidden Easter eggs all over the place.
That bed warrants some discussion as it is far more useable than its dimensions would suggest.
At 52-inches long you would think you aren't going to be carrying around sheets of drywall or plywood, but you would be wrong.
The tailgate is adjustable to how far it opens. One of the stops is about halfway down. That tailgate height matches the top of the rear wheel covers in the bed which just so happen to be flat. That means you can use the bed and tailgate of the Santa Cruz as a sort of tripod to lay those sheets of plywood or drywall on. Cool.
We used the Santa Cruz to move our daughter into her apartment and the open bed combined with the enclosed four-seat cabin worked quite well.
I also tossed my bike in the bed and while I couldn't shut the tailgate without removing my bike's front wheel, it was very easy to strap the bike down using the adjustable d-rings on the side of the bed.
Other fun features of the bed in the Santa Cruz include under bed storage with a drain plug (tailgate party anyone?), molded bumper steps for easy access, a lockable tonneau cover right from the manufacturer, LED lighting, and a 115-volt power inverter.
USABLE INSIDE
The interior of the Santa Cruz is Hyundai at its best.
The front of the cabin is split into two alcoves for driver and passenger. Splitting the two front seats is a well laid out center console and an 8-inch touchscreen in lower level trims or a 10.25-inch touchscreen on the upper trim.
That touchscreen works very well and is very intuitive. There are some cute little touches like the old-school bulb graphics that display the radio stations. But, more importantly, it works quickly and efficiently.
The screen is also mounted high on the center console meaning it stays more in your line of sight while driving. That's a good thing.
The instrument cluster in our Limited trim model is also all-digital and features Hyundai's trick turn signal views. Put on the left turn signal and the speedometer on the left shows you a view behind the Santa Cruz and the opposite for the right turn indicator.
The seats are comfortable for long hauls and have both heating and venting in the front.
The back row is a little lacking in legroom, but there is enough space for five in the cabin. A little pull strap on the back row bench allows you to flip up the seat to access under-seat storage. Clever and simple.
The only thing missing in the back is a flip down armrest with cup holders. There are cup holders in the doors, but an armrest would make sitting in the back a little more comfortable.
MECHANICALS
The Santa Cruz has two engine options, a base 2.5-liter naturally-aspirated four-cylinder good for 191 horsepower and 181 lb-ft of torque. That engine is paired with an 8-speed automatic transmission.
Our Limited trim model came with the optional 2.5-liter turbocharged four-cylinder that put out a healthy 281 horsepower and 311 lb-ft of torque. That engine is mated to an 8-speed dual clutch transmission with paddle shifters.
The turbocharged engine makes the Santa Cruz scoot far more quickly than I had imagined it would.
Not only do you get an engine choice in your Santa Cruz, you also have the choice of front-wheel drive or all-wheel drive.
Hyundai's HTRAC all-wheel drive system is on-demand in the Santa Cruz but it works well. The system provides and electronic, variable-torque-split clutch with active torque control between the front and rear axles.
The Santa Cruz features several drive modes, including a Sport mode. If you put it in Sport, the HTRAC system will send more torque to the rear making the Santa Cruz a little more playful in nature.
The engineers at Hyundai also did a little research into towing capacity and looked at what the average weight is of objects that people routinely tow. Then they endowed the Santa Cruz with the strength it needs to cover those weights.
In FWD guise, the Santa Cruz can tow 3,500 pounds. Grab the AWD model and you can two 5,000 pounds. That bests most crossovers that would compete with the Santa Cruz. And it's a very useful load.
LET'S DRIVE
The driving experience is where Hyundai spent the rest of their development time.
The Santa Cruz is a unibody design with MacPherson struts with coil springs up front and a multilink setup in the rear.
What does that mean?
It means the Santa Cruz drives like a tall car. Smooth, comfortable and far more cosseting than its rigged outward appearance would lead you to believe.
The steering is motor driven power steering and while it is somewhat numb it does deliver more than sufficient information to the helm. And it does so in all road conditions whether on road or off.
The turbocharged 2.5-liter is peppy and really does provide good thrust for the Santa Cruz. I'm not sure how I would feel about the naturally aspirated engine, but the turbo-four is a gem.
It makes okay sounds as well. Nothing too intrusive until you are really hard on the throttle then it gets a little buzzy. But I will gladly trade a little noise for the additional performance.
Really, the Santa Cruz is a joy to drive. Hyundai has been very successful in their goal of combining the best of sedans, crossovers and pickups into one tidy little package.
It feels light and tossable while also feeling safe and comfortable.
The size of the Santa Cruz makes working traffic easy and you will have zero issues navigating busy streets or larking lots either.
There is also a hefty amount of added tech for the driver while heading down the road. Everything from forward collision-avoidance assist to rear cross-traffic collision-avoidance and everything in between is either standard or available.
I was quite impressed with the Santa Cruz's ability to drive itself. Combine Lane Keeping Assist, Highway Driving Assist, and Smart Cruise Control and you've got a next-level self-driver.
As long as there are clearly marked lanes the Santa Cruz will cruise for quite some time before it reminds the driver that you should be, you know, driving.
IN THE END
The Santa Cruz is quite an accomplishment and was totally worth the long wait between seeing the original concept vehicle and the very faithful production version.
In fact, it is the first press car I have had in a very long time that I didn't want to give back. Bravo Hyundai, bravo.