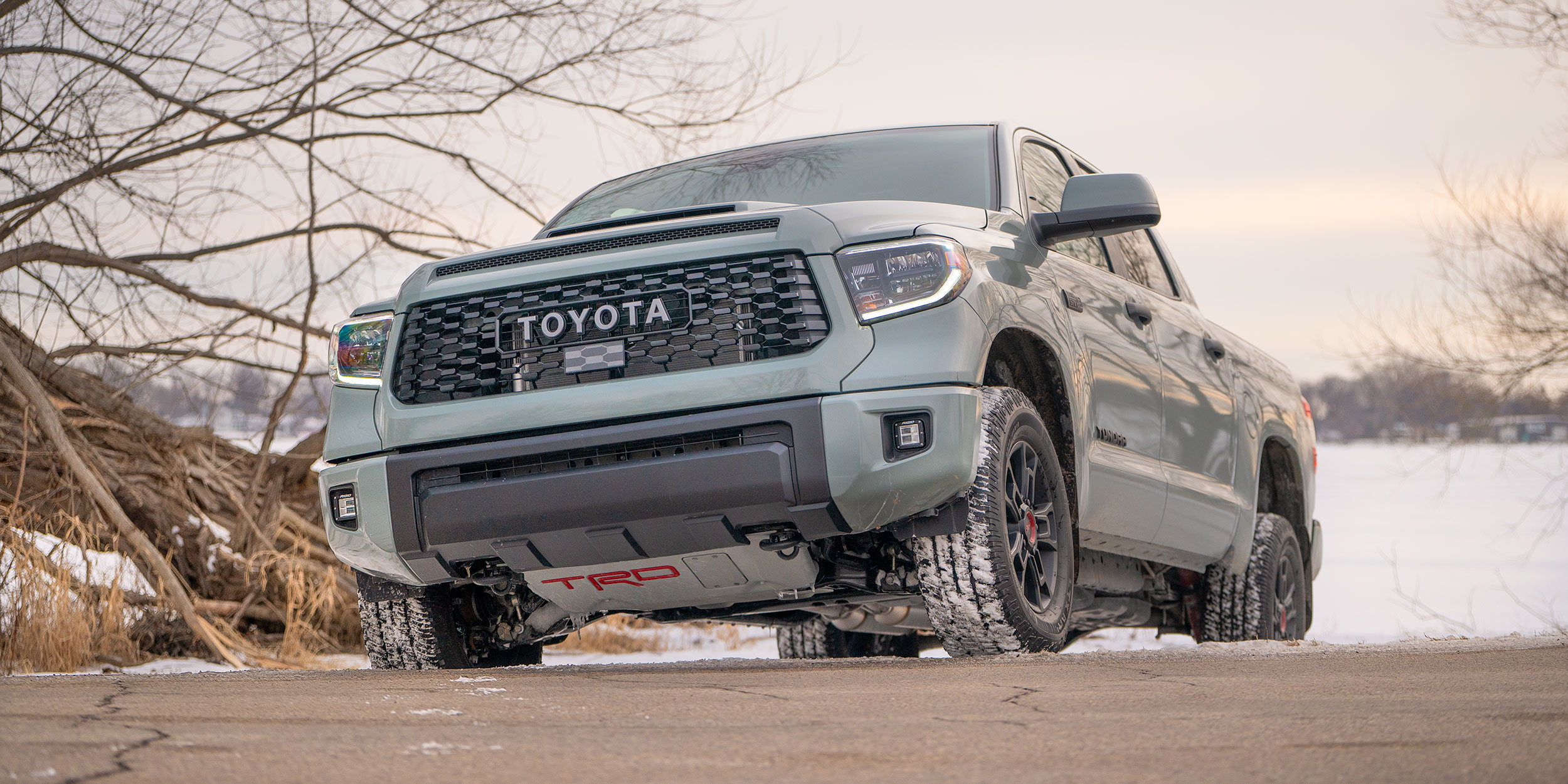 Words by Jennifer Jensen
Photos by Jessica Voruda
THE TUNDRA
Toyota's Tundra has been around for a while. Since 1999 actually.
Over that time it has made a name for itself for being a reliable and durable truck that can play with the big boys. And trust me, the 2021 Tundra TRD Pro CrewMax is a big boy.  
There are currently six different flavors of Tundra available: SR, SR5, Limited, TRD, Platinum and the 1794 Edition.
That 1794 Edition is meant to commemorate the year that a ranch was established in San Antonio, TX. That property is now the assembly plant where Toyota puts the Tundra together.
The focus of this review is the Tundra TRD Pro CrewMax.
There are a couple of different sizes when it comes to the cab of the Tundra.
All Tundra pickups are four doors but you can specify either a Double Cab or the CrewMax. What's the difference? Space.
The Double Cab provides back seat occupants with 34.7-inches of legroom. The CrewMax, on the other hand, allows rear seat passengers to sprawl out with a limousine-like 42.3-inches of legroom.
Then there are the pickup beds.
If you order your Tundra as a Double Cab then you get to choose between a 6-foot 5-inch bed or an 8-foot 1-inch bed. The CrewMax only comes with a 5-foot 5-inch bed. All beds are 22.2-inches deep. Plenty deep for a rolling hot tub!
No matter the length of the bed you can remove the tailgate and there are adjustable tie downs that slide along rails on the side of the bed. Excellent for strapping down anything you care about and don't want flying out of the back.
The chassis could certainly support a hot tub in the back. Toyota calls it a "Triple Tech Frame." There are fully boxed rails in the front, a reinforced c-channel under the cab and an open c-channel under the bed. That means the Tundra is tough.
MOTIVATION
No matter what cab size, bed size or trim level you decide upon, your Tundra will be powered by an i-Force 5.7-liter V8 with 381-horsepower on tap. To get things underway, the V8 pumps out a healthy 401 lb-ft of torque.
The V8 has an aluminium block and heads, dual overhead cams and four valves per cylinder. It's a beefy unit that revs pretty freely and is clear in its intentions and responses to the actions of your right foot. The downside? Mileage. We averaged almost 11 mpg over several hundred miles.
The V8 engine is mated to a six-speed automatic that does a nice job of choosing the right gear for whatever you throw at it.
And you can throw quite a bit at the Tundra. 
How about a payload capacity of 1,730 pounds? Or a maximum towing capacity of 10,200 pounds? That's like towing a horse trailer, and a car, and some ATVs, and a small camping trailer…all at the same time.
MAKE IT A PRO
Then there's all the hardware that turns the Tundra into a TRD Pro.
Fox 2.5-inch front internal bypass shocks and TRD tuned springs at the front raise the ride height by two inches. But, more importantly, provide an additional 1.5-inches of wheel travel.
There are 2.5-inch Fox internal bypass shocks at the rear as well, but here they are paired with piggyback reservoirs to provide consistent damping over the rough stuff. Those suspension tweaks provide an additional two inches of wheel travel in the back.
Topping off the TRD Pro's list of accouterments are a pair of Rigid Industries fog lamps, a ¼-inch skid plate (emblazoned with TRD in red across the front) and my personal favorite, a TRD-tuned dual exhaust that makes the TRD Pro sound like an angry dinosaur.
But I don't know if your average dinosaur could traverse challenging terrain any better than the TRD Pro.
There is an on-demand electronically controlled part time all-wheel drive system. The 4WDemand system uses A-TRAC (Active Traction Control) like a limited slip differential sending power to the wheels that have traction. The benefit of the system is that it allows full engine output all the time. Nice.
Then there is the six-pinion planetary reduction gearset that provides 4X2, 4X4 Hi and 4X4 Lo ranges. There is a knob on the dash close to your right knee that you can twist to switch between those different traction settings. You do this on the fly.
Oh, and about that towing capacity.
When you're pulling those four or five trailers at the same time you can hit the Tow/Haul button. That will help you keep everything in line by adjusting throttle sensitivity and the shift mapping of the transmission.
What is the point of all of this? That Toyota's Tundra is a truck. A serious truck.
A STEP TOO FAR?
So is all this serious trucky truck stuff necessary?
Certainly. There are roles for the Tundra to play. Truck roles like working on a farm, construction sites, hauling horses, or other livestock, you know, truck stuff.
And that is the biggest problem with the Tundra. People will buy the Tundra because it's cool. Especially in TRD Pro guise.
It stands tall and strong and looks tough, even in the new for 2021 Lunar Rock color pictured in this review. It certainly makes a statement. But many of those buyers won't use the Tundra for anything other than hauling kids to school or picking up groceries. And that, dear reader, is a waste.
Have you ever been driving behind someone in a big pickup truck and the driver slows down for a speed bump or railroad crossing? I can understand slowing down for railroad tracks, there might be a train. But a truck like the TRD Pro wouldn't even blink at the worst railroad crossing or the tallest speed bump. Come on people! It's a TRUCK!
IT WORKS
The Tundra TRD Pro drives far better than its size might suggest. The long wheelbase and tall ride height do much to quell pretty much anything you drive over. The uprated suspension isn't the smoothest in its reactions to broken pavement but it's never uncomfortable. In fact, the little bumps that translate into the cabin are sort of like a massaging seat.
Those seats are comfortable and the driving position presents a commanding view of the entire world. Seriously. You sit high enough to see the curvature of the Earth. It certainly makes navigating traffic a relatively easy task.
The front seats are heated and warm up quickly, but I wish the steering wheel had a heating element too.
The turning radius is far better than you would think on a truck this size. After all, the TRD Pro is almost 20-feet long. And in spite of this dimension, it doesn't drive like a school bus. The side mirrors are massive and provide an easy view of everything down either side of the body which really helps when you are on a busy road at speed.
The Tundra TRD Pro doesn't skimp on interior features either.
Those heated seats, dual climate control, a 9-speaker sound system, and an 8-inch touchscreen that works with Apple CarPlay, Android Auto and Amazon Alexa. All the basics and a bit more.
While the screen itself works well, the TRD Pro's tough suspension does bump around a little bit as previously mentioned. That makes hitting some of the "buttons" on the touchscreen a little challenging at times.
Safety features prominently on the TRD Pro as well. Toyota's Safety Sense-Pedestrian includes a pre-collision system with pedestrian detection, lane departure warning, radar cruise control, auto high beams, blind spot monitoring, and rear cross-traffic alert.
BUT THERE'S MORE
All of that on-road driving and ferrying passengers is well and good, but the TRD Pro is meant for so much more.
So we decided to venture off road to see how well the uprated suspension handles something a little more challenging.
I am here to tell you that the TRD Pro is a very capable truck. Snow, mud, sand, rocks, hills…none of it mattered. The TRD Pro can traverse it all and with authority.
The only thing we missed on our off road excursions is a grab handle on the driver's side to match the one on the front passenger's side.
So please, if you're going to buy a Tundra, especially a TRD Pro, use it like a truck. Tow stuff, haul stuff, go off the beaten path. Enjoy the freedom and flexibility of something that can take just about any beating you want to give it. Drive it and really use it. Because anything less would be a waste of a truly talented vehicle.