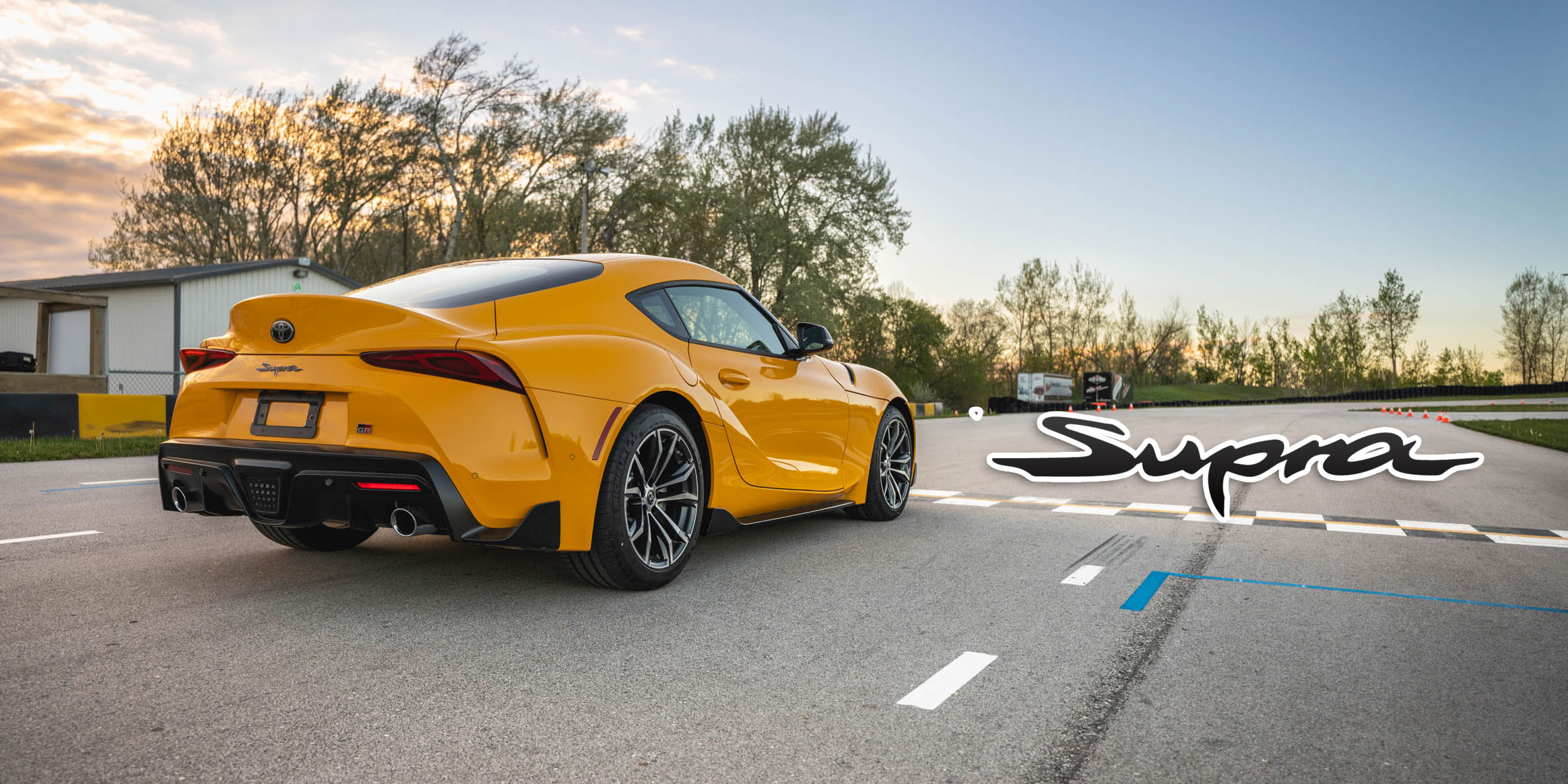 Words by Brian Griebenow
Photos by Jessica Voruda
UNDER THE HOOD
If you drive a new or recently new car there are certain things it's likely to have. Four tires. Automatic transmission. Apple CarPlay. And a 2.0-liter turbocharged 4-cylinder engine.
These days a 2-liter turbo can be found under the hood of entry level econoboxes, SUV's, and luxury cars from makers across the board…Ford, VW, Chevrolet, BMW, Jaguar, Mercedes. Heck, even Mercedes AMG!
And that's fine. Except when the hood it's under belongs to a car wearing an iconic nameplate inextricably linked to 6 cylinders neatly lined up all in a row.
Such is the case with the new, inappropriately motivated 2021 Toyota GR Supra 2.0.
Why inappropriate?
Because the Toyota Supra, through four previous generations dating back to 1978, has always and only been powered by a silky smooth straight six.
While the first Supra tried to be a luxury GT, the fourth generation's serious look, optional massive wing, and powerful twin-turbo 3.0-liter engine created permanent street cred for the Supra nameplate.
When that highly regarded gen-four Supra disappeared from the US market in 1998 it left a notable gap in Toyota's product line.
So when, twenty years later, Toyota revealed their prototype fifth generation Supra excitement was generated.
And when that new Supra landed in showrooms for the 2020 model year there was, as expected, a 3.0-liter straight six filling its engine bay…twin-turbo like its gen-4 progenitor and making 335 horsepower. Thank you, Toyota.
PROGRESS?
Well, time marches on and Toyota has already seen fit to tweak the Supra for 2021. Wisely they're keeping the 3-liter turbo-six, now upgraded to 382 horsepower.
But they have also added a lesser model, powered by a 255 horsepower 2.0-liter turbo-four.
Was that unwise?
One way to find out!
STYLING & POWER
When a Nitro Yellow pre-production 2021 Supra 2.0 landed in Auto Exotica's parking lot, its key fob landed in my willing palm.
Before hopping in, let's take a tour of this car's bold styling.
Much the same as the 2020 model, this Supra has a sleek long-hood-short-deck profile with flowing lines and a distinct ducktail flip at the trailing end.
Is the styling gimmicky? Oh yes indeed. I intended to list the number of fake scoops but I lost count. How about those voluptuous haunches over the rear wheels? I'll admit I stared at those more than once.
Then there's the Supra's face, beyond bold. But I gotta tell ya…to my eyes those gimmicks flow together without a hiccup. It looks really good. And Nitro Yellow suits it.
So, beyond the same hot looks of the appropriately motivated 6-cylinder Supra 3.0, what do you get when you opt for this lesser model?
Well, you get 33-1/3% fewer cylinders, 33-1/3% less displacement, and amazingly 33-1/3% fewer horses.
You'll also find yourself missing some niceties like power seats and an adaptive suspension. But it will set you back about 15% fewer dollars.
OPEN IT UP
Inside this lesser Supra you'll find in inviting driver's seat covered in a mix of leather, Alcantara, and two-color stitching.
Adjustments are manual, including fore/aft, seat height, recline, and under thigh support. There are also buttons for pneumatic lumber support and side bolsters. Power adjustments would be nice, but these seats look good and feel good, offering solid support and comfortable cushioning.
One quick note. Our test car was a pre-production 2021, so the production model may differ slightly.
The dashboard layout is pleasant enough with a stitched soft-touch top side, clean lines, and very little of that shiny black plastic known in recent years as "piano black".
Note to automobile marketing teams, pianos are made of wood. Let's leave the shiny black surfaces on the Steinway. Thank you, Toyota.
And hey, there's even a touch of genuine carbon fiber trim on the console.
The Supra's steering wheel is OK. It is covered in smooth leather and nicely stitched. It does the job, but might look more at home in a Camry.
The multimedia touchscreen has a slick trapezoidal shape, menus can be accessed using a console mounted knob, and they are laid out well so searching is intuitive.
DRIVE TIME
Push the Start button and the 2.0 comes to life delivering a muted 4-cylinder tone and a feel that's relatively smooth but clearly not a straight-six-sewing-machine.
There are 3 selectable drive modes, Normal, Sport, and Individual. Adjustable parameters include engine, steering, and gearing, with normal and sport the two options for each.
My time with this Nitro Yellow 2.0 was limited to one day. But as luck would have it, our sister publication Auto Exotica was utilizing the Road America racetrack for another story that day. So where do you think I took it?
I pushed the Start button, pointed the Supra's very cool snout toward Elkhart Lake, Wisconsin and became acquainted with the car on some nice country roads before lapping my all-time favorite road course.
Toyota's (OK BMW's) 2.0 turbocharged engine delivers its 255hp through a pretty traditional 8-speed automatic transmission. Sure, a three-pedal option would be swell, but if Toyota offered it only 17 people would buy it. So, here we are.
As automatics go, this one is pretty good. Put it in Sport mode and ignore the shift paddles, just leave it in Drive. Accelerate hard, then get on the brakes and that automatic will pop off downshifts at about 3,000 rpm in each gear, often accented by an exhaust CRACK!
Take it easy, cruise along, and when you get off the gas it will let revs drop to about 2,000 before each downshift. Quite nice, really.
Alternatively, put in in manual and use the paddles if you're so inclined. Manual shifting works fine for normal driving, but up and downshift response to the paddles is too sluggish for a serious attack of a twisty road, or track. It left me wanting while pounding out a few laps at Road America.
How does the 4-cylinder feel? In short, good!
This car weighs a couple hundred pounds less than its big brother. Drop the hammer and its sound and acceleration are satisfying if not thrilling.
Cornering and overall handling feel in this lesser Supra is very good. Perhaps it's not "lesser" after all.
As I mentioned earlier the 2.0's suspension is not adaptive, in fact not adjustable at all. And I'm happy to report that the is-what-it-is suspension feels just about perfect for this car. The ride is firm enough for some corner carving, and compliant enough for a long drive on real roads.
I'm told this car has a perfect 50:50 weight distribution. That, in combination with rear wheel drive and aggressive Michelin Pilot Super Sport tires is a recipe for fun. And truth be told, I had one fun day behind the wheel.
THE LAST WORD
But…but…Supras have always and only been powered by a straight-six engine. Yeah, well get over it. Toyota has chosen—wisely I'll say—to offer a less costly version with the same great look, excellent seats, and general vibe of the top-dog Supra. Less powerful, yes. But certainly not slow.
Sometimes less is just right.