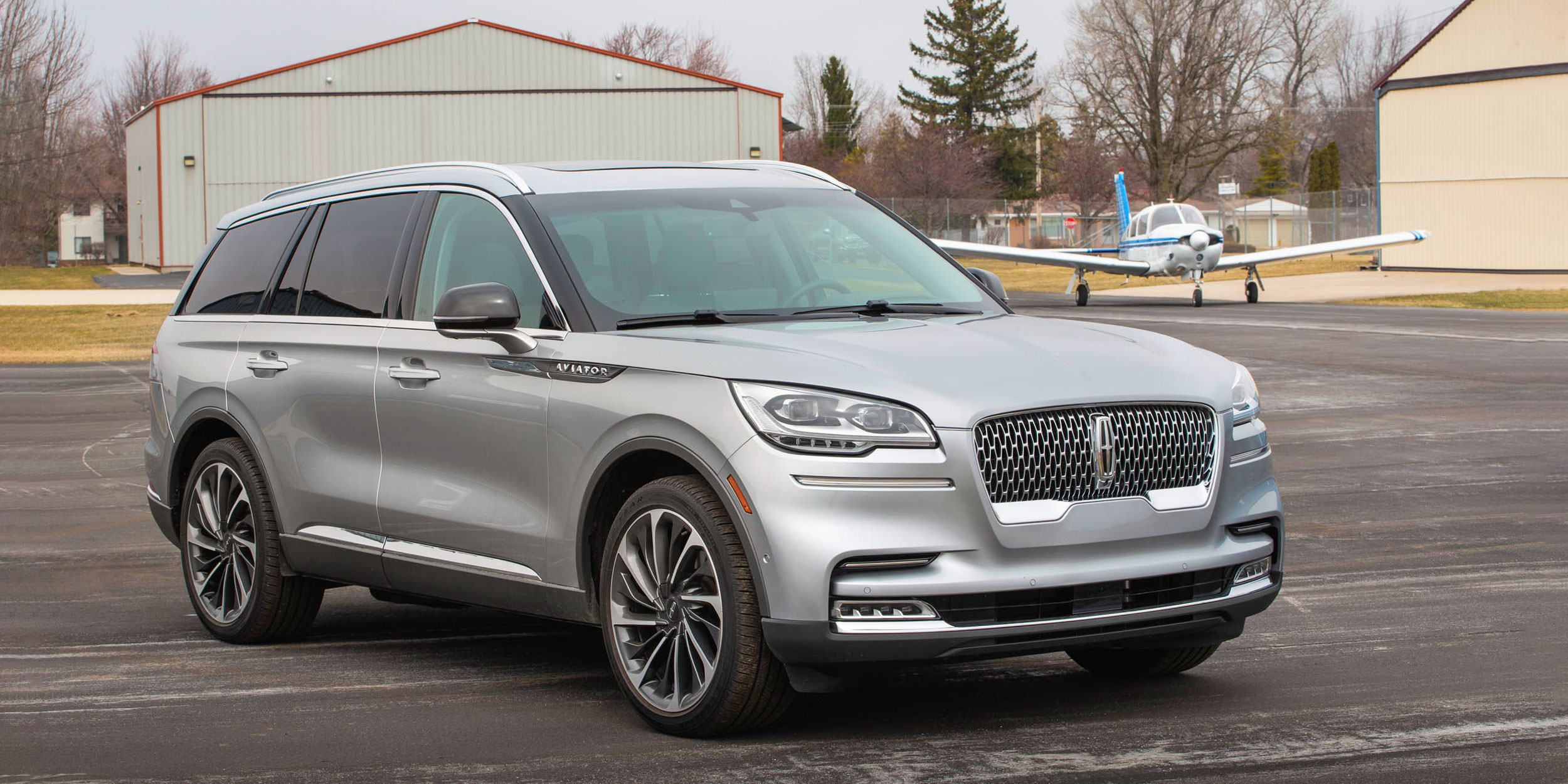 Words by: Brian Griebenow
Photos by Jessica Voruda
"The way of the future…the way of the future…the way of the future…"
Words spoken by Howard Hughes (Leonardo DiCaprio) in the final scene of the 2004 biopic film The Aviator. Recently I was given the opportunity to spend some time in a new 2020 Lincoln. My first impression upon laying eyes on this new luxury vehicle? Big. Silver. Looks like money. So far, the same might have been said 20, 40, heck 80 years ago when gazing at a Lincoln. My second impression? It's an SUV. When did utility vehicles become luxury items? Ford's Lincoln division wisely understands that this is the way of the future.
These days Lincoln still offers two sedan models, but there are now four SUV models in the lineup. The subject of this review—the Aviator—is Lincoln's second largest and second priciest. If four SUV's isn't enough to choose from, the Aviator comes in five variants ranging from Standard starting at $51,000 all the way to the Black Label Grand Touring starting at about $87,000. And, of course, any number of options can be ladled on to each variant.
For those of you diagramming all of this, our test car was the Aviator Reserve…the second lowest variant of the second largest Lincoln SUV. But it's $56,000 base price was spiced up to about $75,000 thanks to some tasty ladling.
Regardless which Aviator you might choose, all Aviators offer three rows of seating, a twin turbocharged 3.0L V6 making 400 horsepower, a 10-speed automatic transmission, and a stout tow rating. While the top 3 variants are exclusively AWD, the Standard and Reserve can also be had in RWD for those who don't deal with slippery winter roads. Oh, and for those unlikely to go off-roading in their Lincoln (snicker-snicker). There are 94 more horses available with the hybrid option, if you're into that sort of thing.
Styling is subjective, but the Aviator hits my eye exactly as I suspect Lincoln's designers hoped it would. It says high end. Quality. Special. The roofline has a sleek drop toward the trailing end and the bumpers are tucked in neatly. Finishing things off, the optional 22" wheels on our tester looked just right.
Climbing into this rig is made a little easier thanks to the optional Air Glide suspension, which kneels down an extra couple of inches for the occasion. Air Glide utilizes air bladders instead of coil springs. Those bladders are part of the handling package that also includes adaptive suspension and adaptive steering.
Once inside and settled into the driver's seat, it took about three Mississippi's for me to decide I was sitting in perhaps the most comfortable vehicle seat I have ever experienced. I am elated to report that after some hours of driving my opinion didn't change.
Full disclosure; these were the optional Perfect Position Seats with Active Motion. These babies adjust 30 ways, including individual power extending thigh supports, power side bolsters, power headrest, power anything, you name it.
The cushioning is perfect and they're heated and ventilated. During my second drive I finally discovered the Active Motion button. It brings up a menu on the 10.1" touchscreen to select from FIVE massage programs and three intensity levels. Yes, I said massage. Not vibrate, massage. Lower back, middle back, upper back, all your back. How much does this all cost? It doesn't matter, and once you've had your cheeks manipulated by Active Motion you'll understand why.
Anyway, best seats ever.
While we're talking seats, the Aviator can be ordered with a power-folding bench in the middle row, or twin seats, with or without a console between them. Those middle seats are comfortable and roomy enough for adults. Middle passengers have their own small touchscreen for audio control, HVAC adjustment, and seat heating/cooling.
What about that optional console? Tick the box and it brings storage, smart USB ports, and lighted cup holders to the party, as well as buttons to adjust the rear half of the panoramic roof shade. And speaking of shade, there are also pull-up shades for the rear door windows. Nice touch.
Of course, this being a 3 row SUV, there is additional seating behind that comfy middle row. Just barely.
Should you want to climb into the third-row seating area, Lincoln has provided buttons to move the middle row seats out of your way. But accessing that third row requires agility, flexibility, and some intuition about those buttons.
After several tries, I'm still unsure exactly what's supposed to happen but I did get myself into that third-row seat. And out again. I truly hope nobody captured video of that exercise. But hey, if you need additional seating for a couple of young kids, they'll fit back there just fine. The third-row seatbacks also fold flat when cargo room is what's really needed.
Which brings me to one minor whine. To fold that small third seatback, you do what? You guessed it, push a button, which initiates a motor to [slowly] drop the seatback flat. Um…why?
Many other, less costly vehicles use a simple latch and spring to get the job done [quickly]. For that matter, at the end of my first drive in the Aviator, I was momentarily unaware how to open the door. I could not see a door handle anywhere. One guess why. Uh-huh, to open the door you push a thumb button, which triggers a solenoid to unlatch the door.
Maybe this all makes senses to folks who understand why paper hand towel dispensers now need photo eyes and motors to do what gravity and fingers used to accomplish with elegant simplicity.
Enough whining, let's drive.
There are several driving modes on hand that are selectable using a handy dial on the console. Modes include Normal, Excite, Conserve, Slippery, and Deep. Mode selections adjust steering feel, throttle response, transmission shift points, suspension settings, and ride height (with Air Glide) to alter the driving personality. I did not try Slippery or Deep as my time with the Aviator involved only dry roads.
Excite and Conserve feel about as you'd expect. I didn't put on enough miles to verify whether Conserve saves fuel, but I can report that it is effective at making 400 horsepower feel like much less.
Excite mode noticeably firms up the ride, but not uncomfortably so. In fact, I preferred Excite for the firmer ride. Unfortunately Excite also causes the transmission to delay upshifts to an annoying degree – enough with the high revs already!
The Lincoln Aviator being, well, a Lincoln, I gravitated toward leaving it in Normal mode. Trust me, this is a nice vehicle and it drives like one.
The twin-turbo V6 provides more than adequate grunt to move this 4,900-ish pound land yacht with authority. On ramps and passing maneuvers are all accomplished with no worries.
The 10-speed transmission also works fine with just a couple minor quirks. Often when pulling away from a stop, the 1-to-2 shift is jerky…1-gasp-2. The rest of the way up through the gears is a smooth affair.
As smooth and effortless as the drivetrain's performance is, the Aviator's ride is suitably serene. The Air Glide suspension provides a smooth comfortable ride, even over broken pavement. There is some sloppy waga-waga movement at slow speeds, as when maneuvering through a parking lot.
As a highway cruiser, the Aviator excels. This is a very quiet cabin with minimal road or wind noise. And if quiet isn't what you want, the optional 28 speaker Revel Ultima 3D audio system is impressive and can be cranked up with crystal clarity.
I should note that our test car's nearly $20k in options included heated & ventilated front and 2nd row seats, heated steering wheel, head-up display, phone-as-a-key, remote start, wireless charging pad, soft close doors, adaptive steering, evasive steering assist, adaptive suspension with road preview, and speed sign recognition, among other oo-ah's.
That last item, speed sign recognition, allows this Lincoln to provide a cruise control experience one step beyond adaptive. Select Intelligent mode and you'll find the Aviator adjusting your speeds as the speed limit changes.
But what if you're a naughty person who likes to routinely drive faster than the posted limit? No problem, simply enter how many mph above the limit you want to cruise. Up to 20mph over!
Lincoln's lane keep assist is also a step above, offering lane centering which does a commendable job of gently nudging the steering wheel as needed to keep you rolling right down the center of your lane. Serenely.
Intelligent cruise handling the pedal duties, Buble's velvet vocals reaching you from 28 angles, Air Gliding along while nestled in your Perfect Position seat all while Active Motion is massaging your backside. Thank you, Lincoln. Thank you very much.
Even without all the optional trinkets, a base Aviator would provide effortless cruising. But this nicely equipped example had me feeling I was flying first class.