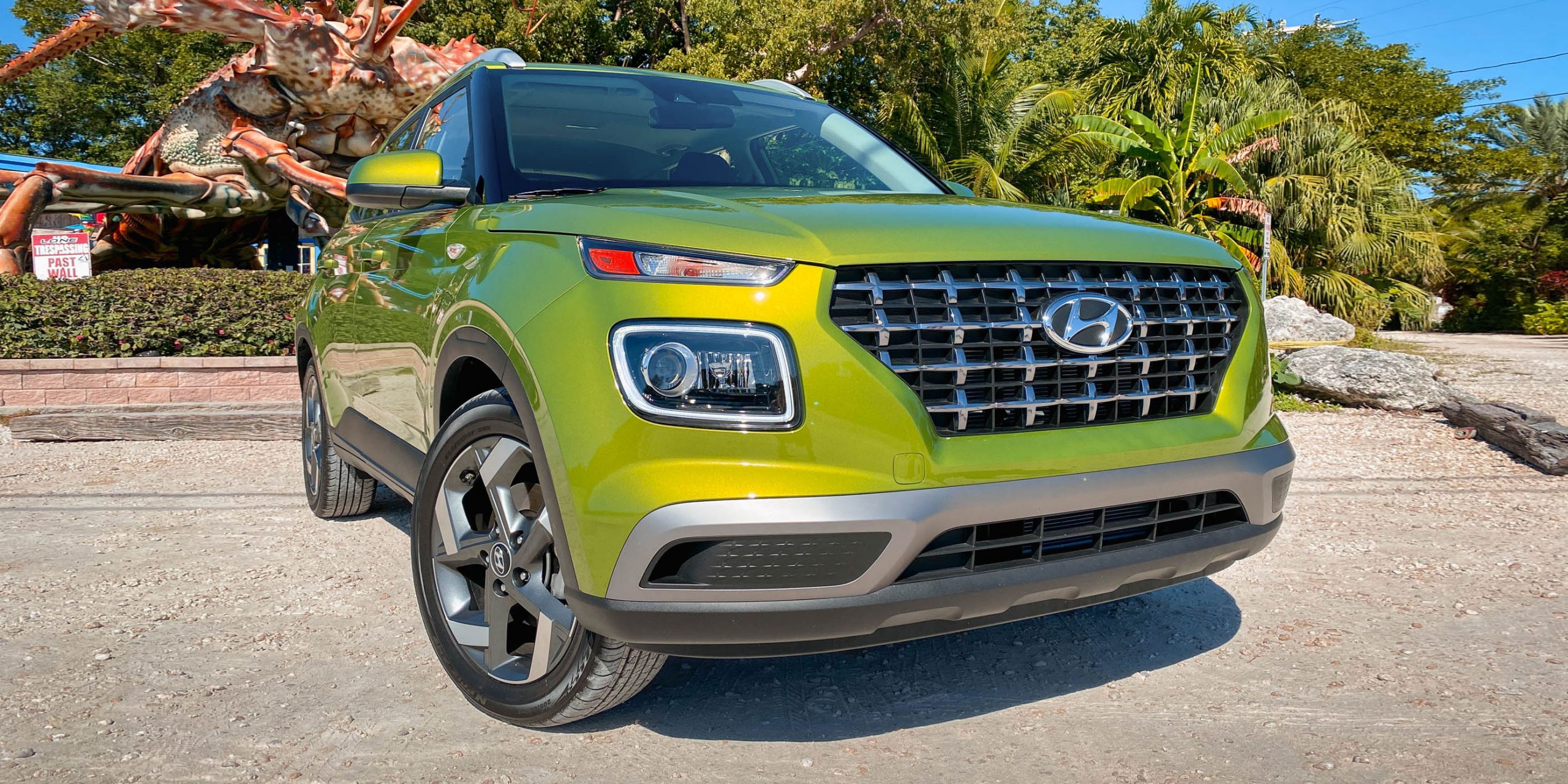 Words and Photos by Jill Ciminillo
MIAMI, Fla. — It was probably somewhere within the first 10 minutes of driving the 2020 Hyundai Venue that I made up my mind about it. The next 6 hours just confirmed my initial impression.
We had just zipped through and around slowpoke city drivers in downtown Miami to hop on the highway. I hit the onramp and immediately floored it.
While there was certainly some engine whine, I didn't get the feeling that hamsters were powering the 1.6-liter, 4-cylinder engine. It got up to speed and merged with traffic without too much effort.
Then the Venue settled into the drive, feeling planted and solid amongst the much larger vehicles surrounding us.
That's exactly when it hit me: This is an awesome little SUV.
Especially considering the price of entry is about $18,470.
DETAILS BY DESIGN
When I first saw Venue last year at the New York International Auto Show, I was enamored with its petite styling and sleek yet simple interior design. The best thing Hyundai has done with the Venue, however, is fill in the details. From the basket-weave design on the grille right down to the open/close images on the air-vent switches, the Venue looks finished.
A lot of entry-level vehicles don't.
The materials and accent pieces throughout the vehicle in general have a more upscale feel — and that includes the cloth seating surfaces.
Plus, after sitting my butt in the driver's and front passenger's seat for 6 hours, I appreciated the sheer comfort provided by the supportive seats.
And, oddly, I didn't realize how much difference a leather-wrapped steering wheel makes until I had a vehicle last week that cost nearly $30K that didn't have one. It just felt icky.
While that leather wheel isn't standard at the base trim on the Venue, it's available as a part of a package at the mid-grade trim and standard on the top-tier.
TECH FORWARD
The really great thing Hyundai has done here, however, is pack a lot of safety and technology into an affordable and attractive package.
Several of the Hyundai SmartSense features are standard on Venue, including automatic emergency braking, lane keep assist, high-beam assist and driver attention warning. Blind-spot monitoring and rear cross-traffic alert are available on the SEL trim with the addition of the Convenience Package.
The base SE also comes with nice standard features such as an 8-inch infotainment touch screen, Apple CarPlay/Android Auto, two front USB ports, Bluetooth hands-free phone pairing, cruise control and automatic headlights.
As you level up to the middle trim, Hyundai adds automatic climate control and the Drive Mode Select system. Features available in package options include a power sunroof, passive entry, push-button start, navigation, heated front seats and the BlueLink connected car system.
ALL THE TRIMMINGS
Hyundai tends to follow the K-I-S-S philosophy when dealing with trims. Venue only has three trims, and the bottom and top tier have no options. The middle has two package availabilities, which add tech and convenience features.
SE: $18,470
SEL: $20,370
Denim: $23,170
One interesting note: The SE trim has a 6-speed manual transmission included in that base price. If you want to upgrade to Hyundai's Intelligent Variable Transmission, you'll add $1,200. But the fact that Hyundai is offering a manual in this segment is outstanding.
The Denim trim includes all the packages from the SEL trim and adds a unique color scheme: a two-tone navy-and-white exterior paint job and different seating surfaces with a navy leatherette surround and fabric inserts that look like, well, blue jeans. This is a kitschy treatment, for sure, but one I think will age well.
THE COMPETITORS
A lot of people have assumed Hyundai's Venue is built on the same platform as the Kia Soul, but it's actually about 6 inches shorter than the Soul, and it has a smaller wheelbase.
While the Ford EcoSport ($21,090), Chevrolet Trax ($22,295) and Nissan Kicks ($19,965) are the most likely competitors, I'd say the only real competition is going to come from the Kicks, which has a very similar price tag and engine option. The primary difference will be that the Nissan is 10 inches longer, which translates into more cargo volume.
Additionally, in the safety realm, the Kicks adds automatic reverse braking as standard fare for 2020. This isn't even an option on the Venue.
THE BOTTOM LINE
According to Hyundai execs, 41 million people bought a used car in 2019 because the financial barriers to buying new proved to be too much. That means there were 41 million people who were missing out on the latest and greatest safety technology.
The 2020 Hyundai Venue aims to change that with a vehicle that is comfortable to drive, has up-level standard safety tech and won't cost an arm and a leg.
IMHO, this petite CUV is just another in a long line of winners from Hyundai.
Editor's note: Driving impressions in this first-look review are from an invitation-only automaker launch event that allowed special access to both the vehicle and company executives. Hyundai covered our accommodations, meals and transportation costs.