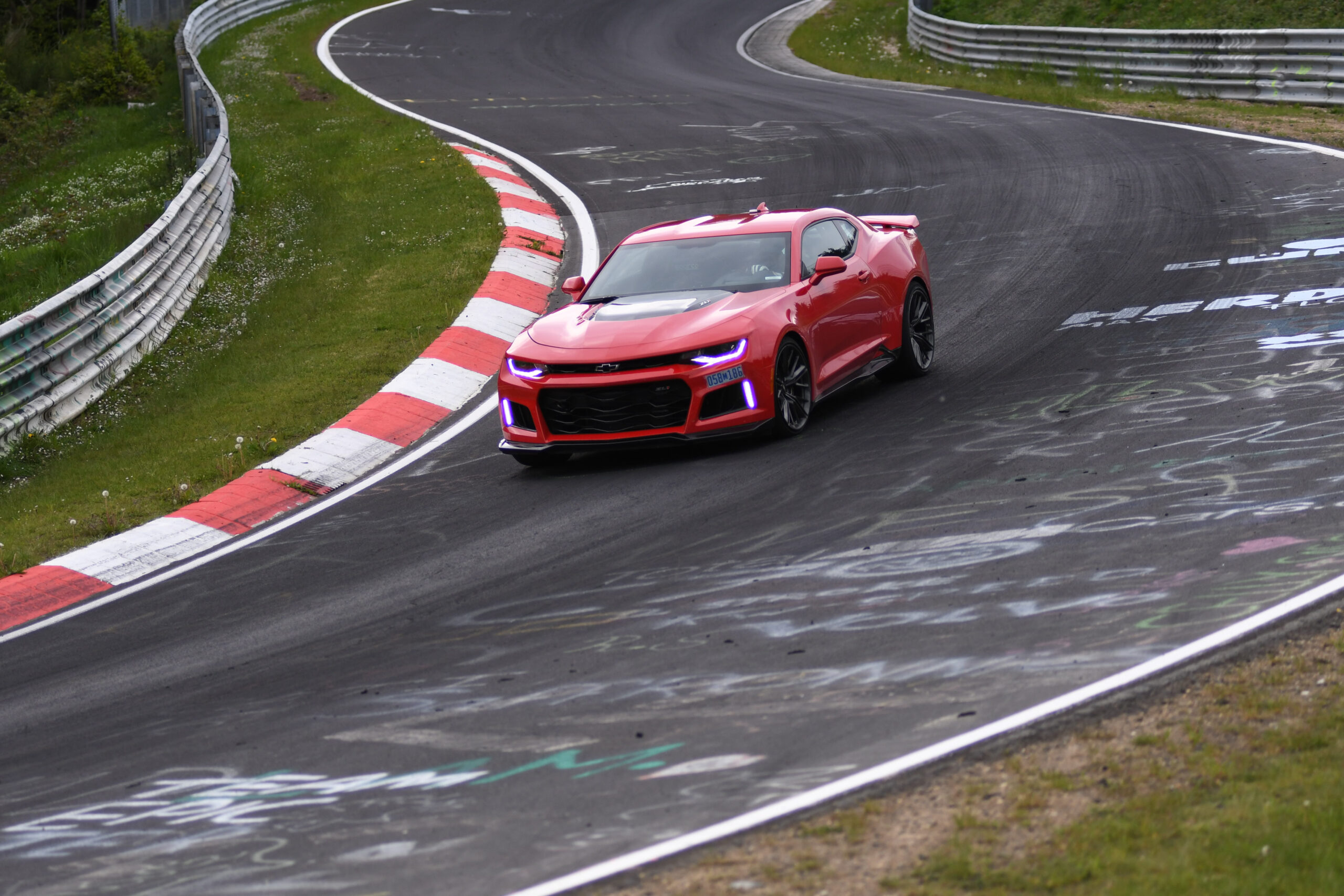 By now you've probably seen video of a camouflaged 2017 Camaro ZL1 ripping round the Nürburgring, but today Chevy released video (see below) from inside a production ZL1 tearing up the Nordschleife in a blistering 7:29.60. The new ZL1's lap time is an astonishing 11.67 seconds quicker than the previous ZL1's fast lap.
"To be almost 12 seconds quicker than the 5th-Generation ZL1 is a testament to the advanced design and technology of the new ZL1," said Al Oppenheiser, Camaro chief engineer. "From the improved aerodynamics, mass reduction and 650-horsepower LT4 to the Magnetic Ride Control, electronic limited-slip differential and Custom Launch Control, the ZL1 was designed to take on the world's most challenging track, making it right at home on any track, road or drag strip anywhere."
The only changes made to the ZL1 were the installation of data acquisition equipment, a roll hoop and Sparco racing seats with six-point harnesses. Otherwise, the car was production stock and included the following:
6.2-liter supercharged LT4 V-8 out of the mighty Corvette Z06 making the same 650 horsepower and 650 lb-ft of torque
All-new 10R90 10-speed automatic transmission (set to Track mode to enable Performance Algorithm Shift calibration, providing optimal gear selection without the need to manually select gears)
FE4 Suspension with Magnetic Ride Control
Performance Traction Management
Forged 20-inch wheels with Goodyear Eagle F1 Supercar 3 tires
Brembo brakes with front 15.4-inch rotors and six-piston calipers and rear 14.4-inch rotors and four-piston calipers
Lift-reducing front fascia elements with cooling ducts and Chevrolet "flowtie" borrowed from the 5th-gen Z/28
Full underbody shielding
ZL1-specific rear spoiler and diffuser
11 heat exchangers to avoid the overheating issues that plagued early Z06 models on track
What's interesting to note watching the lap is that the ZL1's new 10 speed transmission, in track mode, requires no manual shifting. Given its close ratio and high number of gears, Chevy's Performance Algorithm Shift calibration is clearly essential to allow the driver to concentrate on the road ahead instead of constantly searching for the right gear. Also noteworthy is the car's excellent braking ability over the lap despite its lack of carbon-ceramic brakes. We'll have to see how much more punishment the Brembo setup can take before fade kicks in when we get one of these to a track ourselves. Finally, it seems Goodyear is not content to let Michelin grab all the high performance glory as this beast rides on F1 Supercar 3 tires, which appear to grip well throughout the lap. Oh, and in case you're the impatient type, the ZL1 hits a top speed of 181 on the straight.
"Many fast laps around the Nordschleife are dramatic, with lots of oversteer and steering input," said Drew Cattell, Camaro ride and handling engineer and driver of the hot lap. "Not so with the ZL1, which is extremely planted and stable, almost calm. With Magnetic Ride and great overall chassis balance, the ZL1 is all about being inch perfect at every turn and carrying a lot of speed."
While the ZL1 has clearly graduated from mostly a quarter mile thrill ride to legitimate track attack machine, Chevy still has one more ace up its sleeve: the still under wraps 6th-gen Z/28. We expect that hardcore machine to have more aero, carbon-ceramic brakes, more rubber and less weight than the ZL1. The big question for the Z/28 will be what will lurk under the hood: will Chevy resurrect the 7.0L 5th-gen motor, use the LT4 or go with something entirely new? We can't wait to answer that question.