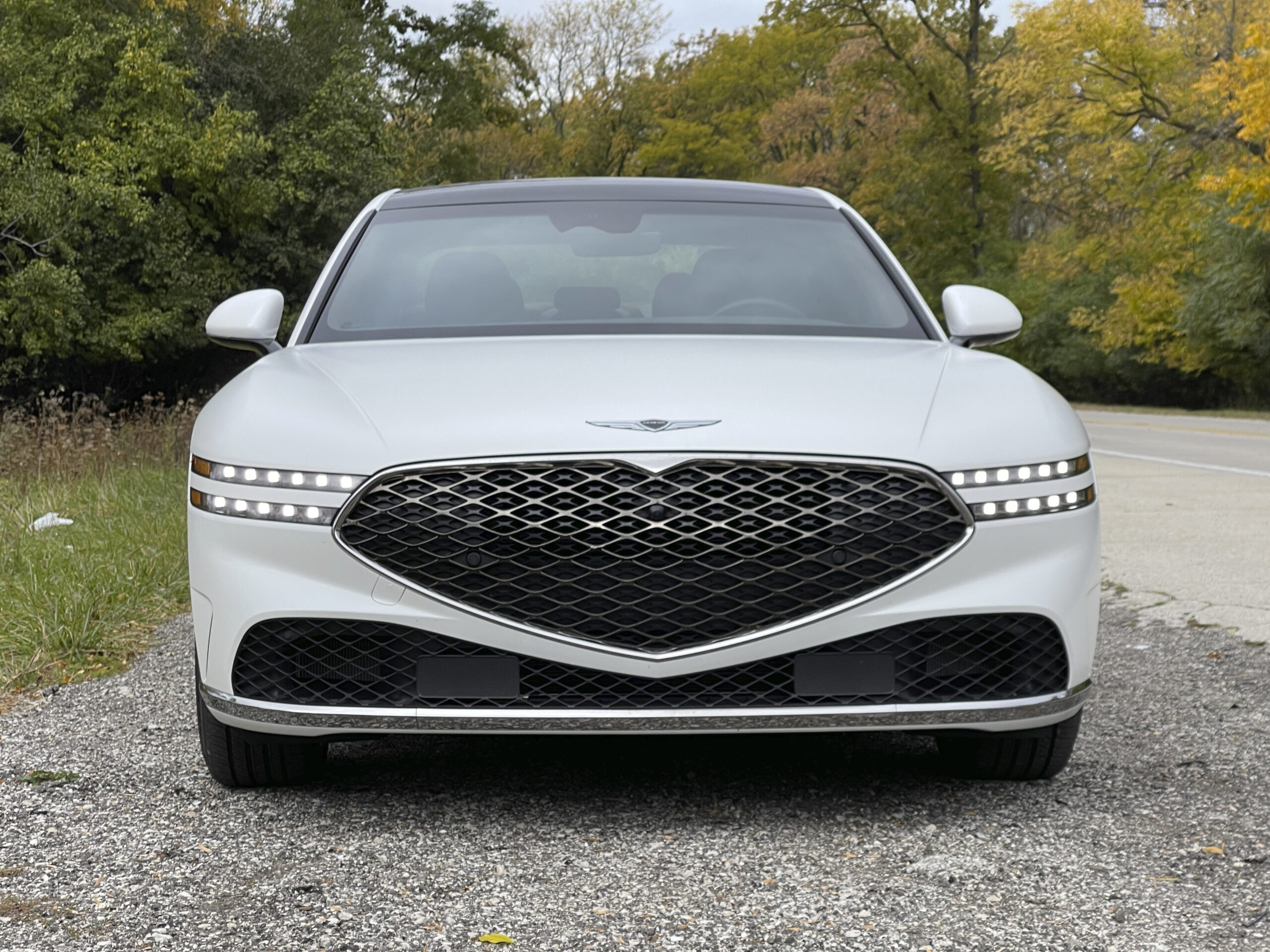 Everybody loves a bargain, that feeling when you get more than you pay for—it's great! Finding bargains at Macy's or Neiman Marcus is one thing, however. Finding a bargain at your local car dealership is something else entirely. If I were to tell you that the all-new for 2023 Genesis G90 e-Supercharger is an absolute steal at $100k, you might think that I was crazy—but you would be wrong!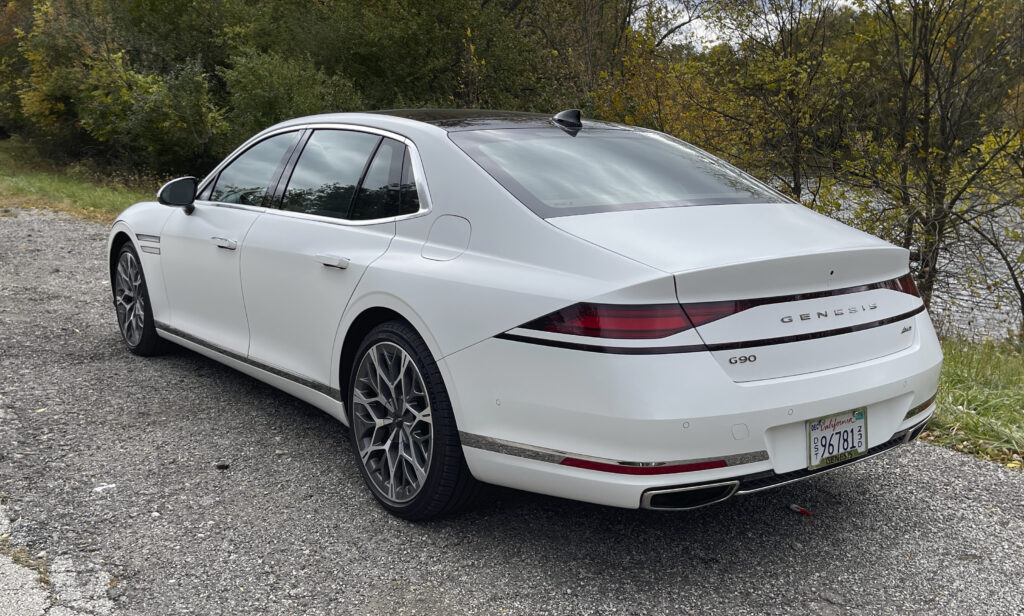 Allow me to convince you: Although sales of sedans, especially luxury sedans, have nosedived in recent years due to the introduction and subsequent invasion of the SUV—there is still a large enough market that a few auto manufacturers continue to build them. Today, manufacturers place a greater emphasis on comfort, ride, technology, and design. Enter the 2023 Genesis G90 e-Supercharged, the flagship vehicle of the Genesis line. This is the car that was designed from the ground up to take on the world's finest luxury sedans and—spoiler alert—they absolutely nailed it!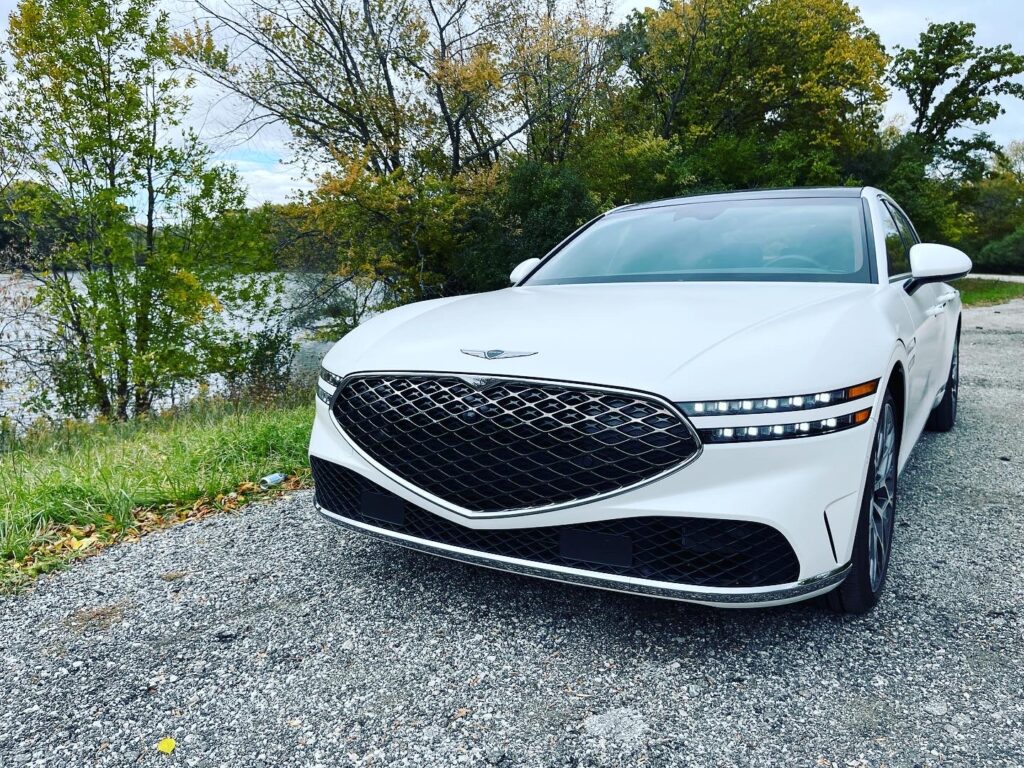 When it comes to design, the G90 is an attention grabber. From the bold front grille, to the impossibly-thin "Micro Lens Array" headlights, to the double full width LED taillights—this car is nothing short of stunning. My test car was painted a beautiful Verbier White with a unique matte finish, which, according to Genesis, does not require any extra care and is safe to run through a commercial car wash. The bodywork on the G90 is proportioned so well that it completely hides the fact that it's incredibly long: 207.7 inches, to be exact. Just 3 inches shy of the 3-row, 8-passenger Chevy Tahoe SUV. Why is the G90 so long? In the back you'll find two reclining seats with enough leg room to not only cross your legs, but stretch out and take a nap as well. Forget about arguing over who has to sit in the back—in the Genesis G90, you'll pity whoever gets stuck sitting up front! Huge 21" wheels with low-profile tires are standard and finish off the high-end design with a classic, elegant look.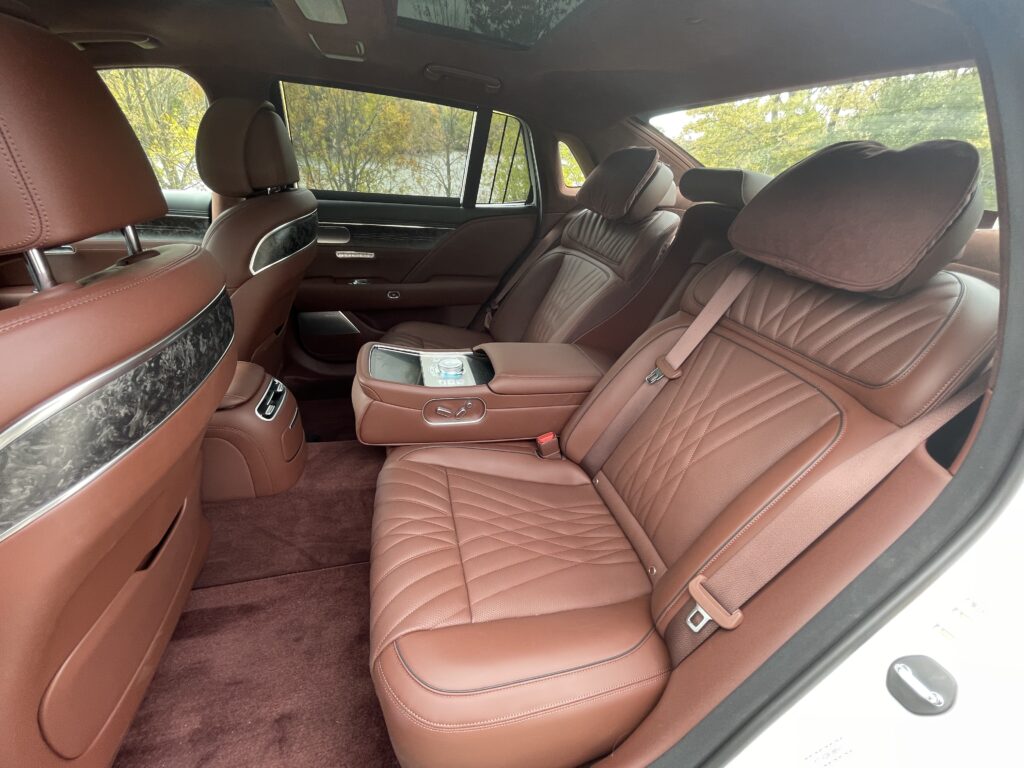 The Genesis G90 e-Supercharged uses a 3.5L twin-turbo V6 engine with an added 48 volt mild-hybrid system. This type of hybrid never shuts the gasoline engine off. Instead, it uses an electric-driven supercharger to boost power and provide smoother acceleration, negating any sort of turbo lag. The total output is 409 horsepower and 405 lb/ft of torque, but gas mileage is nothing to brag about at 17mpg/city and 24mpg/highway. The engine is mated to a smooth-shifting 8-speed automatic transmission and together feels well-suited to the car. Acceleration to 60 mph arrives at a brisk 5.1 seconds—you won't miss not having a V8 under the hood.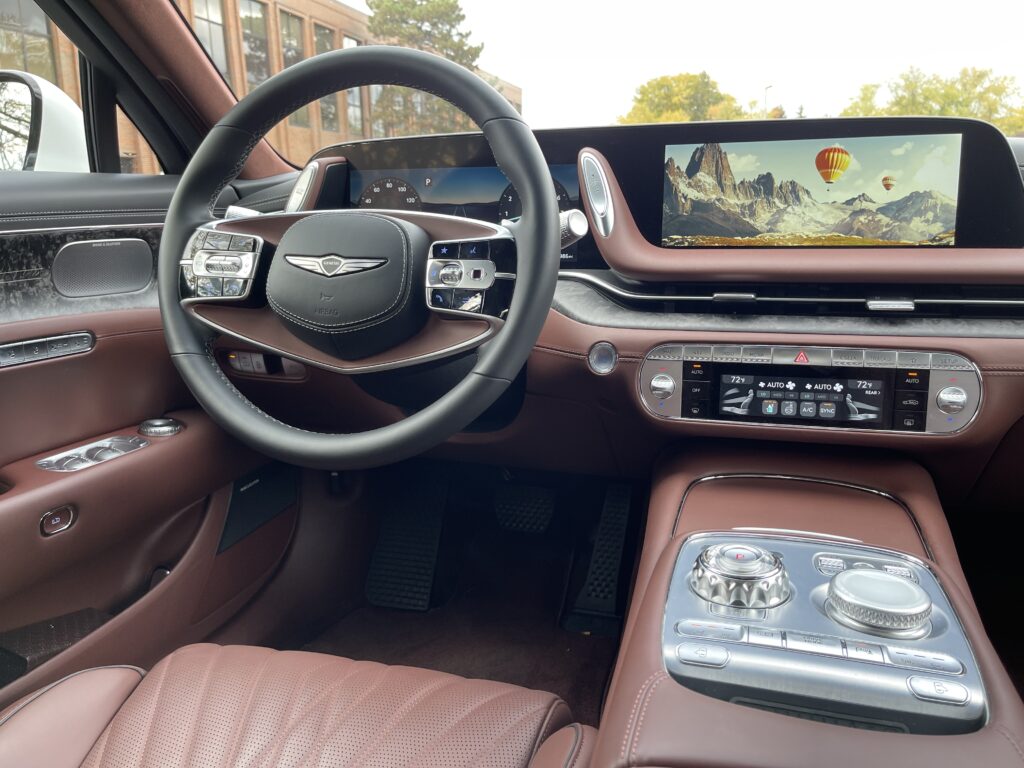 This car is packed with great technology, starting with a multi-chamber air suspension that is combined with Genesis' PECS system (Preview-Electronic Control Suspension). The system uses cameras and sensors to detect what is coming up in the road ahead, immediately adjusting the firmness of the suspension to provide the best ride possible. The air suspension adds automatic adjustments in vehicle height to smooth out potholes and can even avoid scraping the underbody on road debris. The powered closing doors are another great feature: They allow you to close each door with a push of a button, or to close all four doors at once with a press of the brake pedal. I initially saw this as a pretentious, attention-seeking gimmick, but, after using it for a week, I concede that it is simply awesome and actually very useful. In fact, it's the first thing I missed when I returned to my own car. The final noteworthy feature of the G90 e-Supercharged is the four-wheel-steering system. At low speeds, the rear wheels turn 4 degrees opposite the front wheels to aid in maneuverability. At higher speeds, the rear wheels turn 2 degrees in the same direction to provide easier lane changes.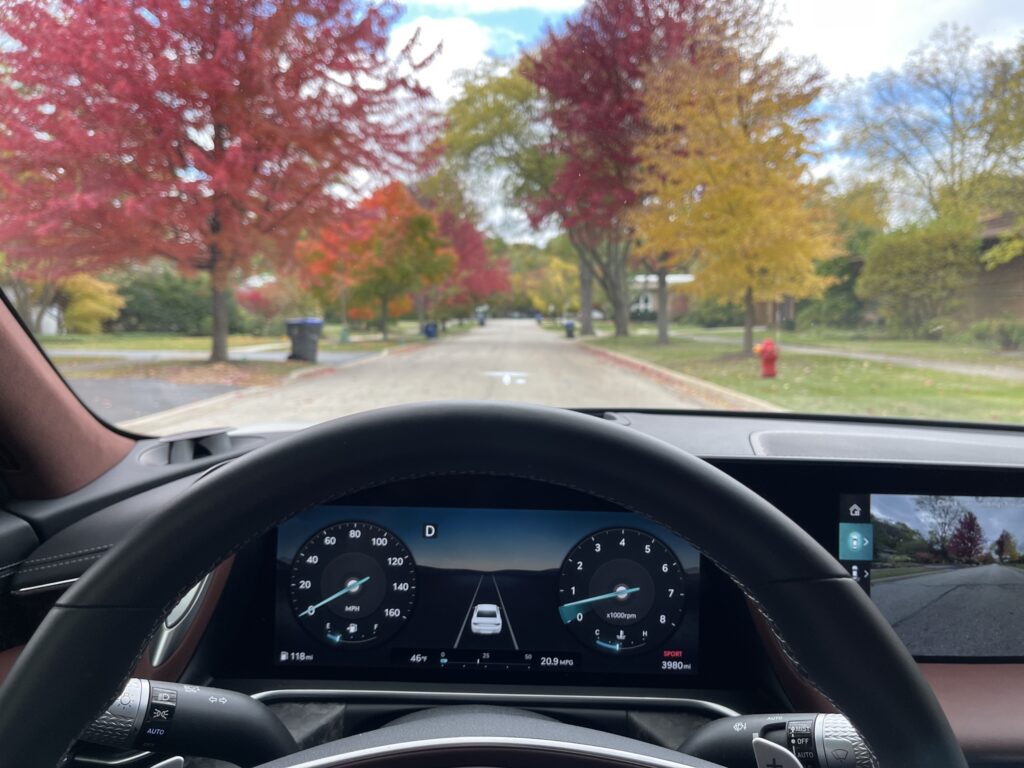 Ride comfort in the G90 is top notch; you simply cannot get a better ride for this price point. The cabin is extremely quiet at any speed. The interior is beautiful and fitted with high quality materials. There is even an automatic fragrance diffuser with 3 unique scents. The infotainment system is the same one used in other Genesis models and is intuitive and easy-to-use. Driving the G90 is an experience in serenity and comfort; steering inputs are obeyed although softened in true luxury-car fashion. My only complaint would be that the rear-wheel steering can feel a little out of sync when making quick turns. Nothing a software update couldn't fix!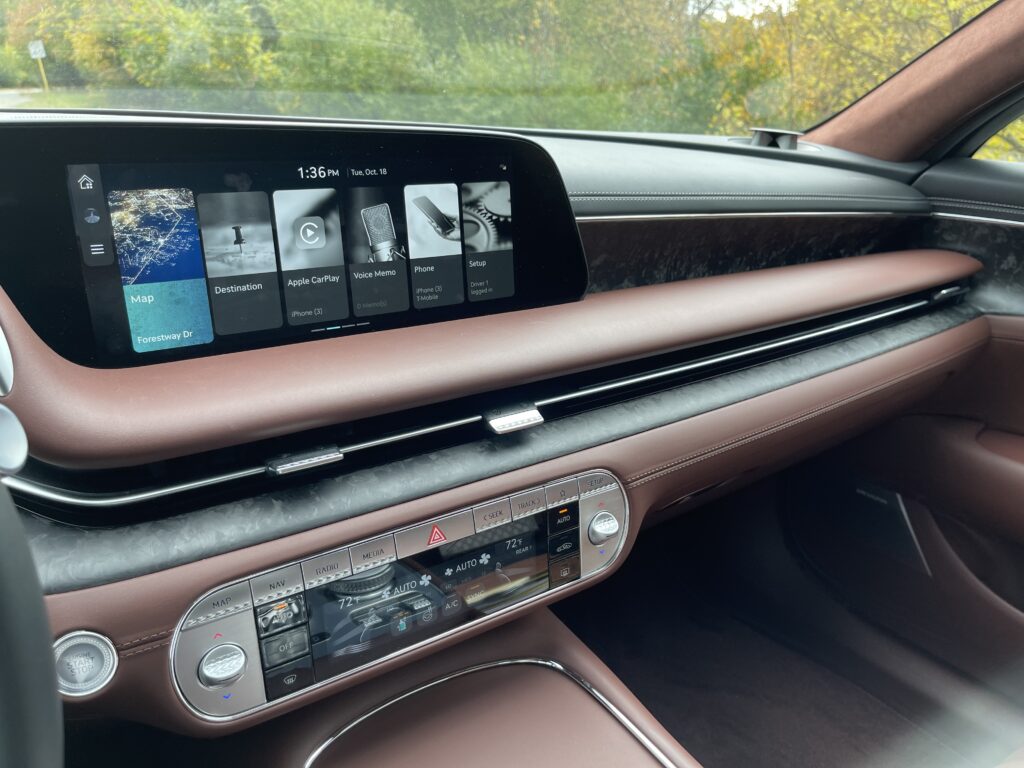 The Genesis G90 is really a special car. From the way it looks, to the way it drives, to the way it pampers you—this is a car that makes you feel, well… special. For $101,370 including destination, there is nothing currently on the road that combines this level of luxury, refinement, and comfort without spending a lot more money. Think of the 2023 Genesis G90 e-Supercharged as a Bentley Flying Spur with a $120,000 rebate—it's an absolute bargain!