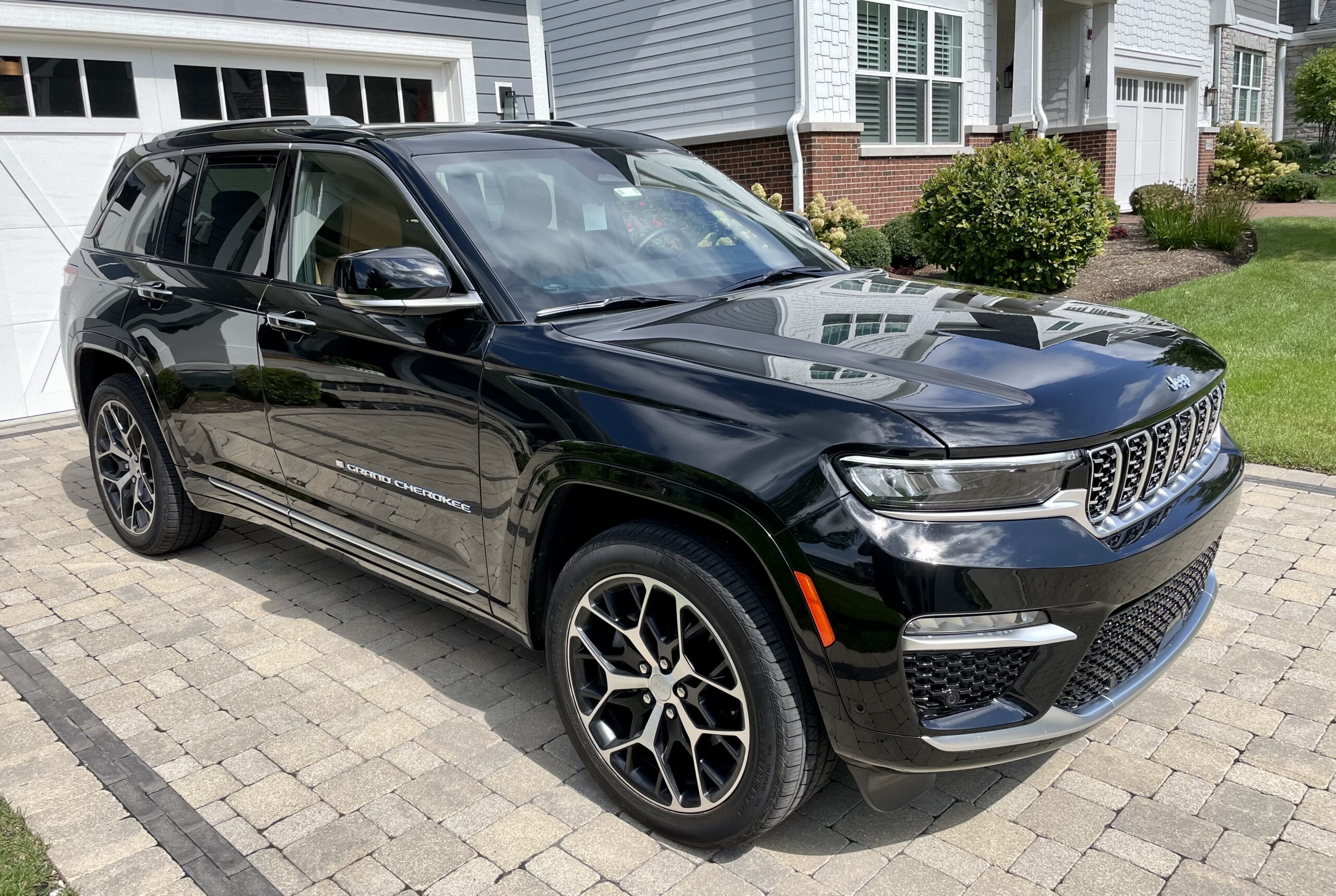 Over-the-top Good!
Officially trademarked in 1945, the word Jeep has become synonymous with four-wheel drive and off-roading. From hauling World War II soldiers through the bombed-out fields of Europe to featuring today's full lineup of rugged and capable vehicles, Jeep is widely considered to be the inventor of the Sport Utility Vehicle (SUV). While the company still prioritizes its off-road capabilities, there is now a new emphasis on luxury—high-end luxury.
The last generation Grand Cherokee was unveiled over a decade ago, making a redesign long overdue. This year finally introduced the 2022 Jeep Grand Cherokee, all-new from the ground up and available in two sizes: regular and an extended "L" model. The regular version is 193.5" long and offers two row seating in a 2+3 configuration, while the "L" is 204.9" long and comes with three rows in a 2+2+2 set-up. Having seven trim levels to choose from covers a huge price range—from the $42,000 entry level Lariat model all the way up to the $79,000 fully-loaded Summit Reserve.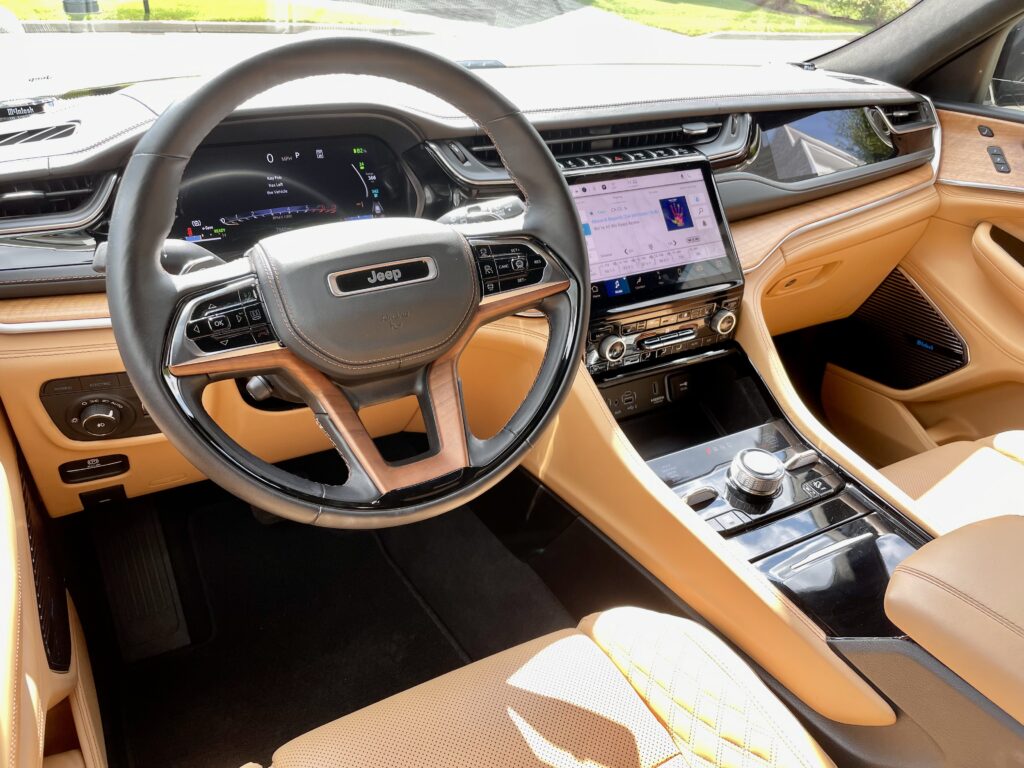 Also new for 2022, Jeep is offering a Plug-In-Hybrid system on upper trim levels which they call 4xe (pronounced "four-by-ee"). This system allows the Grand Cherokee to drive as a battery electric vehicle for up to 25 miles, then switches over to a Hybrid gas/electric powertrain once the main battery is depleted. This means that, if your office is 10 miles away, you can drive to work and back—even stopping for groceries—and never have to use any gas. Just plug the Grand Cherokee into your home charging port when you return and you are ready for the next days' worth of activity. And if you do need to travel farther than 25 miles—no problem. Just drive as if it were a regular SUV and fill it up at any gas station—no "range anxiety" to worry about here. It's the best of both worlds: electric vehicle for all of your local errands, gasoline engine for everything else. As an added bonus, it qualifies for the $7,500 federal tax credit.
My press car was the Summit Reserve 4xe, which uses a 2.0L 4-cylinder engine and electric motor and operates through an 8-speed automatic transmission. Horsepower is an impressive 375 with 470 lb-ft of torque, which actually has more power and more torque than Jeep's standard V6 and even its optional 5.7L V8 gas engine. This Jeep is pretty quick: 0-60mph in 6.0 seconds flat even bests the V8's time. The 4xe system is pretty seamless as well; you barely notice when the system switches from gas to electric and vice-versa. The downsides? Choosing the 4xe option reduces towing capacity. Additionally, you lose the three-row seating option: two rows only.
The exterior of the new Grand Cherokee is classic Jeep—restrained, yet handsome. Few companies can make a box look as good as Jeep can. No swooping rooflines or exaggerated creases to strain the eyes, just clean and timeless simplicity. And as good as the outside looks, the interior of this Summit Reserve package is even better! The gorgeous quilted leather with contrast stitching features throughout, and flat-matte real wood accents are beautifully integrated into the dash and doors. A sophisticated center console takes center stage, oozing high-end luxury. And speaking of high-end luxury, this Jeep pretty much has it all: massaging front seats, air-suspension, a fantastic and quick-to-learn infotainment system, a killer 19-speaker, 950 watt McIntosh sound system that you have to hear to believe and—my favorite option—a night vision camera that allows you to see up the road much farther than your headlights—regardless of lighting or weather conditions. It will even alert you if an animal or pedestrian is in harm's way.
Best of all, the new Grand Cherokee is a joy to drive! It's smooth, quiet, comfortable, and effortlessly navigates the road. Although the steering is balanced with nice on-center feel, turn-in is on the softer side and feels a bit muted in the corners. The air-suspension glides over road imperfections, but larger road bumps do manage to slightly shake through the chassis. It's nothing alarming, but you notice it.
The 2022 Grand Cherokee is a vehicle that can take you almost anywhere without compromise—both on-road and off-road capabilities in this SUV are just stellar. Jeep has delivered a vast improvement over the outgoing model, offering plenty of technology, style, and—of course—luxury. Add in the Plug-in-Hybrid attributes of the 4xe system and you have arguably one of the best mid-size SUVs you can buy today. This really is a vehicle that does it all—it's over-the-top good!