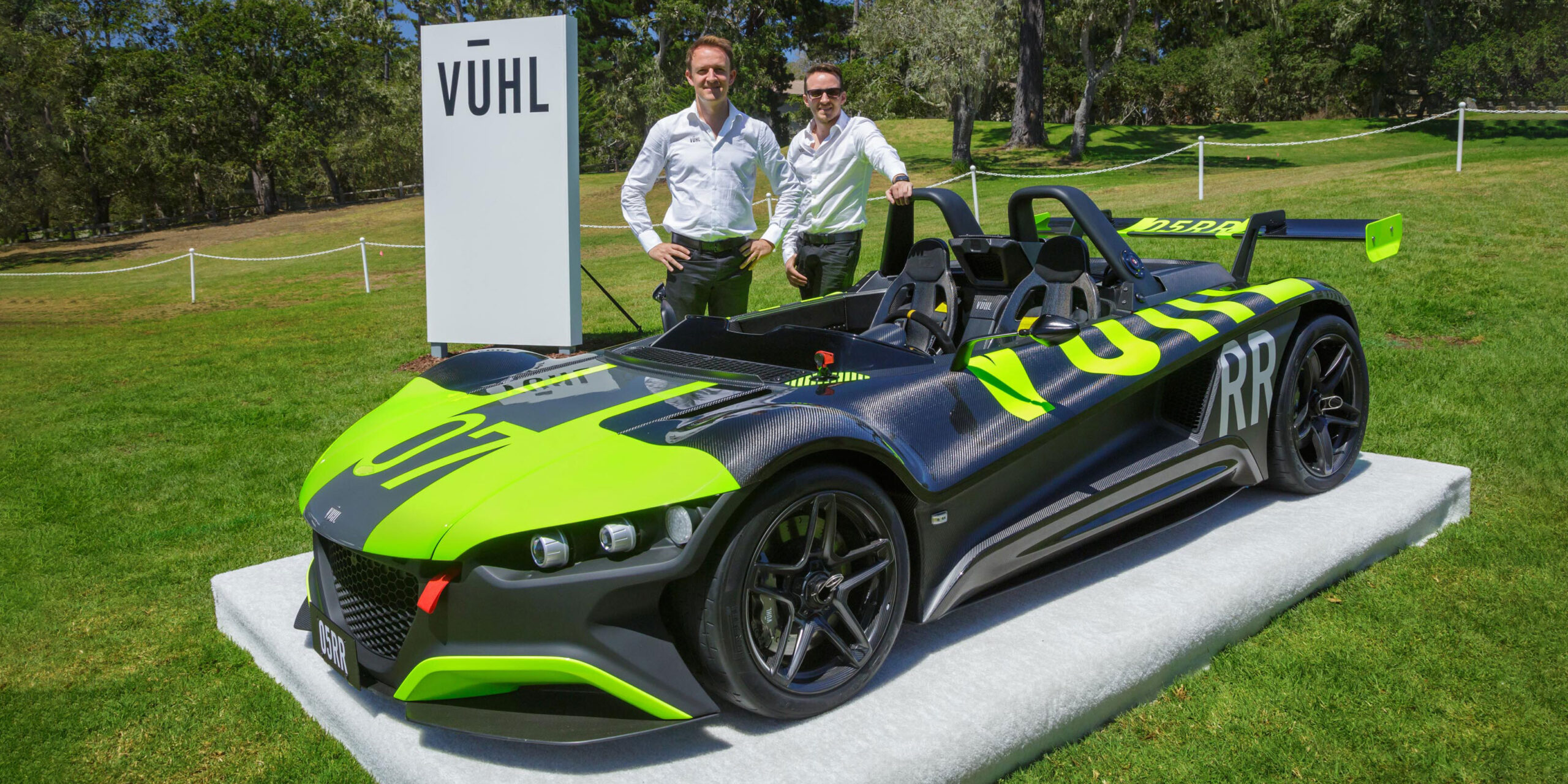 Lightest, most powerful VUHL – 05RR – breaks cover in California at Pebble Beach Concours d'Elegance
VUHL cars are available for the US market for the first time
Significant sales of VUHL cars across US territories
All VUHL models are street legal "race cars for the road"
IMAGES: https://we.tl/t-56DQKp6aKy
(Pebble Beach, California) 28 August, 2019 – VUHL, the road-legal lightweight supercar brand, announced its entry into the US market confirming orders across US territories in its new dealer network.
California encapsulates the heart of VUHL's latest supercar, the all-new 05RR. With a renowned automotive culture, world-class racetracks, extensive motorsport pedigree and passionate enthusiast community, it was the perfect location to reveal the 05RR to the US as it accelerates its offering to the market.
Immediate orders from a number of territories across the US, including California, Florida, Nevada, New York and Texas have been placed ahead of Q3 and Q4 production.
In order to facilitate growth in the market, VUHL is entrusting some of the most experienced and industry-leading dealer networks in Northern America starting with California:
As a Technical Partner, Black Shadow Motors in Temecula is an authority in lightweight supercars, experts at service and maintenance and leaders on track day cars and street legal supercars.
Redwood City based ISSIMI is a Commercial Partner & PR/Media agency working with some of the most iconic supercar brands and boasts an impeccable technical reference with exemplary record in exclusive vehicle sales, customer care and maintenance within the US.
The 05RR was introduced to the world earlier this year to an exclusive audience ahead of the Race of Champions in Mexico City.
Managing Director and Co-Founder of VUHL, Guillermo Echeverría, said: "Car Week, and California in general, are the ideal places to introduce our brand to American consumers.
"California's vast motorsport culture, world-class racetracks, and passionate enthusiast community are perfectly aligned with the philosophy that underpins our cars, and no event captures that spirit better than Car Week."
VUHL Technical Director and Co-Founder Iker Echeverría, said: "The perfect start to our introduction into the United States. We are excited to be at Car Week not only to announce our entry into the US market, but to unveil our latest model, the 05RR, which takes the already potent 05 to the next level.
"Virtually every system in the car has been meaningfully revised to improve performance. We did this in a way that makes the RR even faster on track, but also makes for an engaging, raw, and pure driver's car that can be driven on the street."
The first delivery of a VUHL in America through the new dealer network was a 05RR supplied to a Miami-based owner on the final day of Car Week. The 05 and 05RR is now available through an extensive dealership network in Europe, the US, and Mexico.
More news on VUHL's growing brand and expansion within the US is expected soon.