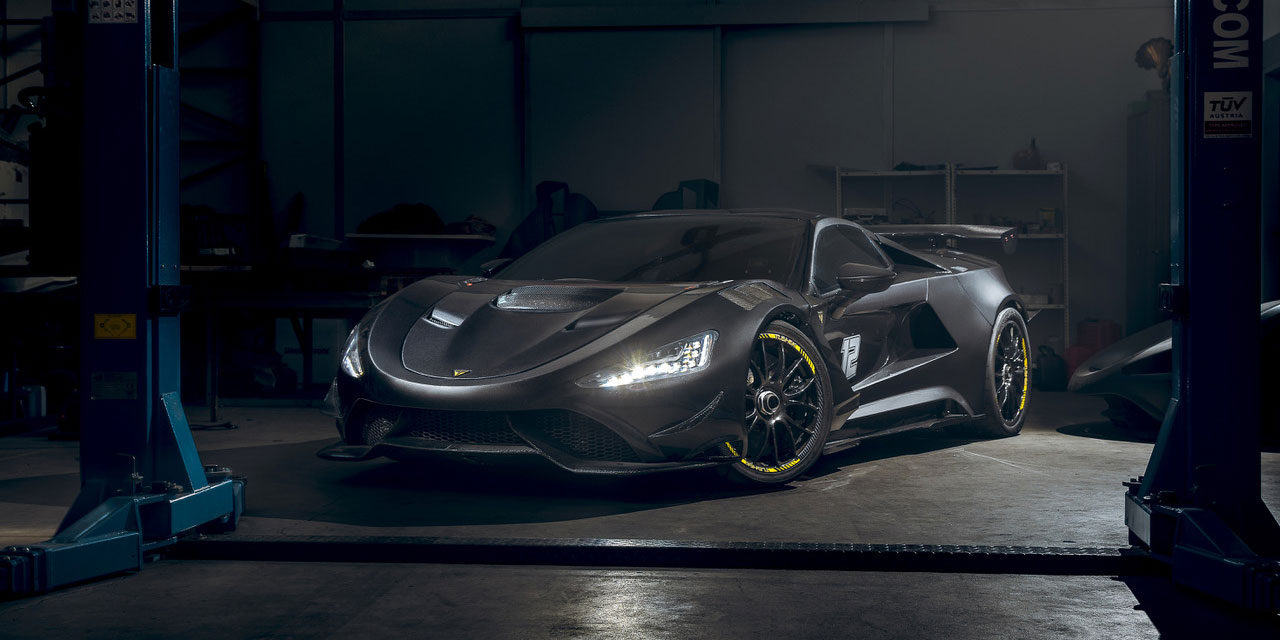 Lightest hypercar on the road with curb weight of just 1410 kg
0 to 60 mph in 2.5 seconds
Top speed of 236 mph
2 electric motors and petrol V-8 produce 950 hp and more than 1,400 Nm torque
Windsor 6th August: Team Tushek, founded by Slovenian racing driver, Aljosa Tushek proudly launches its sensational TS 900 H APEX at this year's Salon Privé.
Powering the stunning TS 900 H APEX are 2 electric motors, (1 on each front wheel) and a 4.2 Litre rear mounted V-8 with added compressor, which combined, produce 950 hp and a massive 1,400 Nm torque. It might not be the most powerful hybrid hypercar on the road, but it is the lightest thanks to its chrome-moly spaceframe and pre-impregnated carbon-fibre body, resulting in an incredible curb weight of just 1,410 kg. With figures such as these, performance is sensational with 0 to 60 mph coming up in 2.5 seconds and a top speed of 236 mph.
For a car that offers this level of performance, tyre and brake partners are crucial hence the TS 900 H APEX wears Pirelli Trofeo Series R tyres with 235/35 section to the front and 305/30 to the rear and Brembo calipers are fitted to give the necessary levels of braking. The sleek two-seater, carbon-fibre body features scissor doors and removable structural hardtop allowing open-air driving and the opportunity to experience the full exhilarating symphony of its thunderous V-8.
Utilising Alojsa Tushek's experiences on the track and his knowledge of racecar set-up, the team have spent the last 4 years researching and testing different technologies and dynamics to create a car that connects with the driver via an innovative set of systems inside the cabin.
Aljosa Tushek, Founder of Tushek Ltd., commented "The Tushek team is delighted to be back at Salon Privé. Over the past years we have intensively developed and constructed advanced technological solutions for our new model, the TS 900 H APEX, in particular in the area of electric drive train. Those developments are now incorporated in our latest model and have been successfully tested in race-track conditions over the past months. Our team is looking forward to presenting our supercar to Salon Privé's elite clientele."
David Bagley, Co-Founder & Sales Director, Salon Privé said "The new TS 900 H APEX demonstrates Aljosa and his team's pursuit of perfection as well as their continued use of innovative technology to create a car that connects with the driver whether on the road or on the track. It inspires confidence in the driver which in turn enables them to fully experience the car's incredible capabilities."
EDITORS' NOTES:
Now in its 14th year, Salon Privé is a must-attend event for any car enthusiast or aficionado. Having been invited into the Peninsula Classics Best of the Best Award, the Concours is now recognised by the experts as one of the top events in the world alongside Pebble Beach, Villa d'Este and Amelia Island to name a few. It is an automotive Garden Party held within the grounds of 'Britain's Greatest Palace', Blenheim Palace and firmly established as the UK's most exclusive automotive Garden Party.
Salon Privé showcases a globally-recognised Concours and a one-marque 'Masters' celebration within the same four-day event; firstly, the 'Salon Privé Concours d'Elégance by Chubb Insurance' on Thursday 5th September comprising 50 eclectic historic cars and 20 motorbikes, followed by 'Salon Privé Bentley Masters by Chubb Insurance, Pirelli & Lockton Private Clients' celebrating Bentley's 100th Anniversary on Saturday 7th September. 'Salon Privé Ladies' Day by Boodles', a favourite on the British social calendar sits between the two on Friday 6th September as does the first of 2 new events, Salon Privé LIVE that evening located in nearby Woodstock. Finally, the newly-formed Salon Privé Classic & Supercar featuring the Lockton Club Trophy and Salon Privé GT Tour by Lockton Performance will become our finale day for the public on Sunday 8th September. For more information, please contact David Bagley – [email protected]
Tickets can be purchased via the website www.salonpriveconcours.com or by calling the Ticket Hotline: 0808 100 2205.