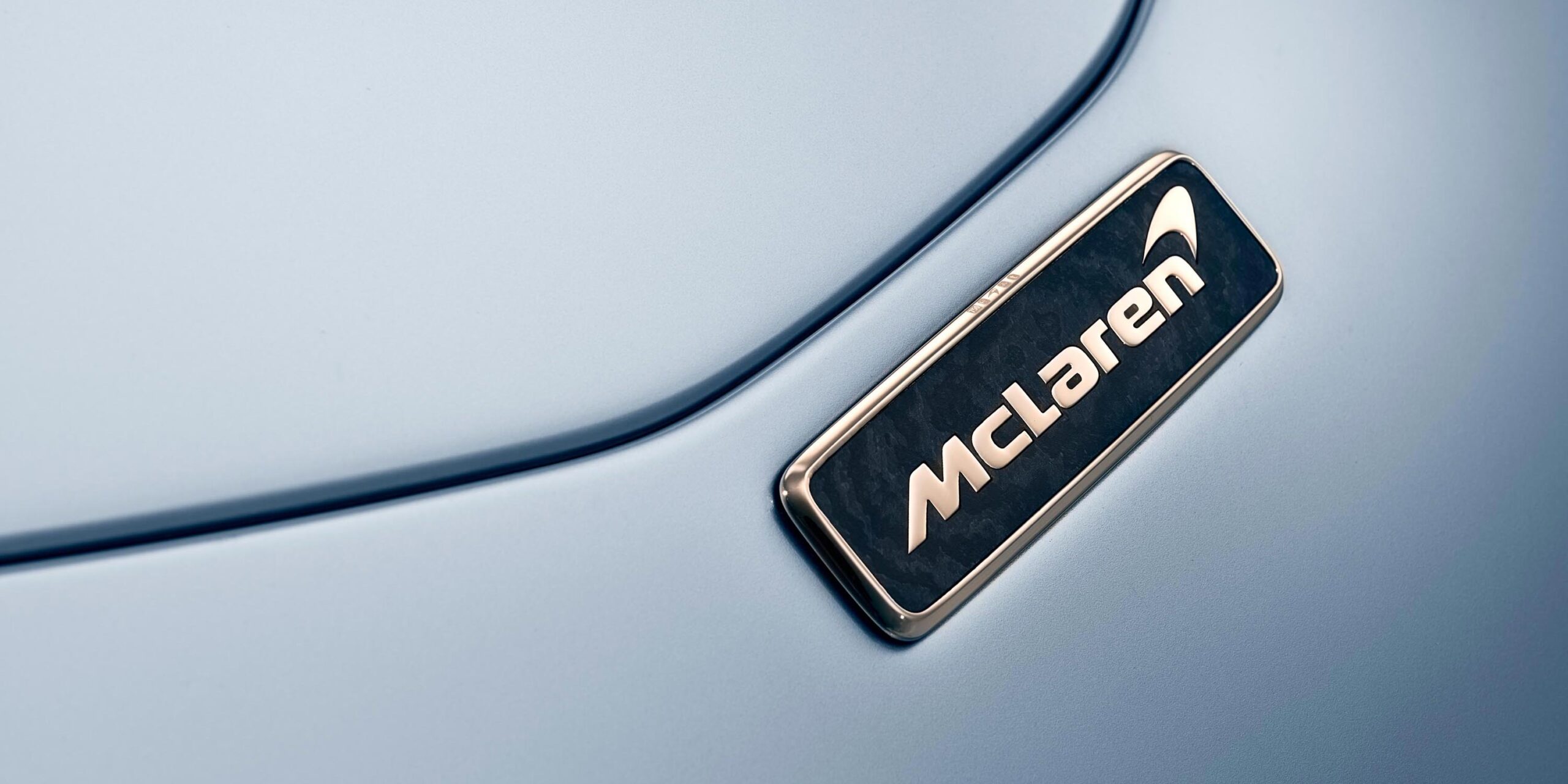 The extent of bespoke made possible by McLaren's Speedtail evidenced in beautiful bonnet badge
Uniquely fashioned in 18 carat white gold with carbon fibre inlays
McLaren's next Ultimate Series and first ever Hyper-GT to be revealed on October 26, 13:OOBST, at cars.mclaren.com
The 106 individuals who have reserved McLaren's next Ultimate Series, the McLaren Speedtail, are being offered the Chance to add a unique finishing touch to their 243mph—plus Hyper—GT by selecting from a range of optional finishes for their car's badging. The material finish that McLaren has Chosen to exhibit first is a combination of 18 carat white gold and carbon-fibre inlays. The materials used representjust one of the innovative ways Speedtail is combining art with extreme performance and is already proving popular with customers who have seen the car at its first private preview event.
McLaren Automotive's famous brand badge, featuring the McLaren 'Speedmark' logo, is crafted in gold by a specialist company in the UK's Birmingham jewellery Quarter. A set of three badges, two brand badges (front) and one name badge (rear), is available as part of the limitless tailoring opportunities available from McLaren Special Operations (MSO) for the three-seat Hyper-GT.
The 18 carat white-gold emblems on the front and back of Speedtail are laser-etched with a McLaren hallmark, showing where and when they were created, and feature carbon inserts utilising McLaren's new and exclusive TPT (Thin Ply Technology). The front badge weighs 100 grams. But for the more weight-conscious customer, a lacquered transfer which weighs almost nothing can be specified instead.
The gold badge set has been hand-crafted for the Woking-based sportscar and supercar manufacturer by Vaughtons, which since 1819 has been creating the most exclusive badges and trophies — including Olympic gold medals and football's FA Cup.
It is not the first time that real gold has been used in a McLaren car. Speedtail's three-seat, central-
driving-position forerunner, the legendary McLaren F1 of 1993, famously used gold foil as a heat
shield in the engine compartment.
"As beautiful pieces of exquisitely hand-craftedjewe/lery, the white-go/ci badges perfectly set off a
car that in every way represents a new gold standard for McLaren luxury. They fit perfectly with the
philosophy of the Speedtail, the most luxurious car in McLaren Automotive's portfolio, as well as
paying homage to its forebear, the McLaren F1."
Rob Melville, McLaren Automotive Design Director
As well as being the most vveII-appointed McLaren ever, the Speedtail's petroI-electric hybrid
drivetrain, with a now-confirmed output of more than lOOOPS, will deliver a top speed of over
243mph, the mark set by the McLaren F1. Just 106 Speedtails are being created, mirroring the
number of Fls sold in the 1990s. Each car is priced from £1.75 million plus local taxes, and all have
been allocated.
As standard, the Speedtail's McLaren badge is made of aluminium with a gloss black inlay. In addition
to thesolid white-gold badge with TPT carbon inlays,there is also a solid platinum version available –
one more element of the bespoking opportunities that M80 is offering Clients to ensure that every
Speedtail is unique.
"Speedtail is centred around breathtaking beauty, luxury and craftsmanship,"says Rob Melville. "The
gold badges add to a car whosejewel-like qualities already shine out, and confirm Speedtail's
uniqueness as the luxury McLaren without equal."