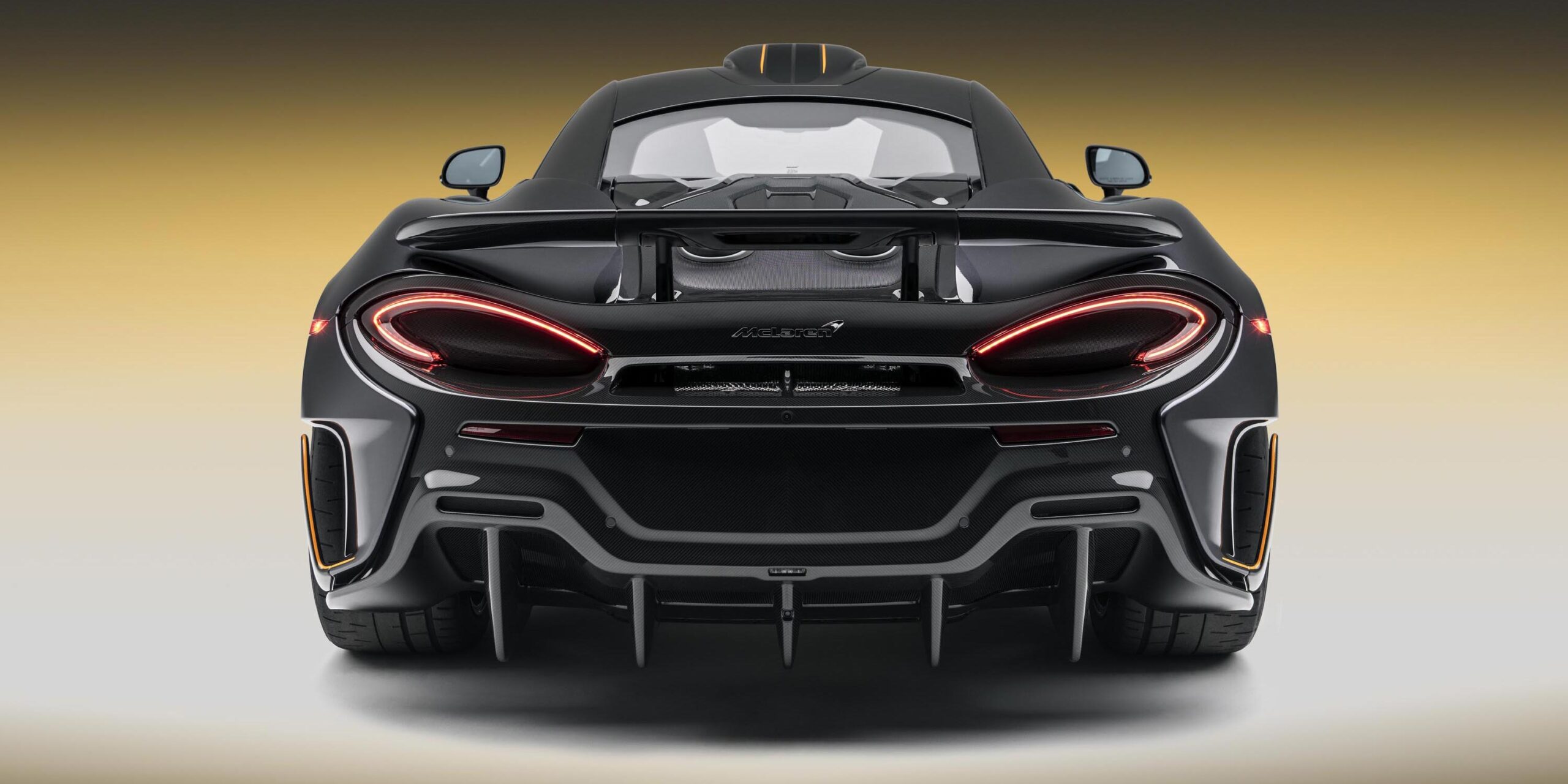 Striking new McLaren 600LT with bespoke customizations by McLaren Special Operations (MSO) to make its global debut on the Pebble Beach Concept Lawn on Sunday, August 26
Stealth Grey car features both MSO Defined and MSO Bespoke options to further enhance the track-focused character of the 600LT
Extensive use of carbon fibre, including roof scoop inspired by legendary McLaren F1 Longtail and Super-Lightweight Carbon Fibre Racing Seats from the McLaren Senna
MSO offers limitless bespoke possibilities to fulfill customer visions
The show-stopping 'McLaren 600LT in Stealth Grey by MSO' produced by bespoke division, McLaren Special Operations, is set to have its global reveal on the Concept Lawn at the Pebble Beach Concours d'Elegance this Sunday, August 26.
Finished in a Stealth Grey MSO Bespoke paint, this unique car features a wide selection of upgrades from both the MSO Defined catalogue of options and MSO Bespoke customer choices, giving a preview of how much personalization can be incorporated into McLaren's lightest, most powerful road-legal Sports Series car.
Introduced in July at the Goodwood Festival of Speed, the McLaren 600LT epitomizes the McLaren philosophy of producing lightweight sportscars and supercars that deliver extreme performance and exceptional driver engagement. Featuring the unique LT top-exit exhaust, the car delivers 592bhp and can sprint to 60mph in just 2.8 seconds on its way to a maximum speed of 204mph.
"MSO Bespoke was established to help customers realize their dreams and allows an almost limitless level of customization where imagination is the only restrictive factor. With MSO Defined we offer a range of personalization beyond the standard factory options," commented Ansar Ali, Managing Director of McLaren Special Operations. "For this special 600LT we have combined a sprinkling of both to create a car that showcases the lightness and track-focused performance of this latest Longtail variant."
The exterior of the car is distinguished by a Stealth Grey Bespoke paint finish with a Matt Black and McLaren Orange Exterior Pack to accent the car's aerodynamic features. The iconic Visual Carbon Fibre Roof Scoop, inspired by the legendary McLaren F1 Longtail, is a key MSO Bespoke addition and operates as a fully functional air intake system that invigorates the driving experience with its active air induction sound. A track telemetry camera is also seamlessly integrated into the scoop cover to record inspirational moments.
Other MSO Defined options on the car include all three Carbon Fibre Upgrade packs available for the 600LT, which include door mirrors, exterior door inserts front splitter, rear bumper, diffuser, and rear deck and service cover. An MSO Defined Carbon Fibre Roof and Cantrails, plus Carbon Fibre Front Fender Louvres– which help further reduce weight, are also fitted. Ultra- Lightweight 10-spoke forged alloy wheels with a gloss black finish complete the overall 'Stealth' look.
Inside, the occupants are reminded of the 600LT's track-focused heritage with a myriad of MSO touches including Super-Lightweight Carbon Fibre Racing Seats – taken straight from the McLaren Senna –featuring a McLaren Orange contrast stitch to mirror the exterior striping, a Carbon Fibre Interior Upgrade Pack including central tunnel and door insert panels, and the harness bar and 6-point harnesses from the MSO Clubsport Pro Pack.
The interior's character is further transformed by the presence of the visual carbon fibre roof scoop cover incorporated into the headliner and the twin visual carbon fibre intake hoses for the scoop that are seamlessly integrated into the 600LT's cabin design.
Adding a touch of extra luxury is the upgraded 12-speaker Bowers & Wilkins Audio System for enjoying those drives to the track, while beautiful detail touches that complete the picture include Bespoke Embroidery in the headrests, the discrete etching of '600LT' on the throttle pedal and a Bespoke set of hand-painted keys that unlock the passport to 600LT adventures.
McLaren 600LT pricing starts at $240,000. To re-create the 'McLaren 600LT in Stealth Grey by MSO' would cost approximately $363,500.
For information about the McLaren 600LT or to learn more about the services offered by McLaren Special Operations, go to: http://cars.mclaren.com/