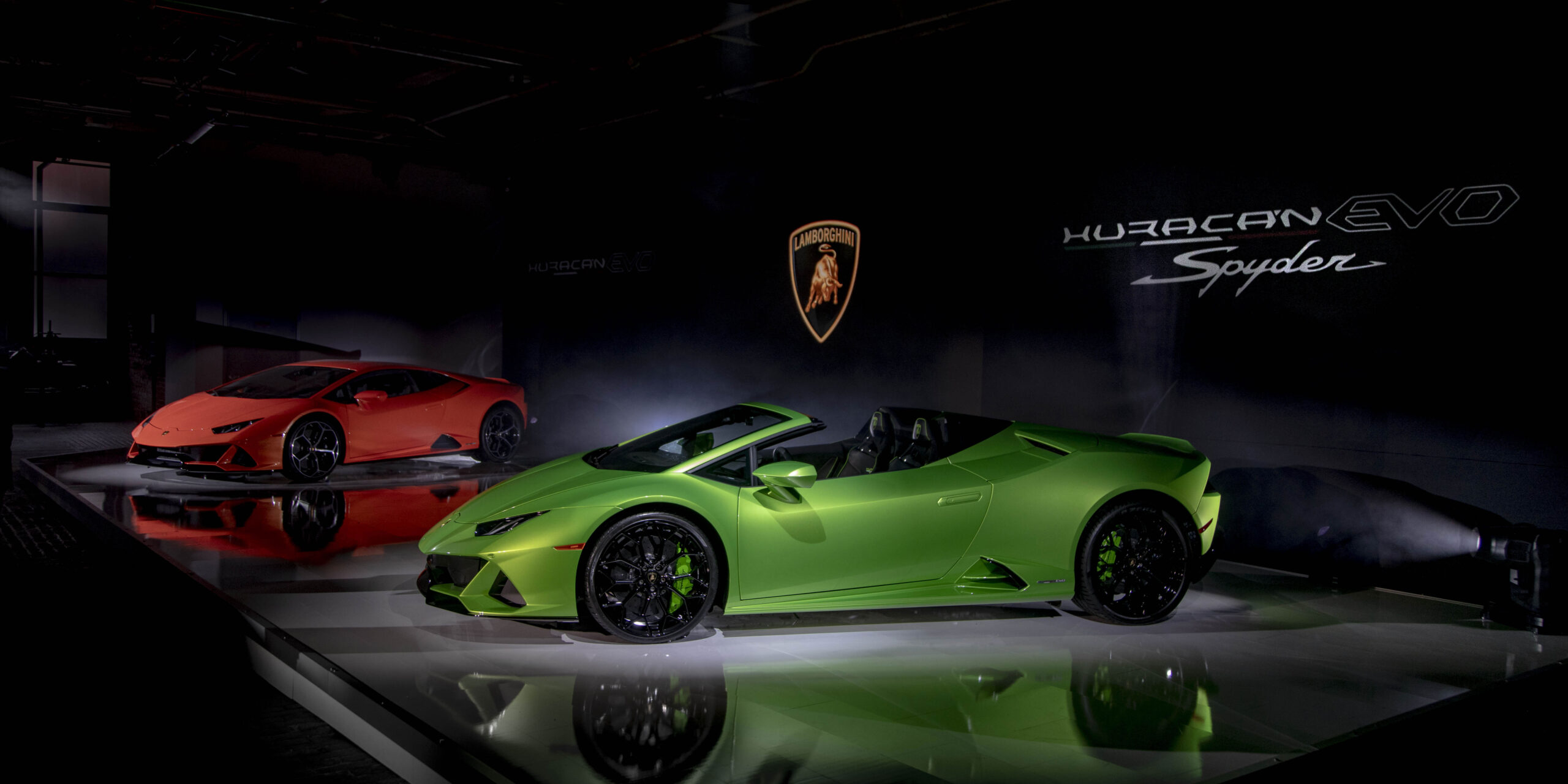 NEWEST EVOLUTION OF HURACÁN RANGE TO BE REVEALED DURING NEW YORK AUTO SHOW WEEK
New York, 18 April 2019 – The next generation of V10 super cars—the Huracán EVO Coupé and Spyder—made their North American premiere this week at an exclusive event, presented in conjunction with the 2019 New York International Auto Show.
Debuted at the Highline Stages in the heart of New York City's Chelsea neighborhood, the newest additions to the Huracán range enthralled more than 300 guests, including long-time Lamborghini customers, VIPs, and media.
"The Huracán EVO presents the next evolution of performance and technology, which further amplify the driving emotion for our customers on North American roads," said Federico Foschini, Chief Commercial Officer of Automobili Lamborghini. "The state-of-the-art vehicle dynamic controls and distinctive Lamborghini design enhance the everyday driving experience in both a coupé and open-top versions for maximum road and track performance."
The Huracán EVO features a 5.2-liter naturally-aspirated Lamborghini V10 engine, with an output of 640 HP at 8,000 rpm. With a top speed of 202 mph, the coupé can accelerate 0-62 mph in 2.9 seconds and the Spyder in 3.1 seconds.
Customers will begin taking delivery of the new Huracán EVO this summer at a suggested retail of $261,274 USD for the Coupé and $287,400 USD for the Spyder Based on the prowess and performance of the Huracán Performante, the Huracán EVO Coupé and Spyder incorporate next-generation vehicle dynamic controls and aerodynamics. Fitted with new rear-wheel steering and a torque vectoring system on the four wheels, the Lamborghini Dinamica Veicolo Integrata (LDVI) plays an integral role in cutting-edge technology. The LDVI is a central processing unit that controls all aspects of the car's dynamic behavior in external conditions, anticipating the driver's next move and adjusting precise inputs to perfect driving dynamics.
Additionally, the new Huracán EVO incorporates version 2.0 of the Lamborghini Piattaforma Inerziale (LPI). This comprehensive set of accelerators and gyroscope sensors located in the car's center of gravity monitor in real-time the dynamic vehicle attitude regarding lateral, longitudinal and vertical accelerations, as well as roll, pitch and yaw rate. The Lamborghini Dynamic Steering (LDS) has also been modified to provide higher responsiveness in corners while requiring the lowest steering angles.
The arrival of the Huracán EVO marks an integral start to the year. Lamborghini achieved a historic sales record in 2018, with the United States remaining the largest single market for the brand. In total, 1,911 units were delivered to the North American market. The Huracán range saw a strong sales increase, growing by 5% from 2,642 to 2,780 units.