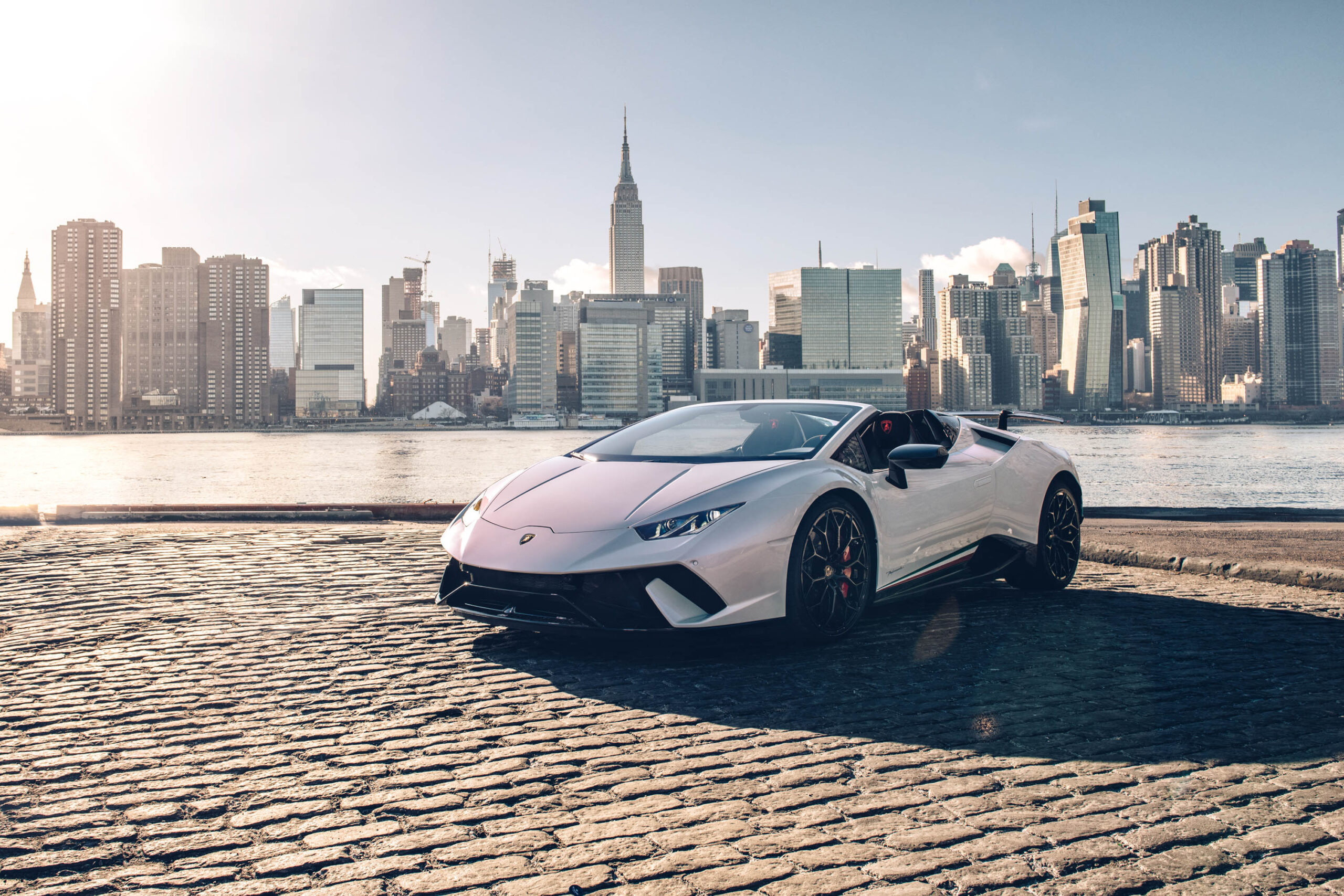 New York City – March 29, 2018 – Presented in conjunction with the 2018 New York International Auto Show, the Lamborghini Huracán Peformante Spyder made its North American debut last night at an intimate media unveiling in the heart of New York City.
"The Huracán Performante Spyder, Lamborghini's newest addition to the marque, provides the ultimate mix of track performance for any road," said Automobili Lamborghini America Chief Operating Officer, Alessandro Farmeschi, who was in attendance at the event. "It transcends performance expectations, evoking an all-new, exciting open-air experience that is perfect for summer driving."
The inherent design, technology and performance features of the Huracán Performante are as fundamental in the Spyder as they are in the coupé, adding a new dimension of driving pleasure to the supreme experience of the Huracán. The exterior design is sophisticated and razorblade sharp like a race car with the design of the air intakes and splitter giving the impression of incisors and aerodynamic power.
The Huracán Performante Spyder, with roof open or closed, is equally a driver's car in challenging dynamic conditions, as well as an inspiring lifestyle experience. The lightweight, electrohydraulic roof easily opens in just 17 seconds up to speeds of 30 mph for fresh-air exhilaration.
The Performante Spyder maintains the aerodynamic prowess of its coupé counterpart. Featuring Lamborghini's exclusive Forged Composite, it is 77 lbs. lighter than its Spyder sister, the light-weight composite is characterized by a high threshold for extreme force and durability.
Performante Spyder features Lamborghini's patented Aerodinamica Lamborghini Attiva (ALA) system, which varies aero load in conditions requiring either high down force or low drag, as well as enabling aero vectoring in high-speed for excellent driving dynamics on track and on road in every condition.
The Spyder features an enhanced suspension system; recalibrated ESC; more responsive Lamborghini Dynamic Steering (LDS); permanent four-wheel drive maximizing traction in all situations in conjunction with the ALA system; and revised ANIMA: Lamborghini's driver-mode system comprising STRADA, SPORT and CORSA, which customizes the set-up of all the car's dynamic systems.
Like the Performante Coupé, the Spyder has a naturally aspirated V10 engine, delivering 640 horsepower at 8,000 rpm. The Huracán Performante Spyder can accelerate from 0-62 mph in 3.1 seconds and has a top speed of 202 mph.
With 1,306 cars delivered to customers across North America, 2017 marked another record year for Lamborghini sales in North America, with the V10 model Lamborghini
Huracán growing by 12 percent from 2,353 to 2,642 units globally. The sales figures have awarded the Huracán range since its launch as the most successful product in the Lamborghini history. This March, Lamborghini hit a production record of 10,000 Huracáns produced in a record four-years, a production milestone for the super car company.
Customers will begin taking delivery of the new Huracán Performante Spyder this summer at a suggested retail price of $308,859 (taxes excluded).