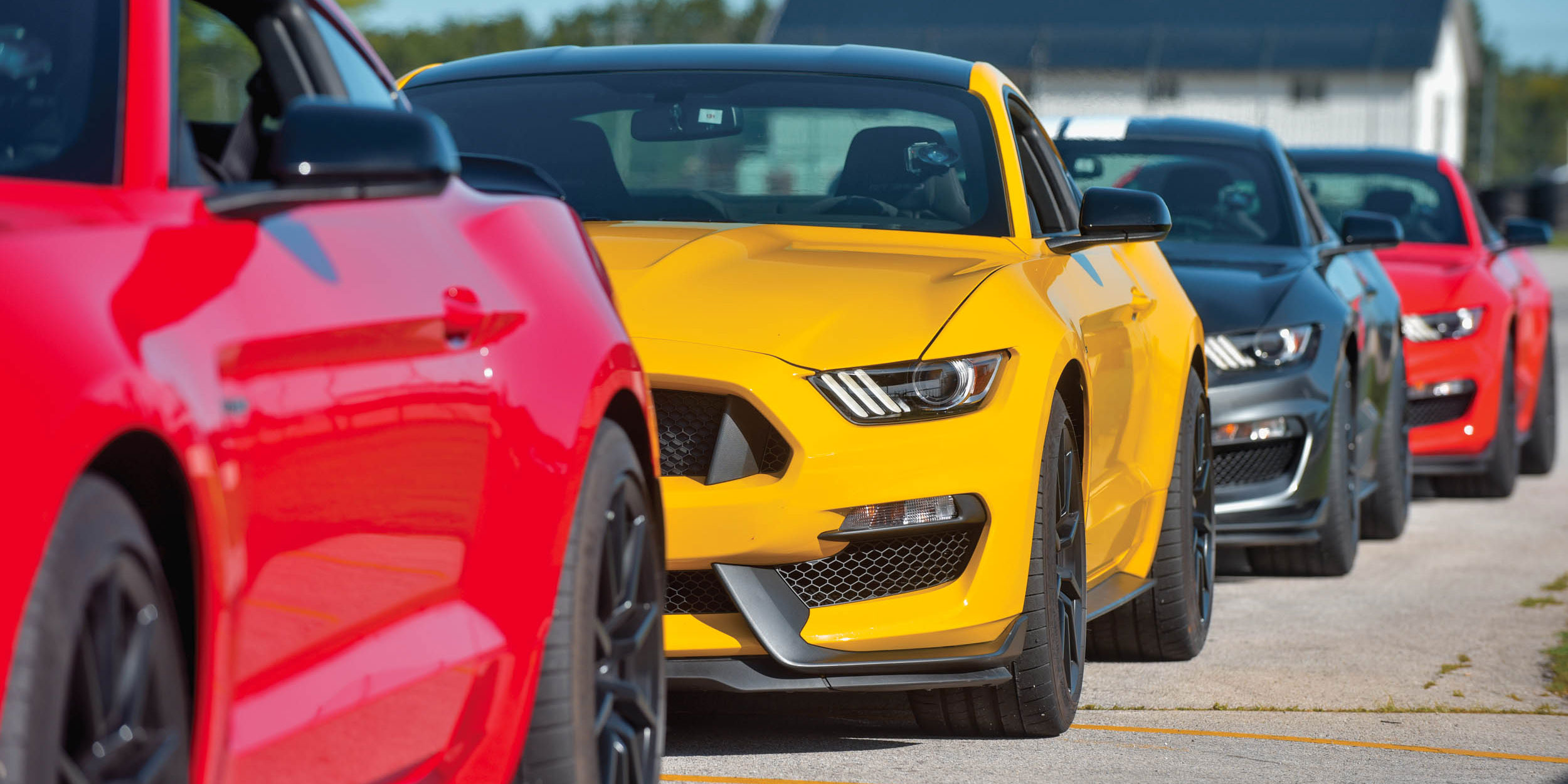 Words by Jennifer Jensen
Photos by Geoffrey Cook
There are 640 acres that hide the 14-turn, 4.048-mile road course that is Road America from the outside world. The track is a sanctuary. It is challenging and rewarding at the same time, and it is one of the places that Ford Motor Co. chose to host the Shelby GT350 Track Tour.
Ford Performance launched the GT350 Track Tour in 2015 with the intent of providing an opportunity for owners of previous-generation, go-fast Mustangs (à la GT500 and Boss 302) to get behind the wheel of the company's latest-and-greatest achievement.
It proved so popular that they did it in 2016 as well.
A really big tent houses many of the bits that make the Shelby GT350 and GT350R special. The cars are also on display, alongside a few ancestors to their latest track weapon.
After a presentation on the GT350 by Jim Owens, the brand manager of Ford's Shelby division, and a discussion on why Ford went ahead and built this beast, it is time to get behind the wheel.
R IS FOR RAZOR SHARP
But first, a HANS device and helmet fitting.
Ford isn't foolish enough to let just any old yahoo out on a track without supervision, so they brought a team of pro drivers to help walk us through the ins and outs of not only the track but also the cars.
And do these guys know the cars!
I choose a GT350R as my steed for this first track session.
Once I'm strapped in, my chaperone started chatting about the different setups owners can do with the GT350, how the tires affect track performance and how the carbon fiber wheels on the R model spool up insanely fast.
Then it's time to fire up that now infamous flat-plane-crank V-8 [LINK TO THE GT350 STORY] and listen to it growl. Good gravy, does this thing sound nice!
We head out onto the track follow-the-leader style for a reconnaissance lap.
My first reaction is that the GT350R is razor sharp.
It feels like a track car, and with no back seat (or even any trunk liner), Ford has done its best to build the R model for weekend track warriors. We have the adjustable drive mode set to Sport at first (choices are Normal, Sport, Weather, Track and Drag — yes, DRAG!), and the throttle is instantly responsive while the ride is still comfortable.
The gearing is set up quite well for a track like this. We use second and third for the bulk of our lap, and I am a disappointed to find our track time will not include the main straight. No top speed runs today!
But my pro-driver reminds me this car is built more for handling than chasing 200 mph runs.
TRACK MODE
Our next lap is much more to my liking with paces attuned to the cars we're driving.
In our morning conversation, we were told that there will be absolutely no passing as we are not racing, just experiencing the thrills the Shelby's can deliver. As we push harder and harder, I am reminded how long it's been since I have actually raced, but at least I don't embarrass myself other than a couple of missed heel-and-toe downshifts.
Incidentally, the pedal spacing is a little wide for my liking.
After another, hotter lap we switch the GT350R to Track mode. While the suspension hunkers down and becomes choppier, the throttle backs off a little, giving me a reason to be sharper with my responses.
The R is quite amazing on the track.
Pushing through the carousel at Road America, the car feels so balanced that I am tempted to goose the throttle to hang the back end out and try to drift the entire sweeping turn. I begin to crack a smile, and pushing the car seems less like work and more like fun, simply, because it is that good.
Don't get me wrong: The steering is not perfect, but it definitely delivers the right messages to my hands as we carve through the challenging corners. The brakes work and work and work with no fade in the least.
Track mode makes every reaction a little sharper, and my smile becomes an ear-to-ear grin.
GT350 SWAP
After a few laps, we come back in and swap out cars. Those who were in the R models, now get the standard GT350 and vice versa. We do get to keep our co-driver, however, and we strike up a conversation about racing.
Apparently, my skills haven't gone completely by the wayside as he asks me where I currently race. Sorry, good sir, but it's been more than 25 years since I was in a competitive series or was probably even competitive in the least.
Engines roar to life, and we head back out. The non-R Shelby immediately feels like a more street-oriented car. The cabin is a little quieter and plusher as well. The GT350R can be specified without all of Ford's Sync and other modern niceties. This GT350, however, has the whole kit and caboodle.
We are, once again, in Sport mode to do our recon lap, and I am amazed that the car feels just as much a track car as the R. Green flags all around, and I hit the go pedal with gusto.
Man is this car a blast.
After one lap I've caught the driver in the GT350R in front of me, and after some radio chatter, I am allowed to pass.
Game on! A couple more poor heel-and-toe shifts from me, but the car provides a very rewarding experience.
In fact, the GT350 is so good that I begin to wonder whether or not the R is worth it, when the standard car delivers almost the entire experience but still has a usable back seat.
HOT LAPS
Then it's time for blistering laps with the pro-drivers. My chaperone takes the driver's seat and adjusts the seat and mirrors accordingly. I strap in to the passenger seat ready to have my neck snapped — and he delivers.
I am very happy to see that we carry similar speed into some of the corners, but it is clear that my instructor has had time in this car. He states familiarity is what makes all the difference.
The great thing about the GT350 is it wouldn't take very long to become familiar with its intricacies, and every minute behind the wheel would be a fun one. So, learning wouldn't be a chore.
BACK-TO-BACK-TO-BACK
I am then blessed with a rare opportunity to get behind the wheel of the GT350R once again, and the back-to-back comparison makes it clear.
If you plan on tracking the GT350, get the R. It's sharper and more concise in its delivery. It is a track car you can take on the street, whereas the standard GT350 is a street car you can take on the track.
Either way, if you manage to get your hands on a new Ford Mustang Shelby GT350, you will not be disappointed.
My helmet is off to the engineering team at Ford who put together this amazing machine.
Originally published in 2017.