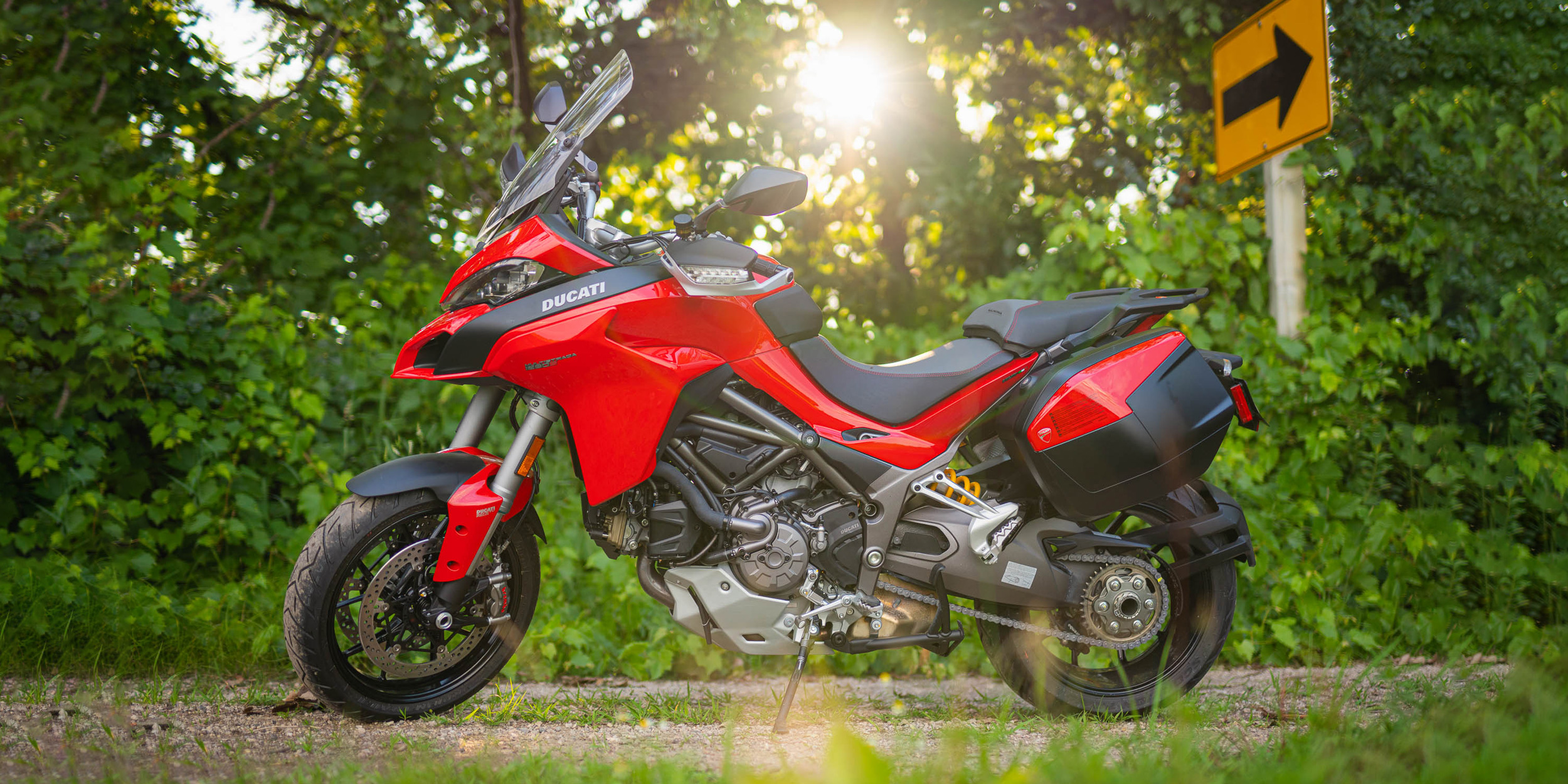 Words by Jennifer Jensen
Photos by Jessica Voruda
DUCATI
When I hear the name Ducati it conjures up all sorts of go-fast imagery in my mind's eye.
Moto GP racing bikes, superbikes, sportbikes, high-speed, performance. Basically Ducati is the Ferrari of motorcycles.
So then, what happens to those pictures in my mind when faced with a Ducati Multistrada?
MANY ROADS
"Multistrada" literally means "many roads" and that is what this motorcycle is designed for.
How does it tackle those many roads?
The Multistrada has Ducati's Skyhook Suspension. This semi-active suspension setup is adjustable through the instrument panel and it continuously monitors damping and spring loads to keep the bike smooth and level over all kinds of surfaces.
It works quite well and is completely adjustable. There are settings in the onboard computer for automatically adjusting all of the suspension depending on load both front and rear.
The aptly titled "Load Mode" has settings for a single rider, one rider with bags, two riders or two riders with bags.
Select how you'll be riding and the Multistrada handles the rest by raising or lowering the ride height and adjusting all suspension levels to account for the expected weight load. All in, there are 6.7 inches of suspension travel on both the front AND rear!
ALL KINDS OF ADJUSTABILITY
The suspension isn't the only thing you can set to your liking on the Multistrada.
Thumbing through the different options in the menu you will find options to adjust traction control, the level of intervention on the anti lock brakes, how much power you send to the rear wheel providing wheelie control, engine mapping (full, medium, low), and throttle response (smooth or dynamic).
Then there are the riding modes, just another thumb toggle away on the menu. There are four different riding modes including: sport, touring, urban, and enduro all with their own presets for, well, everything.
The level to which you can tune the Multistrada to any riding conditions you may face is simply jaw dropping.
POWER
Take all of that electronic magic away and you still have to put the power down.
The sharp-nosed Multistrada has a 1262cc Ducati Testrastretta DVT (Desmodromic Variable Timing) engine.
This engine is just as smart as the rest of the Multistrada. It varies timing on the camshaft that controls the intake valves, while independently adjusting the camshaft that controls the exhaust valves.
All of this timing helps to achieve maximum power at high speeds, while improving smooth delivery and increasing torque at low and moderate speeds.
That engine puts out a stout 158 horsepower and 95.5 lb-ft of torque. That's a healthy output for a motorcycle that weighs less than 500 pounds dry.
COMING CLEAN
So I feel it's important to share with you, dear reader, that I ride sportbikes. I have owned six different sportbikes over the years including my current ride, a 2016 Ducati 959 Panigale. So riding this Multistrada was a foreign affair for my body.
First off, I felt like I was perched on top of the bike rather than wrapped around it. I am told this is not the case for people who haven't spent their lives on crotch rockets, but it was certainly an adjustment for me.
The benefits of this riding position are that it allows you to navigate traffic a little easier, especially at lower speeds.
There is also vastly more play in the steering than in my bike. That means I could turn around in tiny little spaces without having to go back-and-forth at all. Quite a liberating feeling!
LET'S RIDE
At my first outing I set all of the adjustable items to the middle. Not too much, not too little…just right.
The Multi felt good as my body adjusted to the new riding position. Except for one thing…buffeting.
There is an adjustable front windscreen that can move up and down by about four inches. You can do it on the fly with a very simple single release. But no matter where I put the screen the wind was still slapping me around like a leaf in a thunderstorm.
The only remedy I could find was to huddle down close to the body of the bike. Not what I expected.
A STEP FURTHER
After the first 70 miles or so I was ready to step things up a bit to see just how close I could get the Multi to perform like a sportbike.
I adjusted the suspension, traction control, engine management and throttle response to a more sporting intent. And let it rip.
The Multistrada took off with authority and the more I rode, the more my body got used to leaning differently than my muscle memory wanted to.
Turns came quicker, lean angles became greater and the Multi just kept delivering what I asked of it. The best part was that when I was done tearing up two-lane country back roads I could settle back in to a comfortable upright position and just cruise.
OTHER FEATURES
Speaking of cruise, the Multistrada is the first motorcycle I've ridden with cruise control.
I was nervous to use it but just had to know. So, on a virtually empty road I set it at 57 miles-per-hour. And took my right hand off the throttle…something I don't do while riding.
The Multistrada just kept going at a steady 57. Curious about what would happen if I twisted the throttle, I did just that. And…nothing happened.
What about pushing throttle off? Nope, still nothing.
Very cool.
The throttle becomes just a hand rest with cruise on. Makes sense when you think about it, but it was still a little unnerving to me.
And speaking of the throttle, another great feature on the Multistrada is heated grips…low, medium and high. It was never really cold enough to actively use the heated grips, but I tried them anyway. All I can say is, "toasty."
There are other niceties on the Multistrada that I could easily get used to. Self-cancelling turn signals for example. Oh, and hard saddlebags.
Saddlebags. I mean come on! I'm totally used to carrying a tiny little wallet to hold my license, insurance card and a credit card and my phone. That's it. There's no room for anything else.
The Multi's saddlebags can hold about five bags of groceries. Or even my helmet. I could get used to that.
SUMMARY
I really enjoyed my time with the Ducati Multistrada 1260S. It really does live up to its name. It is a bike that tackles many roads all with equal assuredness.
The only fault I can really find with the Multistrada (other than the wind buffeting) is its size. It is quite tall so those who may be vertically challenged might have some issues with handling it.
But really, that's about it. The Ducati Multistrada 1260S is a technological marvel that rides comfortably with agility and plenty of power to take on any road you venture out to discover.