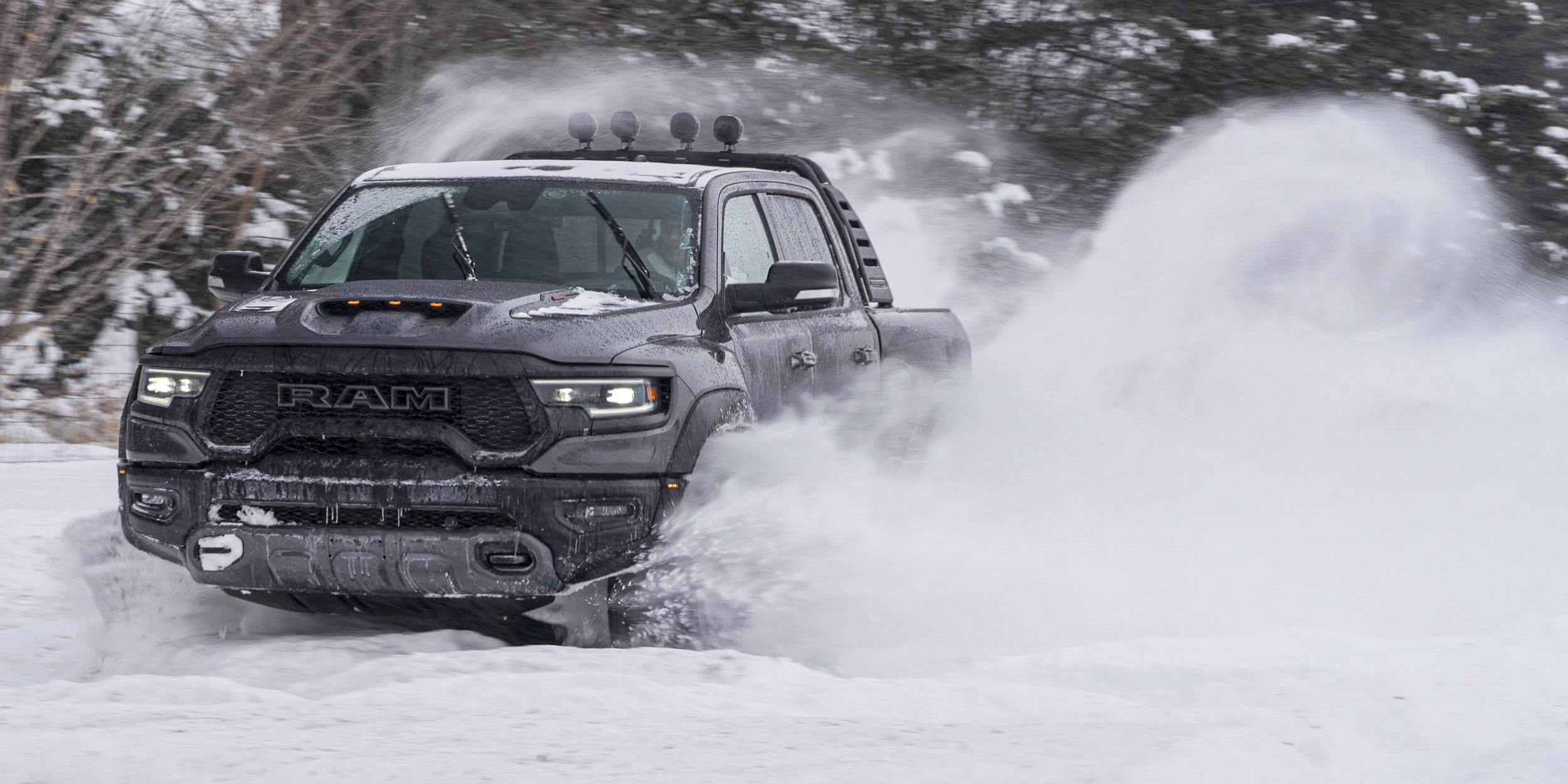 Words by Brian Griebenow
Photos by Jessica Voruda
SETTING THE STAGE
There were so many things wrong with the scenario.
Temperature—wrong.
Wind direction—exactly wrong.
Equipment—ludicrously wrong.
Safety measures—what safety measures?
And yet, there I was, smack in the middle of it all. Strapped into the seat of a new Porsche Cayman GT4. Aiming straight down an airport runway strewn with a smattering of small icy-packed-snow patches.
Snow-peppered wind was whipping horizontally across that runway.
Outside temperature—0 deg F.
Immediately to my left, front bumper precisely aligned with the GT4's, was an also-new Ram TRX pick-em-up-truck…you know, the one with the same supercharged V8 Hemi that goes in to the Dodge Hellcat.
In the TRX's driver's seat…a 5'-14" Amazon…a formidable woman who used to race and has also flown a jet…off an aircraft carrier.
She was responsible for orchestrating this mid-winter frozen-tundra drag race. This epic mismatch.
And she is my boss. So, there I was.
THE RUN
While my eyes stared straight down that long, questionable surface, my peripheral vision kept tabs on Jessica.
Jessica, a fabulous photographer by trade (the same Jessica that took the photos you see of said Ram TRX in this story), stood 20 feet ahead, centered between us, her arms raised, and trembling…for a different reason than me…she was very cold.
Her fingers signaled 3, 2, 1, arms dropped! And then…
AN UNLIKELY PAIRING
I'll fill you in on the outcome of that drag race later.
For now, consider the two contenders: Porsche vs Ram.
Small sports cars versus mammoth truck.
Rear drive versus 4X4.
A 3-pedal-manual versus an automatic with launch control.
A 414 horsepower naturally-aspirated flat-six versus a 702 horsepower supercharged V8.
One has a trunk and a frunk with two seats, the other has a bed with two spare tires and room for five.
Nearly as different as two vehicles could be, and neither of them intended for drag racing. Sort of.
That magnificent Porsche is the subject of another review that we've already done. We're here to dig into the 2021 Ram TRX.
HEMI HISTORY
If you're reading this review, chances are you are familiar the Dodge Challenger Hellcat.
And the Charger Hellcat.
When Dodge introduced the Hellcat for 2015, it was the most powerful mass-produced American car.
Ever.
At 707 hp, the Hellcat whooped the previous record holder—the then defunct 2014 Shelby GT500 Mustang—by a whopping 45 hp. And that did not go unnoticed, by automotive media, and by anyone who likes their power super-sized.
Sales were good, so the wise marketing folks at FCA (now Stellantis) moved quickly, stuffing those 6.2 liters of supercharged mayhem under any hood that could cover it. Which gave birth to the Dodge Challenger Demon, the Jeep Grand Cherokee Trackhawk, and finally, the Dodge Durango SRT Hellcat.
Well, OK, not quite finally.
Let's see…what vehicle platform had they not yet Hellcatted? Of course, the Ram truck!
IT'S A TRUCK!
Enter the 2021 RAM TRX, arguably the most bizarre application of Hellcatting to date.
The TRX—lovingly pronounced "T-Rex" by fans—is the top dog among new Ram light-duty 1500 series trucks.
Uh-huh…"light-duty".
Stand next to the TRX and try thinking of it as light-duty. Often touted as the most powerful pickup on the market, the Ram TRX uses Dodge's proven 6.2L supercharged V8, in this application producing 702 hp at 6,100 rpm and 650 lb-ft of torque at 4,800 rpm, a whisker below other applications due to a more restrictive air intake designed to allow the truck to drive through deep water.
Available only as a Crew Cab 4X4, the TRX is an imposing thing, measuring 8" wider than the standard Ram 1500, and perched 2" higher, on burly 35" tires (made specifically for this application), giving it 11.8" of ground clearance.
By the way, that revised air intake, in conjunction with a high-mounted alternator, allow this beast to tackle water up to 32" deep.
Standard features on the TRX include high-performance brakes, an electronic locking rear axle, a Class IV receiver-hitch, and a 33-gallon fuel tank, which comes in handy when you have over 700 hp on tap, routing power through a beefy 8HP95 8-speed automatic, to all four massive rollers, ultimately moving a 6,400 lb mass with all the aerodynamic slickness of an industrial dumpster. Our weeklong average was 6.6 miles per gallon.
The TRX that I was given the opportunity to live with for a few days came with about $20,000 of options atop its $70,000 base price.
Included among those options, for about $8,000 was the Level 2 Equipment Group, a comprehensive package that brings the already-nice Ram interior up a few notches. Included in that option group are leather trimmed seats, heated steering wheel, heated & ventilated front and rear seats, premium wrap on the door pulls and instrument bezel, 8-way power seats with 4-way lumbar, rain sensing wipers, pickup box LED lighting, 60/40 folding split reclining rear seat, remote start, power tailgate release, power adjustable pedals, driver's seat/radio/mirrors/pedals memory pre-sets, and a few other goodies.
Also useful is the $845 Bed Utility Group, including spray-in bedliner, adjustable tie-down hooks, and a deployable bed-step. I also found the head-up display, and the rear-view auto-dimming digital display mirrors to be worthy options.
And the optional Beadlock-Capable wheels do look good.
Personally, I'd skip our TRX's $1,300 of interior carbon-fiber. And please, for the love of good taste, skip the bed-mounted spare, the silly "roll bar", and bar-mounted landing lights that you see on our test truck. This is a seriously good truck, so why turn it into a cartoon? [No offense to our friends at Pixar!]
THE LOOKS
The styling of the Ram TRX—this sounds ridiculous—is a bit subdued. Don't get me wrong, this truck looks like a force to be reckoned with. But barely more so, than, say the RAM 2500 Power Wagon, or even the 1500 Rebel.
If you've chosen to drive the world's "most powerful" pickup—I'll explain the quotation marks later—then you might want it to look obviously more powerful than the next person's truck.
I dunno, maybe massive "702 HP" graphics angled across the rear quarters? True, the fenders and rear quarters do bulge 4" on each side to accommodate the 6" wider track, but even that doesn't leap out at the casual observer.
Perhaps the most noticeable visual cue is the TRX's hood, highlighted by 3 LED lights shining out from within a gaping air scoop. Want your hood scoop to get noticed? Tuck some LED's in there!
In fairness, the scoop is functional, and the LED's are required.
Fully 50% of the engine's combustion air is sucked in via that hood scoop just like ram-air of the muscle-car era. Call it RAM-air, if you will. And those 3 LED's…they are legally required on vehicles measuring more than 80" in width.
Climbing into the Ram TRX is, well, a climb. In our case, aided by the optional Rock Rails.
Once inside this new Ram, you will quickly notice a truly nice environment. Ram trucks have, recently, been receiving kudos for their upscale interiors, and the TRX is no exception.
Our nicely optioned TRX felt luxurious inside, with those comfortable 8-way power seats covered in leather, with contrast stitching. Even the A & B pillar grab handles are covered in contrast stitched leather. That's attention to detail my friends.
Under the wide, Alcantara covered, center armrest is a sizeable, lighted, storage cubby, with slots for stacked coins! Again, attention to details.
There are, I don't how many because I stopped counting, USB ports sprinkled throughout the cabin. And the rear seating area is legit for three full-size adult humans, with legroom to spare, even if six-footers are seated up front.
Fire up the TRX's borrowed-from-a-Hellcat engine, and there is no mistaking it for a V6.
The fat-bore V8 growl feels satisfyingly up-to-the-task. And if the task at hand is to go fast, the TRX is more than up to it. Yes, it can drag race a Porsche, but let's face it, even if you drive 700 horses on a daily basis, you seldom use more than 400. So, how good is the TRX at being a pickup truck?
REALLY! IT'S A TRUCK!
Any current generation Ram 1500 is a very good truck. Good at hauling and towing, while treating the driver to perhaps a nicer interior environment than any of its competitors.
Available in 6 distinct models…7 with the TRX…with 5 engines to choose from, if you have a light-duty-pickup-shaped hole in your life, Ram has one that can perfectly fill it.
As for the TRX, its workhorse capabilities are substantial with a payload rating of 1,300 lbs and a towing capacity of 8,100 lbs. Those numbers are good, but down a bit from the maximum ratings from 2,300 lbs payload and over 11,000 lbs towing for some of the other Ram 1500 series trucks.
But how can the "most powerful" half-ton truck not have the highest working limits?
Well, there's more than one kind of "work", and more than one kind of "power".
Look at it this way… if you're looking for someone who can win a bench press competition, you don't seek out the fastest sprinter. If you want a pickup to do the sort of work/play that involves serious off-road adventures, the TRX might be the best choice available with a warranty.
What enables the Ram TRX to excel where the pavement ends, is more about what's under the truck than what's under the hood.
In creating the TRX, the folks at Ram redesigned a lot of what you don't see.
The TRX's high-strength steel frame is over 70% revised vs the standard 1500 frame. The control arms are forged, brakes are larger, and there are electronically controlled Bilstein active dampers with remote reservoirs at all four corners. Ground clearance is just under 12", and suspension travel is 13" front, and 14" rear. Curb, what curb?!
While its rather-long wheelbase means it is still possible to beach the RAM TRX on a tall-but-narrow mogul, this truck is immensely capable on rugged trails. Suspension geometry will enable it, and incredibly sturdy build quality will allow it. And, not only is the RAM TRX capable off the road, it is designed to handle a bit of above-the-road "YEE-HAW" as well!
To keep you safe and comfy when you stick your landing, those mad scientists at Ram equip each TRX with accelerometers, and sensors for wheel-spin and ride-height, to detect when you go airborne!
If so (when so!), this jump-detection system controls engine speed, transfer-case torque split, gear selection, and damper firmness, all to help avoid any damage to the engine, drivetrain, suspension, driver (pilot!) and passengers.
Truth be told, most of us will never jump our truck. But all the suspension magic beneath the Ram TRX does wonders on any barely-a-road, allowing this truck to cruise at highway speeds over terrain that would have drivers of average pickups cutting those speeds in half.
Ruts, divots, and potholes? The TRX absorbs them. Need to cross a stream? No problem, and not just a shallow 12-incher. Take it slow and you can safely roll through waist-deep water. And while you may never launch your truck over a crest, it is somehow satisfying to know that your truck could do so without breaking.
MY DRIVE
Most of my time with the new Ram TRX was spent in civilization, on pavement. Freeways, backroads, and urban driving gave me a feel for how this super-soldier might handle civvy duty.
On the road, I found the TRX's ride quite comfortable, thanks in part to the Bilstein active dampers. They adapt well to the TRX's selectable drive modes; there are 4 on-road modes—Auto, Sport, Tow, and Snow—and 3 off-road modes—Mud/Sand, Rock, and Baja.
The cocktail of system settings—including damper firmness, transmission shift behavior, steering feel, throttle response, engine output, and front/rear torque split—is custom mixed to best accommodate the type of driving conditions appropriate to the mode selected.
Thumbs up to the Ram software tweakers.
The parameter settings for each of the modes feel appropriate. For example, I purposely took on some deep, fresh, uneven snow, at a slow pace, just to see if the TRX would confidently dig its way through. No problem.
Engine power was noticeably reduced, traction control became very invasive (in a good way), throttle response was less reactive…all resulting in easy progress through the unplowed mess.
Oh, speaking of reduced engine output there is also a Valet mode, which cuts the power, limits engine RPM, disables drive mode selections, and is a very effective party pooper.
On the street, Sport mode is where the party happens. In Sport mode the 8HP95 8-speed automatic executes quick shifts and is less concerned about fuel economy, delaying upshifts to keep revs up a bit. Dampers are firm, but not harsh. The torque split is more rear-wheel biased. Shift paddles are enabled. Oh, and all SEVEN-HUNDRED-AND-TWO horsepower are at the ready.
Here's a riddle for you. When is a Hellcat not a Hellcat. Answer: when it's a 3.2 ton truck!
Is the RAM TRX fast? Well, in terms of top speed, not really.
Those big, durable, tires place a maximum safe speed of 118 mph on this truck. BUT—and this is what you really want to know—in terms of acceleration, yes indeed the RAM TRX is shockingly quick.
For a giant pickup truck.
To throw a number at it, I was able to hustle our TRX from a dead stop to 60 mph is just 4.1 seconds. And that was in far-from-ideal conditions. Our temps were hovering around 0 deg F for my entire time with the TRX.
Cold rubber + cold asphalt = poor traction.
AWD or 4WD can overcome much of that traction limitation, but even so, I will admit to performing my first-ever legit four-wheel burnout in this 2021 Ram TRX.
OK, and my second, third, and fourth.
The TRX does come with a Launch Control feature that even allows you to dial-in your preferred launch RPM. I used that feature a few times, but my recommendation is this: If you want to leap off the line, just take your foot off the brake and slam the throttle to the floor. That simple, age-old technique netted me exactly the same results.
Do so, and the T-Rex raises up, rears back on its massive haunches, bears its terrifying teeth, roars, and tears away like no 6,400 lb dino-truck on 35" tires has any right to do.
Is it as quick as a Charger Hellcat? Of course not, and being familiar with that Hellcat, the seat of my pants told me so. But, in fairness, the RAM truck is not called a Hellcat. It is a beast of a different label.
MOST POWERFUL?
But it is the world's "most powerful" pickup, right?
It is fair to call the Ram TRX the most powerful half-ton, or light-duty, pickup currently available.
But if you need to truck to do serious trucky-truck work…like towing your fifth-wheel trailer. Then you need torque, not horsepower. And while the TRX delivers a substantial 650 lb-ft of the stuff, the current Ram 2500 series trucks can be had with a 6.7L Cummins® Turbo Diesel producing 850 lb-ft.
Or if you need to, occasionally, alter the rotation of the Earth, you can opt for the Ram 3500 with up to 1,000 lb-ft of torque…fully 50% more "power" (torque) than the TRX.
So, when exactly does the Ram TRX's 702 hp come in handy? If you enjoy incredible passing power, or a fast run up an on-ramp, all accompanied by an unmistakable V8 rumble, this truck can deliver like no other.
And if one day you find yourself staring down a frigid, deserted airport runway, next to some automotive-journalist-dude in a fancy-pants Porsche Cayman GT4, have no fear. You have 702 horses and four-wheel-traction, ready to whoop his trembling buttocks.
Yes, that's what happened. Jessica's arms dropped, and despite wearing winter tires, the GT4 struggled and clawed at that bitter-cold tarmac, searching for traction, as I watched the massive TRX slingshot away.
Winding the Porsche's fabulous flat-six out, gear after gear, while occasionally skittering on frozen patches, I was able to gain on the Ram but never quite overtake it.
Tried it five times.
Ultimately—just like in the movies—the T-Rex proved to be King.