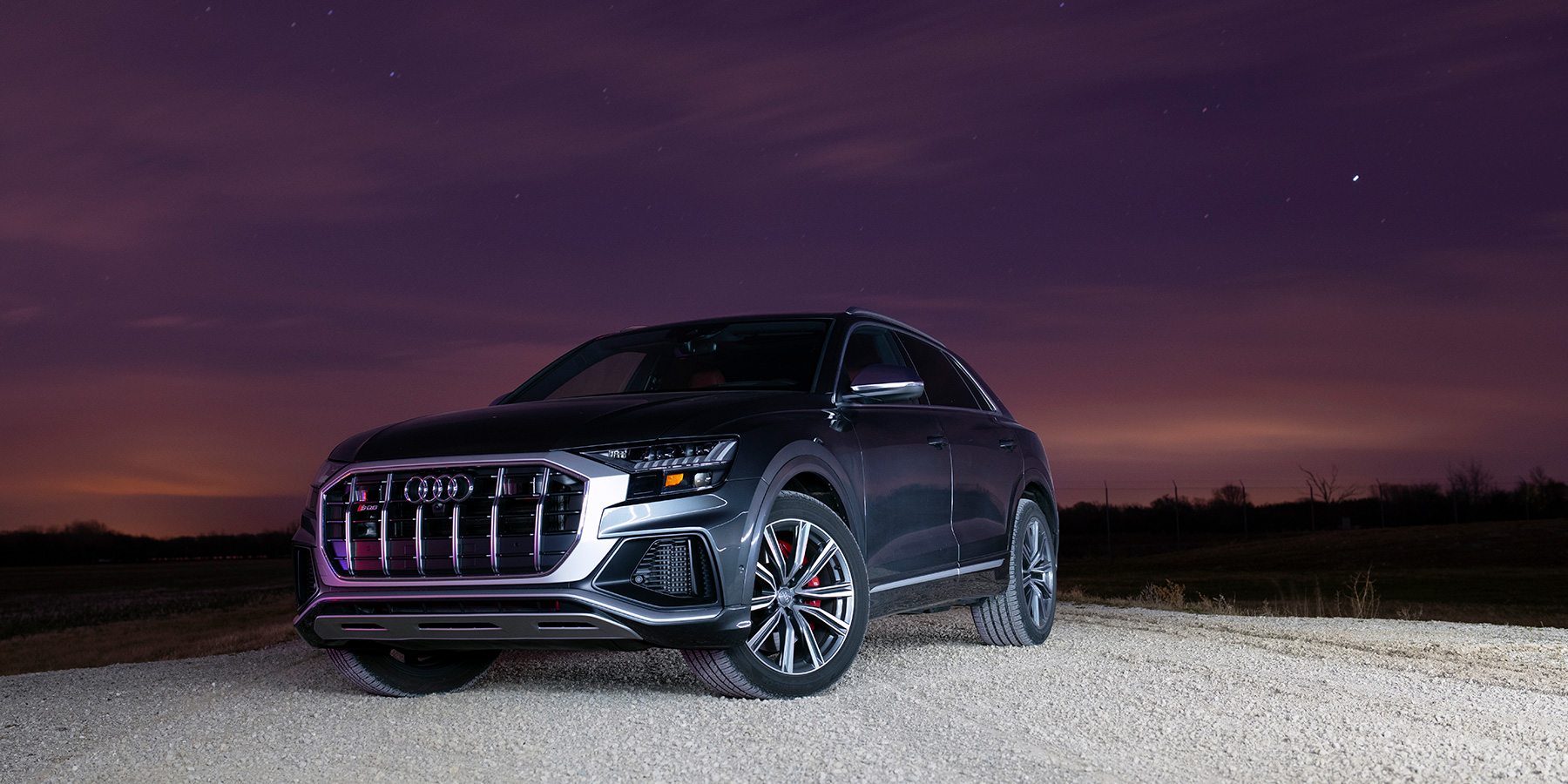 Words by Brian Griebenow
Photos by Jennifer Jensen
THE FOUR-DOOR COUPE
If you are interested in luxury SUV's, then you are familiar with Audi's Q7. If you haven't heard of the Audi Q8, think of it as the Q7's younger, more alluring sibling. You know, the provocative, stylish brother. Well, it turns out the looker—the Q8—has a twin. It goes by the name, "SQ8" and this one's been hitting the gym. Looking nearly identical to Q8, this SQ8 is clearly hiding some muscle under that tailored suit. The attitude is subtle, but ready with a matching resonant baritone voice.
We seem to be in the midst of a trend that has automakers—at least those in Germany—creating new models by simply chamfering some square corners, and tightening up a few dimensions, of popular-but-practical vehicles already in their line-up. This is a potentially brilliant way to lure new clientele who appreciate the brand, and need functionality, but don't want to drive an appliance.
So, as the traditional four-doors-and-a-trunk sedan continues to fade into distant memory, in its place we find four-door coupes, with their sexy-droopy rooflines and cleverly hidden hatchbacks.
What is an automaker to do if they have an SUV that is selling well? How about stretching its market reach further by swapping a tablespoon of its practicality for a half-cup of swank?
Add some drop at the trailing end of the roof, angle that rear window a tad more and maybe shorten the wheelbase and overall length just a smidge. Then, tweak the details accordingly. That is an unfairly simplistic explanation of how Audi created the Q8 from the Q7. So, what then is the SQ8?
S MEANS SPORT
Think "S for Sport". You like the Audi A4 but want more performance? Check out the S4. Same story for the A6/S6, and on throughout Audi's model range. So, the SQ8 is the sportier—but not sportiest—iteration of the Q8 luxury SUV. (The top dog Q8 would be the new RS Q8, but that is a story for another time.)
Pricing for the Audi SQ8 starts just under $90,000, which is up about $13,000 above the base Q8. As you would hope, at that $90,000 price point, every SQ8 is very well equipped.
All SQ8's are powered by a 4.0L V8 with a pair of twin-scroll turbochargers nested in the 90 degree V of the cylinder banks. This V8 hits 500 hp at 5500 rpm and 568 lb-ft of torque from 2000-4000 rpm. That power is fed, via an 8-speed Tiptronic transmission, to Audi's Quattro permanent all-wheel-drive system. During normal driving the front:rear torque split is 40:60, but if traction decreases at one end or the other the system will direct up to 70% to the front or 85% to the rear.
On the nicey-nice side of things, all SQ8's come with goodies like heated and ventilated leather sport seats, four-zone climate control, panoramic sunroof, sliding 40/20/40 split-folding rear seats with adjustable recline, hands-free tailgate, heated & power-folding mirrors, LED headlights, LED taillights & DRL's, MMI Navigation, and more.
And, of course, Audi equips every SQ8 with a full suite of safety features, including six airbags, side assist with rear cross-traffic assist, electronic stabilization control with off-road mode, electronic immobilization with anti-theft alarm, tire pressure monitoring, rearview camera, and top-view camera system.
THE LOOKS
Audi builds good-looking vehicles. You may say that's a subjective thing…a matter of personal preference. Nope. Audi vehicles look good and that is just a simple fact, so there.
The SQ8's single styling gaffe is the wide frame surrounding its grill. All grills and grill surrounds are plastic these days, but that bulky silver piece tips its head back and screams, "PLASTIC!!" Anyway, other than that, the SQ8 looks Audi-good.
Appropriate to its SUV calling, the SQ8 looks billet-solid, heavy, and substantial, especially when hunkered down low on its air suspension. Walk around back and its foursome of elliptical exhaust tips alert followers that this vehicle is an Audi 'S' variant.
Our tester was optioned, at $595, in Daytona Grey pearl effect paint. Not an ooo-ahh color by any means, but on the SQ8 it fits the overall down-to-business look. A no-cost selection, this car's Arras Red interior was a welcome surprise, making the space warm and inviting. Arras Red is subtle…thankfully not the bright red of those 10 lips bobbing around behind Robert Palmer back in '86.
Interior quality has long been an Audi strong suit, and it shows inside the SQ8. Our tester was the Prestige level, which adds some style for around $6,000 over the SQ8's starting price.
The leather seats are perforated and diamond stitched. Door panels feature a faux suede panel and carbon fiber trim. The steering wheel feels perfect and looks great. It's round, no flat bottom, but if you're not a power lifter your thighs will slide under it just fine. And that's exactly what I did. Slid my average thighs under that excellent steering wheel, and nestled my backside into the SQ8's comfy driver's seat.
WHERE'S THE BUTTONS?
I am buttons-n-knobs guy. I like the tactile feel of them, and I appreciate how readily they can be found and used without diverting my eyes from the road. So, I've maintained a grumpy resistance to screens-n-menus. Which is why I am amazed that I don't hate the Audi SQ8's trio of screens and dearth of things to push, flip, or rotate. In case you missed that, I said trio of screens. Yup. Three of them.
Of course, there is the ubiquitous touch screen near the center of the dashboard with home screen icons for radio, media, phone, navigation, vehicle settings and such. Nothing unexpected here, and it functions well. Response never seems to lag, and the plethora of menu-rabbit-holes are reasonably navigable.
One screen worth touching on (pun intended) is the Audi Drive Select screen, accessed via the SQ8's home screen icon. Audi Drive Select brings up a graphic of—what else—an Audi SQ8, along with five selectable drive modes… Allroad, Comfort, Auto, Dynamic, and Individual.
But off to the right, just below the cute SQ8 graphic is a Raise/Lower icon which will increase or decrease the vehicle's ride height at the touch of a… oops, almost said "button". The SQ8's adjustable ride height magic happens thanks to its adaptive air suspension. Select the Allroad mode and watch the ride height rise. Or Dynamic mode and watch it drop appropriately. Want to bump it up just a bit? Just touch that Raise icon. Handy bit of tech, actually.
Just below that main screen, let's say at the forward-most chunk of the center console, we find a second touchscreen, this one for controlling all HVAC settings as well as front seat heating/ventilation.
Oh, and the lower sliver of the screen features touch controls for front and rear defrost, hazard flashers, traction control defeat, and up/down arrows to scroll through the drive modes. But wait…what's this?? Glory hallelujah and strike up the band! It's a knob!! As if to appease me, Audi saw fit to place a gen-you-whine physical volume control knob below the HVAC screen, along with the engine start button. Even though there's a redundant volume control thumb roller on the steering wheel. Anyway, bless you, Audi.
So, where were we?
Oh yes, screen number three can be found directly ahead of the steering wheel. Replacing traditional gauges is a wide graphic display that delivers nicely rendered tachometer and speedometer dials, coolant temp and fuel level gauges, and a smattering of useful info bits like odometer, date, time, miles left on remaining fuel, and navigation info.
You can even choose to splash the nav map across the bulk of that right-before-your-eyes screen while minimizing all the other info. It's all pleasantly and effectively laid out. And it all works quite nicely. Trust me. If a screen/menu hater like me could live with it—and I absolutely could—then any normal person will find it delightful.
QUALITY IS TANGIBLE
Screens aside, the interior of our SQ8 tester was delightfully well done.
In traditional Audi fashion, materials, fit, and finish are all excellent. In terms of design, I found it very nice if somewhat busy. Here's a tip… save $500 and don't order the optional carbon fiber trim. Heck, standard trim is a nice grey oak.
The heated and ventilated front seats are supportive and bolstered just enough to hold you in place while executing a somewhat sporty turn, in your somewhat sporty SUV. And those bolsters are adjustable!
Anyway, those seats are hours-and-hours comfy, especially with the $4,000 Luxury Package, which adds a massage function. Rear seating is also roomy and comfortable for two adults. Get this… the 40/20/40 rear seats adjust fore/aft independently! Not just a little, a bunch… I don't know, maybe 6 inches? Super handy!
A six-footer can sit behind a six-foot driver with knee room to spare. Or, if you've got a short rear seat occupant, and a long piece of cargo, simply slide that rear seat forward! Also, those trick rear seats are heated, and our rear doors had power sunshades thanks to the Luxury Package.
LET'S DRIVE
Push perhaps the only pushbutton you'll find in the Audi SQ8 and its 500 hp V8 barks to life with an unexpected robustness.
On the road, the feel and handling of the Audi SQ8 are surprisingly competent for an SUV. Cornering feel is aided by all wheel steering. Our test car was also equipped with the $5,900 Sport Package, bringing active roll stabilization and Audi's quattro® sport rear differential to the party. All of which come in handy when you find yourself driving an SUV and wishing you were in a sports car.
Does selecting Dynamic mode magically remove the SQ8's rear seat, a foot from its wheelbase, and a ton of its mass? Umm, no. But Dynamic mode does drop the SQ8's ride height (and its center of gravity) significantly. It also firms up its suspension, perks up its throttle response, and tweaks the shift logic of its Tiptronic 8-speed automatic.
The results are impressive.
Turn-in is nicely immediate, and the overall feel in corners is that of a vehicle that's much shorter, and certainly lighter than this SUV. The well-planted sportiness is almost ridiculous for a 5,200 lb hauler that's capable of towing 7,700 lbs and rising on its toes to tackle semi-rugged terrain. Like I said, impressive.
PICK YOUR MODE
As mentioned earlier, there are various drive modes to select from, and each one offers a targeted blend of settings for ride height, steering feel, suspension, and "drive". Steering feel and suspension logic can be set to any of three levels…comfort, balanced and dynamic. But "drive", which includes throttle mapping and trans behavior, only offers two levels… balanced and dynamic.
And that's a shame.
Set to dynamic, the throttle mapping provides a wonderful, linear pedal response. It's not cartoonishly responsive, not spastic, it's just right. But at the balanced level, throttle response is dull and nothing happens until half throttle.
On the other hand, transmission behavior is better in balanced than it is in dynamic. Set to dynamic, the Tiptronic seems to insist on holding revs above 2k, always. In balanced, the shift logic feels more appropriate.
Audi… are you reading this? How about adding a third recipe for "drive", just like you do for steering and suspension?
WAIT, THERE'S MORE
So, we've established that the Audi SQ8 is more agile than it has a right to be. But that's not it's only strong suit on the road.
Remember that lovely 4.0 liter V8?
Well, it turns out its 568 lb-ft of turbocharged torque is quite enough to move this sport utility vehicle with authority. It is especially responsive in Dynamic drive mode, but regardless which mode you choose, plant your right foot down and the SQ8 will find illegal speeds rapidly. And smoothly.
There is a sweet linearity and silkiness to the way it pushes you back into your seat and gets the job done. And that robust exhaust note? It sounds as good on the road as it does when you fire it up.
IT'S STILL AN SUV
All this talk of speed and agility is fine, but let's not forget this is an SUV. A rather swanky one, with its sloped roofline, but still an SUV. And perhaps the best news is that all the needs you might have that move you to buy an SUV… the Audi SQ8 can meet those needs.
Need to pull your boat? Check.
Cargo space? Got it.
Comfortable for 4 people, and for hundreds of miles? Yup.
Our tester came optioned with the $5,000 Bang and Olufsen sound system. With 23 speakers, a 23-channel amplifier, over 1,900 watts of power, 3D surround sound, and those super-darn-cute tweeters that pop up out of the dash, the sound is top shelf.
Our SQ8 also had adaptive cruise control, a full spectrum of driver assists and safety features. And, of course, Audi's world class Quattro all wheel drive.
Let's face it, more often than not you are not out there carving up twisty roads, or romping from 0 to 60 in under 4.5 seconds. You have places to go, people and stuff to transport. This vehicle will do all of that, safely and comfortably. With style.
SUM IT UP
Is the Audi SQ8 perfect? No. Nothing is.
OK, OK, I'll pick on something. The front seats have side-mounted buttons to adjust fore/aft, recline, seat rake, and the lumbar. But there are also power adjustments for the thigh extension, thigh bolsters, and side bolsters. Where, you ask?
Well, those three adjustments must be done by accessing the appropriate f*#@*#@ menu on the F@#*@#* touchscreen. Just don't…get…me…started.
OK, one more. Drive modes.
When you start the car, the dash will indicate you are in the drive mode that you were in the last time you drove the car. But, amazingly, some of the parameters will have actually defaulted to "balanced".
So, if you last drove in, say, Dynamic mode and want to do so again, you need to re-select Dynamic mode to assure all parameters are actually set appropriately. Grrr.
Look, here's the thing. The Audi SQ8 is something special. I am not an SUV guy…at all. I wasn't even interested in reviewing this thing. But then something happened.
I drove it. I spent time with it. And it is a really, really nice thing to drive. If you're in the market for an SUV and you want something with style, and solid performance, check out the Audi SQ8.