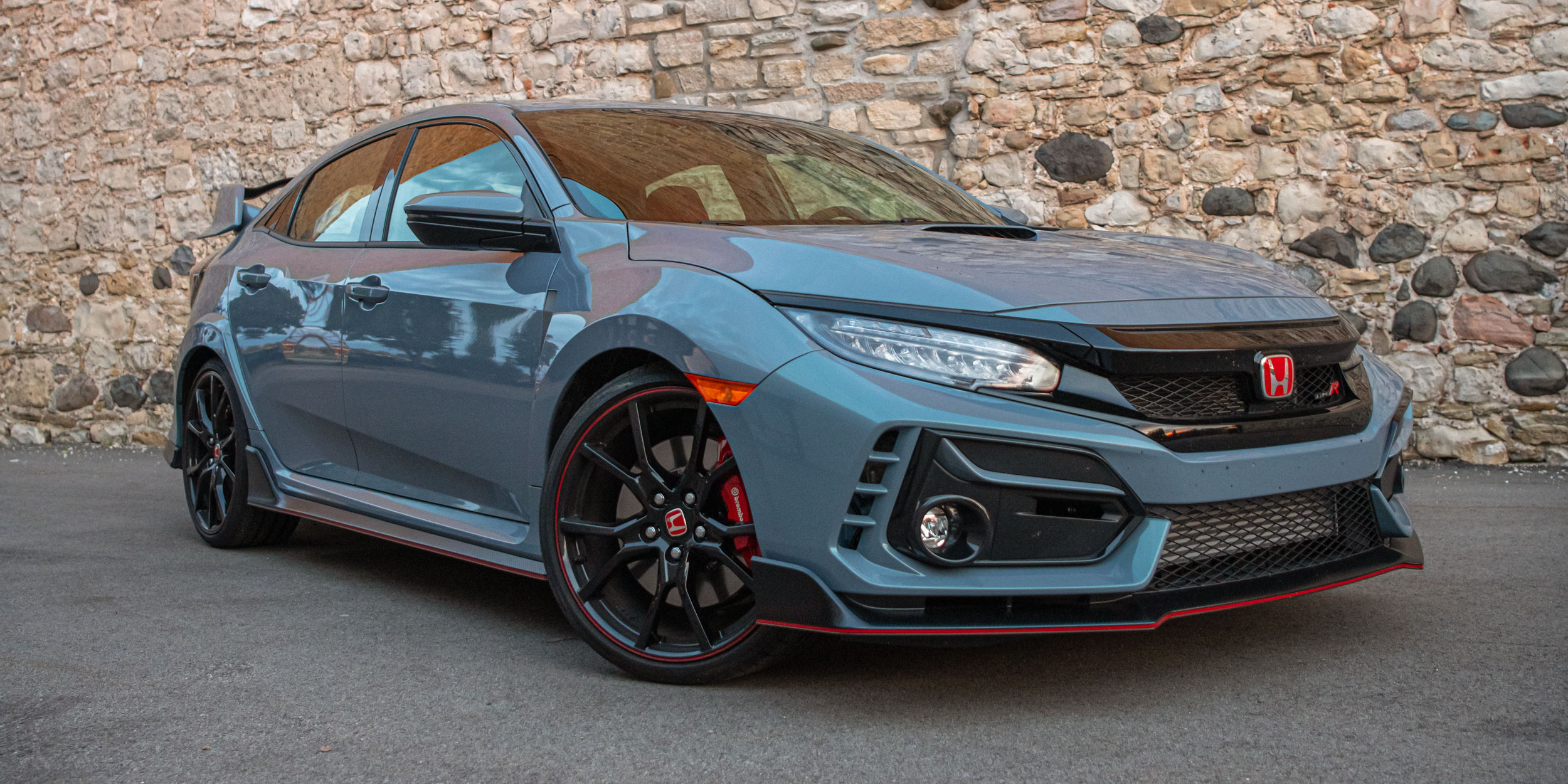 Words by Brian Griebenow
Photos by Jennifer Jensen
JUDGY
Don't judge a book by its cover, nor a car by its scaffolding, I always say. But more on that later.
If you are of a certain age you might remember Honda introducing a new car called the Civic to the market way back in 1972. The Civic was a simple, practical get-around-town car. It was small but not too small (looking at you, Honda N600).
It was easy on gas, roomy for a couple of adults, and had enough space to bring home the groceries, give the dogs a joyride, or just run a few errands.
The Civic was a hit and it continued on, in all markets, as a practical appliance until 1997 when Honda, for some crazy reason, decided to market a sporty version of the Civic, called the Type R.
That shocking little 2200 pound pocket-rocket ran a naturally aspirated 1.6-liter four-cylinder engine that loved to zing to its 8400 rpm redline. It was a special mix of practicality and fun with just one flaw. It was not sold in the US.
THE SEQUELS
Honda followed up its first zippy shoebox with a second-generation Type R in 2001 (but not in the US), and a third-gen in 2011 (still not in the US).
Then in 2015, after a few R-less years, Honda initiated some healthy debate amongst their fanboys when they brought their fourth-gen Civic Type R to market.
Unlike all R's before it, this rebel was all flares and vents and wings and…OMG…it was turbocharged! It was so wrong or so right depending your point of view. But here in 'Murica the fuss was all moot since, you guessed it, gen-four was STILL NOT AVAILABLE in the US.
Seeing a pattern here?
2017 brought forth a fifth-gen Civic Type R and—EUREKA!—Honda's marketing folks decided the Yanks just might have evolved sufficiently to understand it. And buy it.
So, here we have the gently improved 2020 iteration of the gen-five Honda Civic Type R. And it's finally on US soil.
THAT FACE
As you can plainly see this Civic is still buried under flares and vents and wings.
While out test-driving this Sonic Gray Pearl Type R I dropped by to see my good friend and consummate carguy, Jim-of-few-words.
His eyes laid on the car, his mouth twisted a bit, and he said simply, "can't get past the scaffolding."
He thought perhaps it might look OK without its eloquently described rear wing. Until he walked around to the front and found a face that could moonlight as a sci-fi movie prop.
This car's styling is polarizing. During my time with it, many heads turned, likely for very different reasons. Some love it, some hate it, others are just confused.
My wife's initial comment was, "looks like some sort of Transformer."
I won't dwell on styling, but I do need to mention that the Type R's overall look has turned me away from it since it landed here three years ago. Why? Because when its shape hits my eye it tells my brain all practical considerations, like comfort, have been sacrificed on the altar of maximum G forces.
It tells me the car will corner on rails but will destroy my spine. Like a roomier Lotus Exige. And while I value high performance, I am not fond of brutal machinery.
But judging a book by its cover is unwise and unfair. So, I welcomed the opportunity to open the Type R's cover and spend a few days reading it.
UNDER THE SKIN
Styling aside, the Civic is transformed (see what I did there?) into the performance-oriented Type R through upgrades in all the usual areas…engine, transmission, brakes, suspension, seats.
Here we're talking a 2.0-liter turbocharged four-cylinder making 306 horsepower at 6500 rpm, and 295 lb-ft of torque as low as 2500 rpm. That power is fed to the front wheels via a close ratio 6-speed manual (yea!) transmission.
Sorry, two-pedal people, if you want to play in this field, you'll need to use both feet and both hands.
And to help keep that prodigious power from turning one or the other front tire into smoke and noise, there's a limited-slip differential.
Stopping is more important than going, so braking is handled by 4-piston Brembo calipers squeezing new-for-2020 two-piece vented rotors on the front. These new rotors keep things cooler, reduce fade, and trim 2-1/2 lbs from each front corner. They aren't Swiss cheesed like last year's rotors, but they work better.
In conjunction with the limited slip diff, the front suspension design helps quell dreaded torque steer. Honda employed a dual-axis MacPherson strut layout unique to the Civic Type R. It uses additional rigid components to separate the steering axis from the damper axis, isolating the steering system from potentially nasty side effects of sending all that power through the front wheels. Does it work? Stay tuned.
The Type R rolls on serious 245/30-ZR20 tires with extremely squat sidewalls. These tires are one of the visuals that tell my brain to just step away from this impact harshness magnifier.
But thankfully Honda has also fitted the 'R' with adaptive dampers, and those dampers are improved for 2020 with a reaction time 10 times faster than last year.
Other improvements for 2020 include styling tweaks to the grill, fog light areas, and bumpers, an Alcantara steering wheel and shifter boot, a new weighted and reshaped shift knob, and one new paint color called Boost Blue.
Enough spec blah-blah, what's it like to drive this thing?
THE DRIVE
Open the door and you are greeted by two very RED front seats, regardless what paint color you choose. Rear seats are black, but stitching and seat belts all around are RED indeed.
In fairness to the red sets, I found them less visually disturbing each time I entered the car. In fact, I soon found them welcoming, simply because despite their loud aftermarket look they are supremely comfortable.
The seats are covered in Alcantara, well bolstered, and carved of excellent high-density foam that is firm enough to hold you in place but soft enough to be comfortable for hours. Well done, Honda!
All seat adjustments are manual, there is no power option, but if you can work a shift lever you can manage the seat. And doesn't that save weight?
Directly ahead is a flat bottom, Alcantara covered steering wheel.
Rounding out the Alcantara touchpoints are the similarly covered arm rests on the door panel and the center console. Honda gets one ding here for not cushioning the door panel armrest. True, it won't matter when you track the car, but in daily driver mode my left elbow was sore. Otherwise, I was comfortable and ready to roll.
Push the Start button, blip the throttle and smile at the SNARL-BARBLE-POP from the signature triple exhaust tips. No, wait…that's what I expected but what I got was a surprisingly civilized whoooomm. About what you'd expect from an Accord. And, no, there is no Shelby GT350-style toggle to open an exhaust flap. It's just, um, rather quiet.
Note that, the Type R offers three drive modes—Sport, Comfort, and +R—each with canned settings for throttle, steering, dampers, and fake engine sound.
Yes, the Type R now has ASC (active sound control), which uses the audio system's speakers to generate zoomy sounds, especially noticeable in +R mode.
I am not a fan of fake anything, but will admit that it sounds quite authentic. Each time you start the car, it defaults to the middle (Sport) mode.
I began my initial drive with the car in its default Sport mode, and with me in daily-driver mode. Just driving aimlessly without asking the car to impress me in any way.
But despite my not asking, the Type R did impress me within the first three city blocks.
I was immediately impressed by how daily-driver-livable everything felt. The ride, even on semi-ugly city streets, was never abusive. Firm yes, harsh no. I wondered how riding on, essentially, rubber covered wheels (I swear there's no room for air) could possibly be muting the pavement imperfections so well.
Credit, I assume, goes largely to the perfectly spec'd adaptive dampers performing with excellence. The shifter also feels quite good, with much less of the woggly vagueness commonly found in front drive cars.
Soon, I sought out a few safe country road twists and turns to see whether or not this Type R could deliver on its bad boy looks.
Is this rather quiet, nice riding Honda a legit hot hatch when the road gets bendy? Happy to report that yes, it is.
I am familiar with Subies, the Golf R, the Focus RS (RIP), and most recently the Veloster N. Like the Veloster N, the Civic Type R delivers power to the pavement, and carves corners shockingly well for a front driver.
Admittedly, I went into this part of the drive with some apprehension, knowing that the Type R is nose heavy to the tune of a 62/38 weight distribution. On that note, hit the [PAUSE] button for a moment.
This car carries a 2.0-liter engine up front and the front wheels are burdened with 62% of the car's weight? I've got an NB Miata at home with a 6.2 liter V8 stuffed under its hood, and a 54/46 weight distribution. Honda, take note.
Sorry, I digress [UNPAUSE].
Anyway, once again, the Type R impressed. Enter a corner at "sporting" speed and it never feels nose heavy, there is no sense of understeer. Power through and it simply claws its way around. Push it more aggressively and eventually, yes, understeer will be evident on corner entry, but it is easily neutralized with the pedal on the right.
An excellent AWD option, like the Focus RS (RIP!), would be my weapon of choice for a day of apex attacking. But this Honda denies its FWD shortcomings vehemently. Brakes are equally impressive and fade resistant. Steering feel is also very good for an electric system, thanks in part to variable assist and variable ratio.
And kudos to Honda for programming three canned drive modes that offer noticeably specific feels, yet none are sloppy and none are abusive.
In +R mode the car sticks like milkweed sap, feels eminently stable, and encourages aggressive cornering with its HEAVY steering and un-ignorable (fake) engine music.
In Comfort mode handling is still very good, a bit less solidly planted, with lighter steering feel and a quieter cabin, sans the engine sounds.
The feel of Sport mode falls smack in between.
Then there's the non-existent torque steer. Yup, it's not there. Even if you drop the hammer from a dead stop. Sudden hard throttle at low speeds while turning will induce a tug of the steering wheel, but that's all.
IT AIN'T PERFECT
Unfortunately, one gremlin kept mucking up this Type R's otherwise impressive performance.
As a point of comparison, unfair though it might be, travel back in time with me for a moment.
My wife has just experienced her first drive in a 1968 Corvette with a stout 427 engine and close ratio 4-speed when she exclaims, "oh my gosh, it's like there's a mechanical linkage connecting the accelerator pedal to the speedometer needle!" Bingo. She nailed it. The magical instantaneous throttle response of a powerful naturally aspirated engine.
News flash… the Civic Type R is not running a big block. To paraphrase my lovely wife, "the Type R feels like it's got a Slinky connecting the accelerator pedal to the speedo needle!"
I do not know if it's simple old-fashioned turbo lag, or weird throttle mapping. Or perhaps there is an evil line of code in the ECU causing intentionally slow boost build to deal with inherent traction limitations.
Whatever the cause, it is frustrating!
Pull out to pass, floor it, daydream for a couple of seconds, and finally off you go! Even during aggressive driving, you might wind it to redline in one gear, quick shift to the next gear and immediately floor it only to find that boost has magically fallen off for a moment before it starts pulling hard again.
Don't get me wrong, this car can fly, but those lags can be a serious buzz kill.
And while I'm whining allow me to mention the ridiculously slow response of the infotainment display screen.
Make any menu selection and it's as if the tubes need to warm up before anything happens. It's not a deal breaker, just annoying. The system is otherwise fine, easy to browse, with a plethora of info available and customization possible. It is just oddly slow to respond.
THAT'S A WRAP
To wrap up then, the 2020 Honda Civic Type R is not all that it appears to be. And for the most part, that is good news.
It is not as brutal or brittle as its clothing suggests. But it is a highly capable performance car. It is also, surprisingly, more comfortable to sit in and to drive than some of its competition. It is every bit as practical as it is sporty, with a useful rear seat, and a long, deep, cargo area. And, being a Honda, it is likely to provide years of trouble-free canyon carving, track days, kid hauling, and errand running, all for under $40k.
Oh, and by the way, the triple exhaust isn't entirely a gimmick. Turns out that center outlet lets it snort a bit during aggressive driving and eliminates drone for quiet highway cruising. (But mostly it looks special.)
So, if you're trying to find a fun car that doesn't abuse you, and a practical car that doesn't bore you, this one is worth serious consideration. Go ahead. Let Honda's decision makers know we Americans were indeed ready.