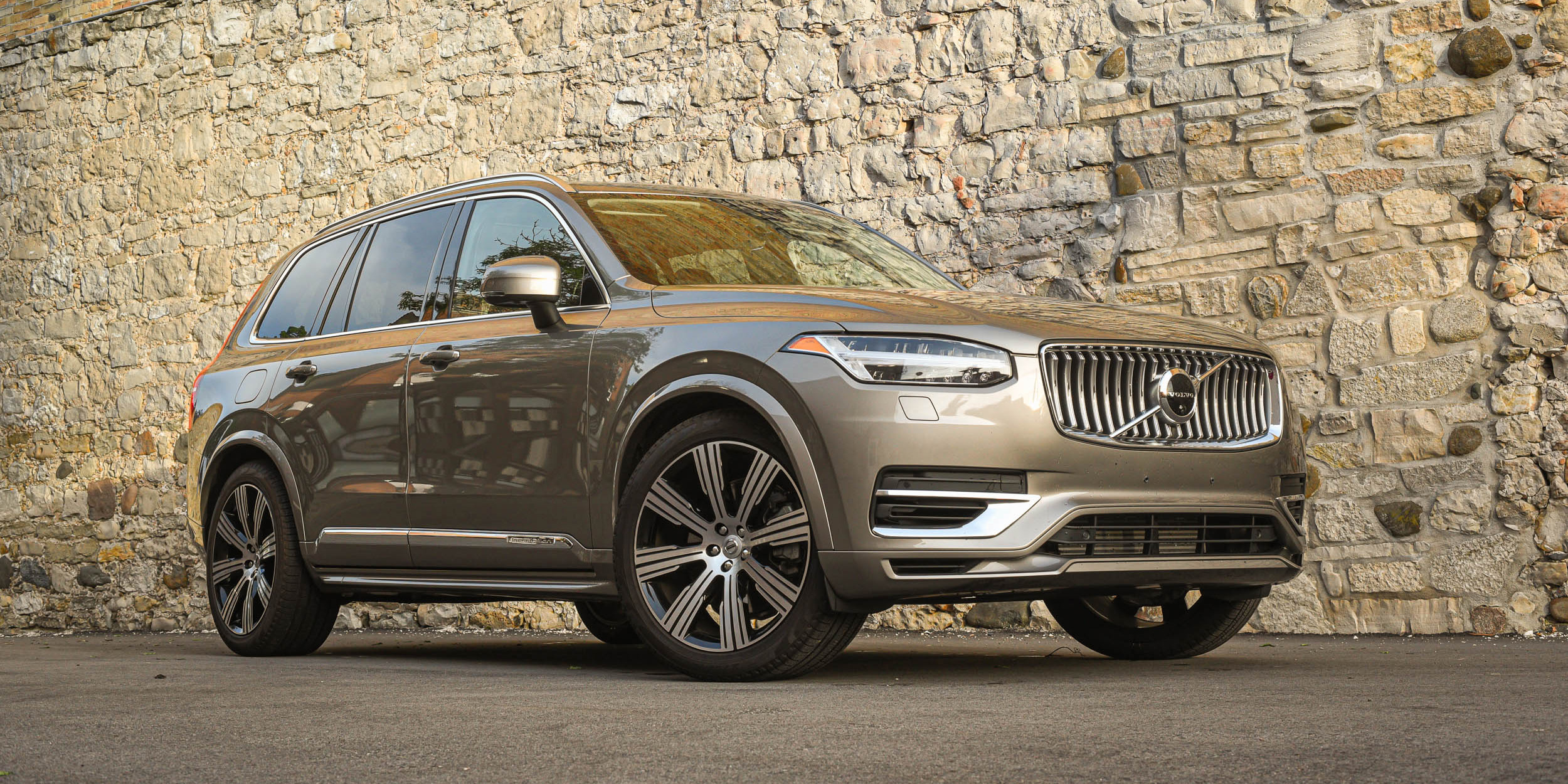 Words and photos by Jennifer Jensen
POWER!
The Volvo XC90 T8 E-AWD is a technological marvel running about on four wheels. It's like something Tony Starke himself might come up with.
Under the hood resides a 2.0-liter four-cylinder that is both turbocharged and supercharged to the tune of 313 horsepower. That gas-powered engine powers the front wheels.
Then there is an 87-hp electric motor on the back axle that provides momentum to the rear wheels.
The combined output is 400 horsepower and a smile-inducing 472 lb-ft of torque.
But, these two power plants run independent of each other, at least physically. So the XC90 T8 E-AWD can be front-wheel-drive, rear-wheel-drive or all-wheel-drive. Crazy.
UPDATES
The current XC90 came out for the 2016 model year and it has aged quite well.
There are some minor cosmetic tweaks for 2020 including an attractive new front grille, new wheels, newly offered exterior colors and six-seat capacity with captain's chairs in the second row.
But for the most part things with the XC90 remain the status quo and that is no bad thing.
The XC90 is still one of the most attractive SUVs on the market. Volvo's design language is clear and succinct. From the Thor's Hammer LED headlights to the overall flow of the bodylines no one would mistake the XC90 for any other marque.
INSIDE
The interior is decidedly Volvo as well.
The seats are beyond comfortable and in our Inscription level XC90 they offered up heating, cooling and even massage functionality. I could literally drive for a week straight and not tire of these seats.
The second row seats are just as comfortable as the front though they don't offer as many bonus features. Ample legroom and nice spacing between the two second-row chairs does mean there will be less fighting between your kids.
The third row is actually suitable for adults as well. I climbed into the back and once there was quite comfortable. There are speakers overhead, cup holders, and hidden storage areas in the armrests. Younger people than I who happen to be smaller and/or more nimble would not see the third row as punishment.
The dash layout is sensible and almost identical to other offerings from Volvo right now. I guess if it works, why change it?
The latest incarnation of Volvo's Sensus touchscreen system is the dominant design feature on the dash and it continues to work well. It might be a little slow to load everything up when you first start up the vehicle, but once it's on everything runs smooth with quick reaction times.
Another bonus to the test model we had was the optional Bowers and Wilkins sound system.
The audio system is absolutely fantastic and totally worth the price of admission because you can basically hold concerts in the XC90. You could even sell tickets to help cover the $3,200 price tag. Why else would Volvo give you the option to make the interior of the XC90 sound just like you are in the Gothenburg Concert Hall?
One other nice trinket on the interior of the 2020 XC90 is the Orrefors crystal shift lever. If you're ever stuck in traffic you can just stare at that crystal while getting massaged by the seat listening to your favorite tunes and totally zone out.
LET'S ROLL
Twist the starter and the XC90 T8 springs to life with, um, well, some clicks and whirrs. It's a hybrid, remember? The engine waits in the wings until it is needed.
With an electric-only range of about 18 miles, it's typically not long before the engine does kick in. If you are hard on the accelerator the XC90 takes off with authority. Enough authority to manage a sub five-second 0-60 time.
That's impressive in a vehicle that weighs in over 5,100 pounds…with no passengers inside.
The XC90 T8 offers several driving modes: Constant AWD, Pure Electric, Hybrid (everyday use), Power, and Off Road.
If you put the XC90 in Power mode the whole vehicle hunkers down on that air suspension to provide the least amount of wind resistance and best road holding with a lower center of gravity. Put it in Off Road mode and it raises the suspension to provide over 9 inches of ground clearance.
I preferred to leave the XC90 in Hybrid mode for the best combination of power use, ride height and comfort. In Hybrid mode the tachometer is a combination of a standard tach and a battery charge indicator that shows charging in real time.
Trying to maximize range without reducing battery charge becomes a fun game to play when you can watch it all happening right before your eyes.
Another thing I noticed is that even though the Sensus screen does work well, it took my attention off the road ahead. Since there is a head-up display, why not put some of the interactive features in there?
These are the dangers of having every interaction with your vehicle happening through a screen as opposed to the tactile function of buttons and knobs.
ACTIONS AND REACTIONS
I was quite impressed with the responsive nature of the XC90 T8. It reacts quite well for a large and somewhat portly SUV. Throttle response is immediate and the brakes do a very nice job of reining things back in.
However, there is a fair amount of body roll present no matter which drive mode you are in. And while the seats are super comfy, there is not enough bolstering to hold you in place if you are dubious with your cornering speeds.
The XC90 also presents a fair amount of road noise inside the cabin. This was a fact that surprised me quite a bit and led me to search around for a partially opened window or sunroof.
LONG TRIPS
The Volvo also has Pilot Assist which is a combination of adaptive cruise control with lane keep assist and stop/start meaning the vehicle can bring you to a complete stop and start rolling again with traffic. This system worked very well.
In fact, while Pilot Assist is not a hands-free operation it was so good I could almost drive the XC90 with my hands off the wheel. It is a little angry in its desire to keep you in a specific lane but you can still override the system with a little force.
One of the goals of any hybrid system is to improve range and the XC90 T8 certainly did that.
I filled up with fuel and the internal computer showed I had a 400-mile range. However, after driving 120 miles it showed I still had a 390-mile range. That is hilariously cool.
COMFORT AND CONVENIENCE
The XC90 T8 is not an inexpensive vehicle at an as-tested price of $86,790 but it offers many things that vehicles costing thousands more simply don't.
Cute features like buttons in the hatchback to raise and lower the suspension are a welcome addition.
That sumptuous cabin is a wonderful place to spend time no matter where you are driving or what the weather looks like. The hybrid powertrain provides excellent range so you can spend even more time inside.
The second and third rows are almost as good as being in the front row so you can bring along family or friends to enjoy the ride with you.
So when you think about it, that cost of entry doesn't seem too far off the mark. It's even more affordable if you sell tickets to enjoy the Volvo show.