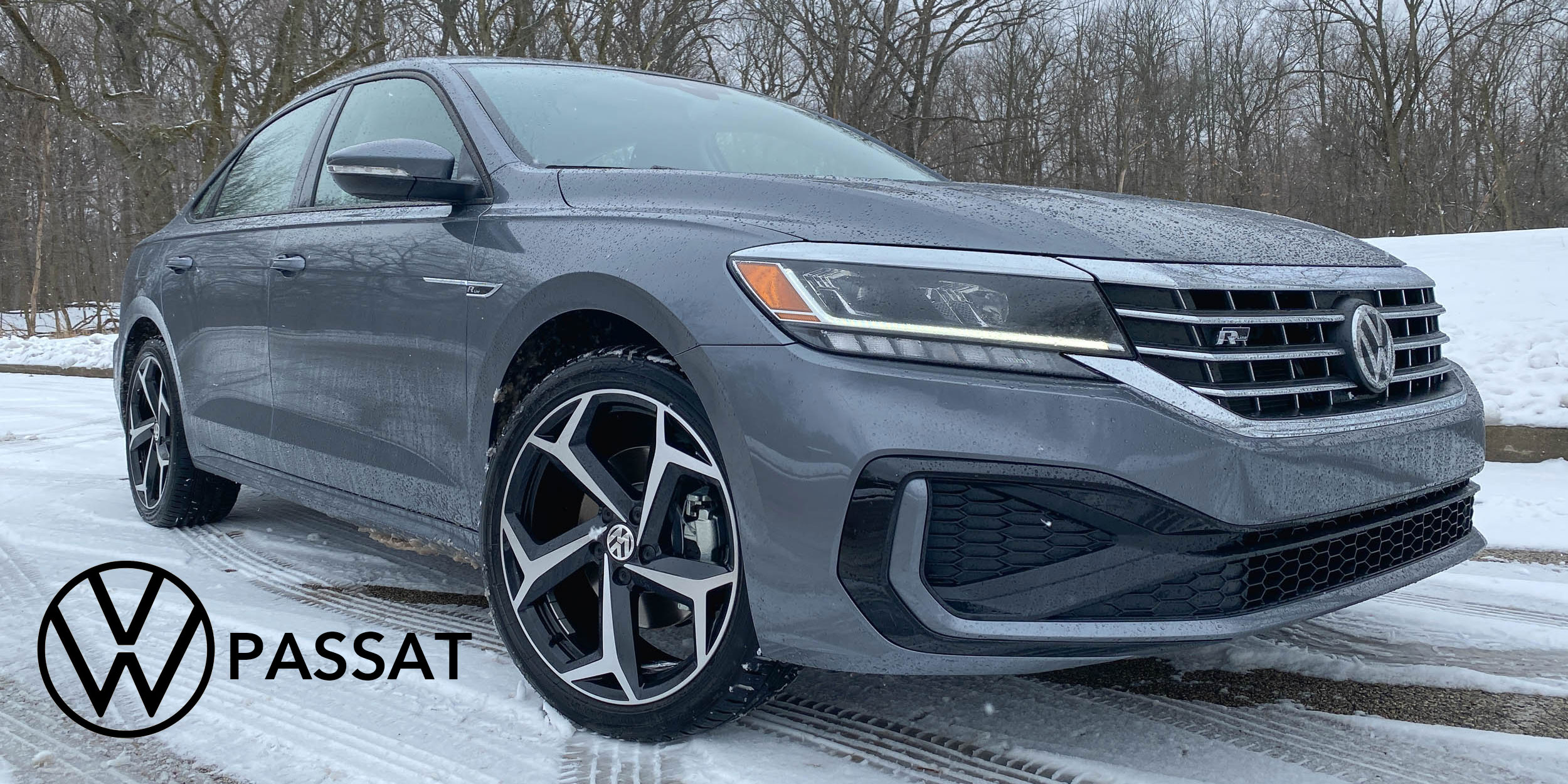 Words and photos by Jill Ciminillo
Throughout the years, VW design changes have typically been more of an evolution than a revolution, and the redesigned 2020 Volkswagen Passat is a perfect example of this.
Though only the roof panel of the new Passat is carried over from the previous generation, this new iteration doesn't look drastically different. Yes, the lines are sharper, and the grille is more pronounced. Plus, if it's possible, the new facade is even more handsome than it was.
But at the end of the day, the Passat still looks like a Passat, which bears a strong resemblance to every other vehicle in the VeeDub lineup.
THE VALUE
One of the biggest selling points for the Passat, in my book, is the value proposition. You get a conservative and attractive vehicle with nice amenities in the midsize category for about $24K.
This is a vehicle you won't be afraid to take clients or your boss to lunch in — other than the fact they may think you're getting paid too much.
Because the styling changes in VWs are never terribly drastic, the Passat will age well.
Oh, and it has the distinct advantage of having German engineering, so the ride and handling are on the sporty side, which make this vehicle affordable and fun-to-drive.
UNDER THE HOOD
The 2020 Volkswagen Passat is equipped with a 2.0-liter, four-cylinder turbocharged engine that delivers 174 horsepower and 206 pound-feet of torque.
For a midsize sedan, this is more than enough power for a sedate drive — and it's just the right amount for spirited driving in and around urban traffic.
I took a small road trip during the test period, which included a lot of highway driving and some periods of stop-and-go traffic, and overall, the Passat handled it really well with smooth comfort.
While the suspension is a bit stiffer than some of your other midsize sedans, it added a nice connection to the road for those highway stretches. However, it also means you will feel those urban potholes just a little bit more than you would in, say, a Lexus.
EPA estimates the highway fuel economy to be 34 mpg, and I averaged about 30 mpg during an hour-and-a-half highway trek.
COMFORT LEVEL
While I normally only do short urban drives in a vehicle, I was able to spend some quality time in the 2020 Passat, which let me get a good feel for overall comfort.
First and foremost: I got an excellent driving position for a person on the petite side of the spectrum. Often I sit too close to the steering wheel or have so-so visibility out the windows. But the Passat gave me more breathing room than I've had in pretty much any other vehicle; I was at least 12 inches from the VW badge on the steering wheel.
I did find the seats to be a bit stiff, but I anticipate the leatherette seating surfaces would loosen up over time, providing more cushion for my posterior. However, my husband, who is twice my size, found the seats to be comfortable from a passenger's point of view.
Secondly, I found all the gauges and controls to be intuitively placed and easy to reach, which again says a lot considering my shorter-than-average height.
STANDARD GOODIES
Going back to the value proposition for a minute, the base Passat has a lot of good stuff included as standard fare.
In terms of technology, the 2020 Passat has things such as Apple CarPlay/Android Auto, LED headlights, Bluetooth connectivity, a 3-month SiriusXM radio trial and automatic headlights.
Even though navigation is only offered on the top-tier SEL trim ($32,015), you don't miss it with CarPlay/Auto and Waze integration.
The standard safety features include forward collision warning, automatic emergency braking, blind spot monitoring, rear cross-traffic alert and a rearview camera.
The test vehicle was an R-Line ($29,565), which is the sporty trim. But in addition to R-Line bodywork, paddle shifters and 19-inch wheels, this trim also gets even more convenience features. So, you're looking at passive entry, push-button start, an additional 2 USB charge ports, adaptive cruise control, lane keep assist and heated front seats.
The R-Line didn't really have any options to add, and it looked really nice as-is. Though, I probably would have sprung the $395 for Aurora Red Metallic paint, rather than the plain Jane Platinum Gray Metallic that came on the tester.
TECH TROUBLES
Overall, everything on the Passat worked the way it should with a couple of minor, unavoidable weather glitches.
We got snow, sleet and rain during the test period, and that caused the adaptive cruise control to be inaccessible, which means that regular cruise control didn't work either — at least not that I found.
I know you shouldn't be using these systems during active precipitation, but even once the precipitation had ended and the roads were cleared, the sensors were still blocked.
This also posed a problem for the rearview camera, which got covered in gunk.
Weather isn't going away, so this isn't a problem exclusive to VW. It just goes to show that as much as we want to depend on technology to aid our driving, there is nothing that can replace a good — and engaged — driver.
IN SUM
I really liked the 2020 Volkswagen Passat for what it was: a spacious, attractive midsize sedan.
While there isn't a lot of pizzazz in the exterior or interior design, that only means it will wear well with time.