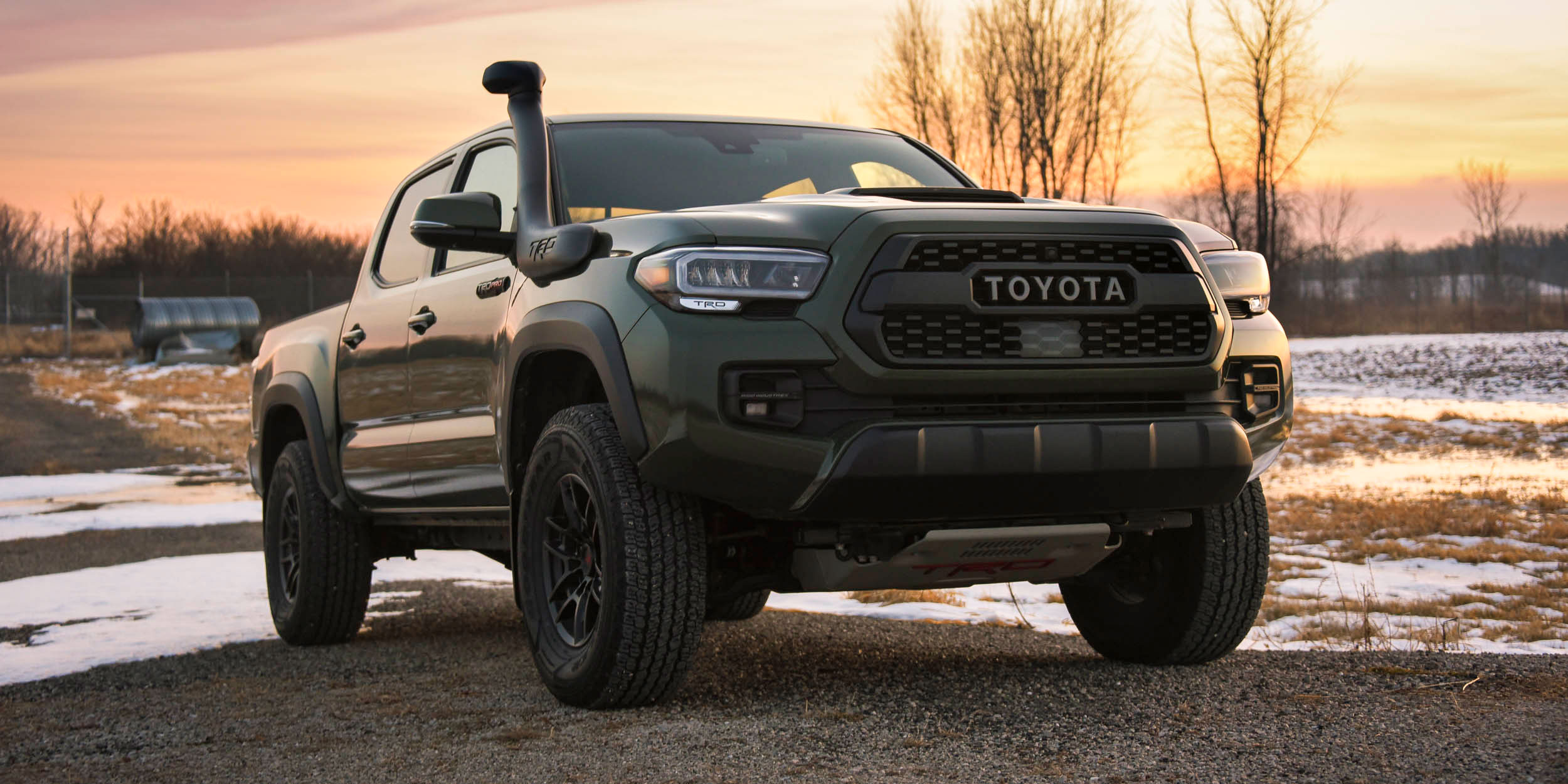 Words & Photos by Jennifer Jensen
TRUCKS!
Trucks.
I like trucks.
I know I sound like a ten year old saying that, but there is just something about the versatility, functionality and the "can do" attitude of a serious truck that is so incredibly appealing.
Trucks are just cool. And Toyota is pretty damn good at doing trucks
SOME BACKGROUND
The Toyota Tacoma has been around for quite awhile now. It was first introduced to the US market in 1995.
The Tacoma has done well on US soil as it has been the best-selling pickup in the midsize class for 13 consecutive years.
The current Tacoma is only the third generation of the pickup and for 2020 there have been some tweaks to help improve usability and comfort.
Like Porsche's infinitely configurable 911, the Tacoma comes is all sorts of design and trim packages. In fact, Toyota claims there are THIRTY TWO available configurations for the 2020 Tacoma. That's one more than Baskin Robbins.
There are six different grades for the Tacoma: SR, SR5, TRD Sport, TRD Off-Road, Limited and TRD Pro.
Depending on what level Tacoma you want to run with, there are two engines on offer.
The base engine is a 2.7-liter four-cylinder with dual overhead cams and Toyota's intelligent variable valve timing (VVT-i). The resultant output is 159 horsepower and 180 lb-ft of torque.
An optional 3.5-liter V6 is available with a more usable 278 horsepower and 265 lb-ft of torque.
Toyota takes a somewhat unique approach in the auto industry on transmissions for the Tacoma. Most manufacturers that offer a manual transmission only do so on the smaller base engine.
In the Tacoma, it is the V6 that is available with a six-speed manual! A six-speed automatic is also available across the board.
THE TRD PRO
Our test model was the properly specced Army Green TRD Pro as you see in the photos. Unfortunately we did not get the chance to sample the manual as our tester had the six-speed auto.
The Army Green (exclusive to the TRD Pro) is an awesome color and sets off the Tacoma with a utilitarian look that also makes the TRD Pro a little more "tough" to my eyes. Perhaps if you painted a Chevy Aveo in Army Green it would look tougher as well.
Toyota has an array of upgrades on the TRD Pro for 2020 including a new front grille, new sequential LED/DRL headlights, new 16-inch wheels, LED fog lights by Rigid Industries and revised tail lamps.
Toyota paid particularly close attention to those revised wheels shedding over 4 pounds on each wheel.
That diet along with some adjustments to the shock and spring rates combine for a better off road driving experience according to Toyota.
CABIN ACCOUTREMENTS
There have also been some changes inside the cabin for the 2020 model.
A revised Panoramic View Monitor (PVM) and Multi Terrain Monitor (MTM) have additional camera angles allowing the driver to select front, side or rear views which means you can see almost an entire 360-degrees around the truck…all from the driver's seat.
There is also an underbody "projected-path" video playback, which assists in finding unseen obstacles.
There are new 10-way power seats that are wrapped in leather and heated in the TRD Pro. There is also a revised 8-inch touchscreen. The touchscreen now includes Apple CarPlay, Android Auto and Amazon Alexa compatibility for the first time.
There is a 4.2-inch inch color Multi-Information Display in the instrument panel. It has an inclinometer and tilt gauge that is super fun to watch when you are driving on non-smooth surfaces.
Other features and additions specific to the TRD Pro include: FOX 2.5-inch internal bypass shocks, front springs with a 1-inch lift, rear suspension with progressive-rate off-road leaf springs, an aluminium front skid plate, Goodyear Wrangler all-terrain Kevlar-reinforced tires, hood scoop and a TRD-tuned cat-back exhaust.
THE EXPERIENCE
When you get a truck, the first thing you want to do is drive someplace you would never go in a car. Or better yet, someplace a car couldn't go.
Our time with the Tacoma TRD Pro was no different.
Firing up the V6 we rolled out of town to a farm.
Not just any farm, one with hills, rocks, gullies, and a mud pit. It's not supposed to be a mud pit, it is used for racing, but with lots of rain over the past month, it was a mud pit.
It was also someplace I would never ever consider bringing a car.
Inside the Tacoma it is supposed to be a quieter place than previous models as Toyota has changed the door seals, added a multi-layer acoustic windshield, a sound-absorbing headliner, and a silencer pad on the floor.
In practice, the Tacoma is still a loud place to be. We did notice a bit less noise than in the 2019 model we tested last year and could almost carry on a conversation with passengers in the back.
The updated touchscreen does work much better than the outgoing model as well, but some features we loved in last year's Tacoma still remain.
For example, there is a huge PRNDL shifter, monstrous HVAC knobs that would be easily operated even while wearing Mickey Mouse gloves, and simple push buttons for windows and more.
These oversized buttons and knobs are fantastic to have in a truck that you will use year-round in all kinds of weather when both on and off the road.
But back to the mud pit.
GETTING DIRTY
This truck is tough. And I mean tough. The cabin of the Tacoma rides above the frame making an almost flat floor. That translates into the body traveling high over obstacles below.
Spin the dash-mounted dial to select 4-high or 4-low and go to work.
The Goodyear tires seem to have endless grip in off road situations. We flew through the mud pit with nary a sideways slip. There were no concerns about getting stuck as the Taco just gripped and went.
Come to a full stop, then floor it and the mud would fly, but the truck would move as well.
Hills and other obstructions were met with a similar lack of interest from the truck. It just did whatever we asked of it.
The throttle has an eternity of travel so it is easy to apply the appropriate amount of power in any given challenging situation.
The steering is light and a bit loose but that just affords the driver the opportunity to make sound decisions when faced with obstacles.
Off road, the Tacoma TRD Pro is an amazing machine with skills that you would be hard pressed to match with another vehicle available to the general public.
You can even order the Desert Air Intake that raises the engine's air intake out of the dirty air around the vehicle and into clean air out of your path. You can even flip the head so it faces forwards or back.
ON THE ROAD
Just like the 2019 model, the Taco suffers when on the road. When the road is smooth the steering feels sloppy. If you brake a bit hard the front end just slumps down making the rear dance around a bit too much. The throttle that is so good off the road, just feels extra lazy when on the road.
The upgraded sound system helps to quell the road noise and the ride is generally not harsh.
The joy comes in not worrying about potholes or other breaks in the road. Because, after all, who cares when you have the heavy-duty powers of the Tacoma under your hind parts!
IN SUMMARY
The Tacoma sells well because it does all of the truck things right.
Back that up with Toyota's legendary reliability and the expectation that no matter how you drive your Tacoma it will be around for a few hundred thousand miles, and you have a winning package.
There are other vehicles that have better on road manners, but few that can match the capabilities of the Taco when the road gets rough. That makes it a winner in our book.