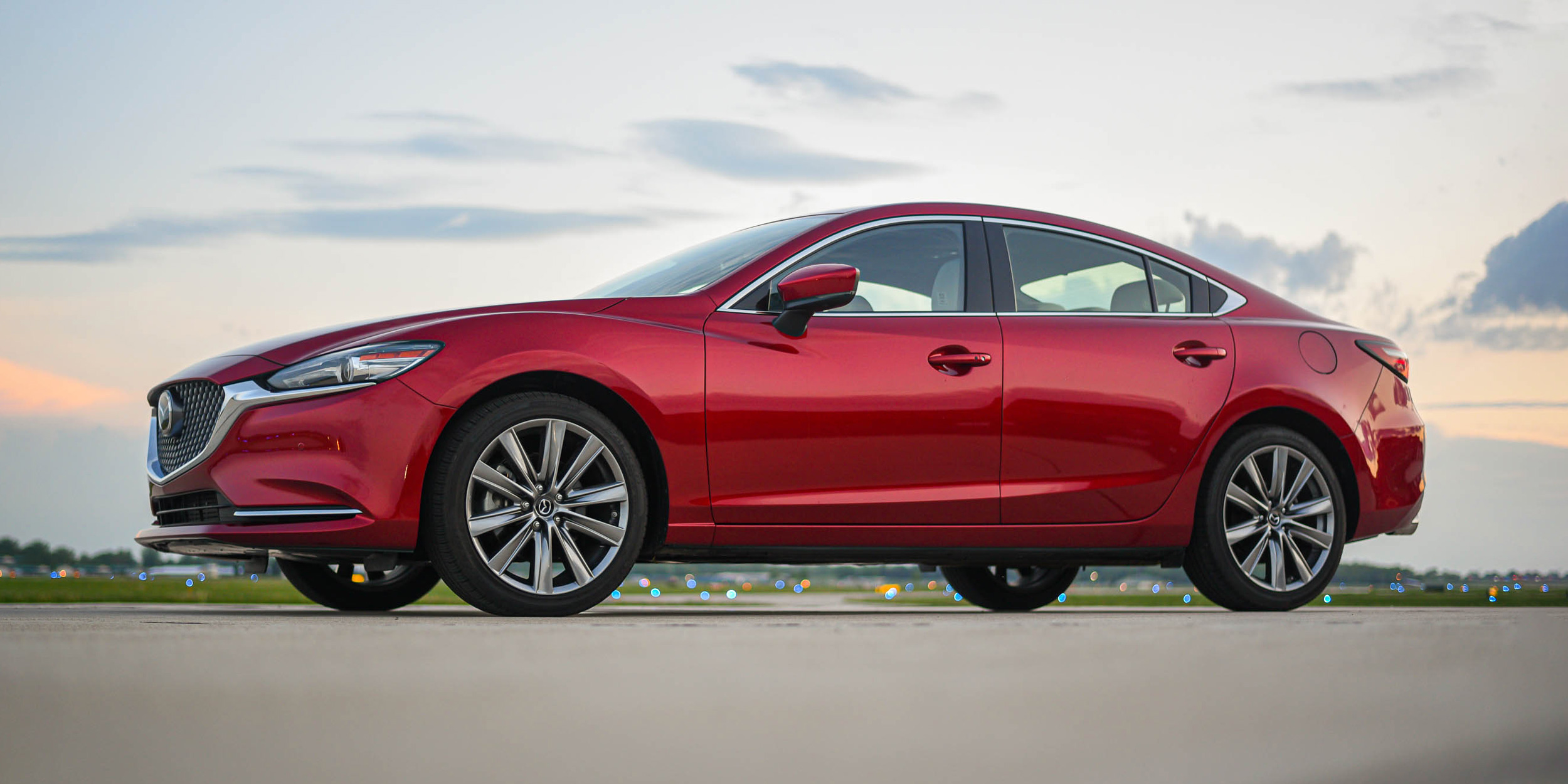 Words and photos by Jennifer Jensen
THE LOOK
Let's start this review like you would anytime you see a new car, with the outside.
In my opinion, Mazda is making some of the most attractive vehicles on the road today.
The Mazda3 is very good looking, especially in sedan form. The CX-3, CX-5, CX-9, and even CX-30 are very attractive SUVs. Don't even get me started on the Miata! (Just picture my eyes going wide and a big smile on my face. You know the Miata is good looking!)
The Mazda6 is certainly no exception.
There is nothing ground breaking here. The 6 is just aesthetically pleasing. The grille is a bit large, but it looks like it serves a purpose (it does).
There is a strong character line the goes over the front wheels, down under the wing mirrors and then sort of disappears, except it also splits into a thinner line that follows towards the rear wheel. A contrasting line joins just above the front door handles that heads up over the rear haunches and towards the taillights.
While this pattern is not overly exciting, it completely breaks up the side profile of the 6 and catches light in different ways. All of this makes the 6 an art form that your eyes appreciate rather than a block of metal that your eyes don't care about.
BEAUTY FROM WITHIN
The great thing about Mazda is that the attractive design carries over to the interior as well.
Again, there is nothing that shatters the foundations of good design in the Mazda6, just an elegant and intelligently laid out interior that works.
The classic PRNDL shifter falls to hand, the gauge cluster features three large round dials with a tachometer on the left, fuel and water on the right with a digital speedometer in the middle.
That middle gauge is clever and also a current Mazda hallmark. It looks like an analogue gauge but it's not. That provides the opportunity to add in additional information to that screen such as lane keep assist or your trip meter.
PREMIUM
The rest of the cabin has an upmarket look and feel.
There is elegance in the simplicity of the 6's interior design.
There is a single strong line for the dashboard that runs underneath the vents and above the HVAC controls. It serves as a divider but is adorned with very well done stitching.
Just above that is a strip of silver that wraps around the vents on the outer edges of the dash and makes a nice highlight.
Topping that silver strip is Sen Wood. Yes, real wood. And it is gorgeous in appearance and nice to touch.
The top of the dash is appropriately dark so as not to reflect in the front windscreen.
The doors are similarly stacked in their colors and design and everything just feels top notch. This is an interior that wouldn't be out of place in a Lexus, Audi or Mercedes.
The only thing that feels a little off is the start/stop button that is next to the touchscreen on top of the dash.
IT'S A TOUCHSCREEN!
Yes you read that last part right. The Mazda6 has a touchscreen.
Why is this worth pointing out? Because Mazda went through a lot of effort talking about how touchscreens take driver's attention off the road (they do) and that their unique knob controller between the front seats is the right way to go because your attention can stay focused where it should be…the road.
After all the effort we went through with the Mazda3 and the CX-30 to learn and use Mazda's human machine interface control knob, I am just shaking my head.
But, the touchscreen works just fine. It is a little slow to react to inputs, but things like Apple CarPlay work SO MUCH BETTER when you have a touchscreen to work with. Maybe the engineers at Lexus could take a lesson here.
CONTENT
The Mazda6 is also not just good looking both outside and in, it is packed with lots of the good stuff.
How about this list of standard safety fare: i-Activsense safety including radar cruise control that can bring you all the way to a stop, active braking with pedestrian detection and collision warning, lane departure warning with lane-keep assist, and blind spot monitoring with rear cross-traffic alert. Not bad, right?
There is also an array of standard comfort features like dual-zone climate control, keyless entry, auto headlights, auto high beams, rain sensing windshield wipers, rearview camera, and LED headlights with auto leveling.
Step up to the Signature Edition like our test vehicle and you add in such niceties as heated front and rear seats, cooled front seats, heated steering wheel, 360-degree surround camera, front and rear parking sensors, navigation, traffic sign recognition, windshield wiper de-icer, LED ambient lighting, a head-up display and a very nice Bose sound system.
This thing is packed to the gills with equipment!
THE DRIVE
No matter which Mazda6 you get, there will be a 2.5-liter four-cylinder engine under the hood. The only question is if it will have a turbo or not.
The Signature edition does have the turbo meaning output is rated at a reasonable 227 horsepower. However, there is a whopping 310 lb-ft of torque on hand. That makes a huge difference when getting off the line. Put in high octane fuel and the engine will jump to 250 horsepower.
Push that oddly placed start button and the engine springs to life with an eagerness that makes it feel like it wants to be used. So I oblige.
Over the first few miles I notice something. Or, rather, I don't notice something…noise. Wow is this cabin ever quiet! Very little ambient noise makes its way to my ears and I am pleased.
The only thing I really hear is the little engine that could.
Of course we put in the good gas so we could get the most of this power plant. While the 2.5-liter doesn't deliver face-peeling acceleration, it certainly delivers the goods for the real world.
The turbocharged four-banger under the hood also offers cylinder deactivation. Under light or steady loads the engine will put two of the cylinders on temporary hiatus helping to increase fuel mileage and overall range.
I always worry about added technology like that, but I never noticed when cylinders were taken out of the game. We achieved almost 30 miles-per-gallon during our time with the 6 so I guess it worked!
UNDER IT ALL
Another area that the Mazda6 shines is ride.
There is no adjustable suspension in the 6 and that is fine by me. The 6 is set up to deliver a sporting ride that reacts to driver input without being punishing. It delivers in spades, especially when you consider this is a front-wheel-drive vehicle.
The ride is not supple, but it is comfortable.
The steering is quick and accurate all of which makes the Mazda6 a testament to the opinion that you don't need to have adjustable suspension to make a car ride well.
There is a "sport" button on the center console, but all it really does is change the throttle mapping of the six-speed automatic transmission. I would be fine if that little switch was removed from the cabin altogether.
VERY LITTLE TO WHINE ABOUT
It is very rare that a car comes through our offices and we don't find much to complain about. From maddening tech to numb steering to road noise, most vehicles have areas we can nit pick apart.
The Mazda6 is that uncommon vehicle that gives us very little to judge. It is a well-rounded sedan that provides a very pleasant driving experience.
It is attractive both inside and out, has enough power to satisfy and more than enough equipment to even the most demanding critic content.
There is plenty of room and loads of comfort along with being one of the quietest cars we have run this year.
With a starting price of under $25,000 and an as-tested price for the top-of-the-line Signature model of $36,915 the Mada6 is a serious contender for anyone wanting what is simply a great vehicle.