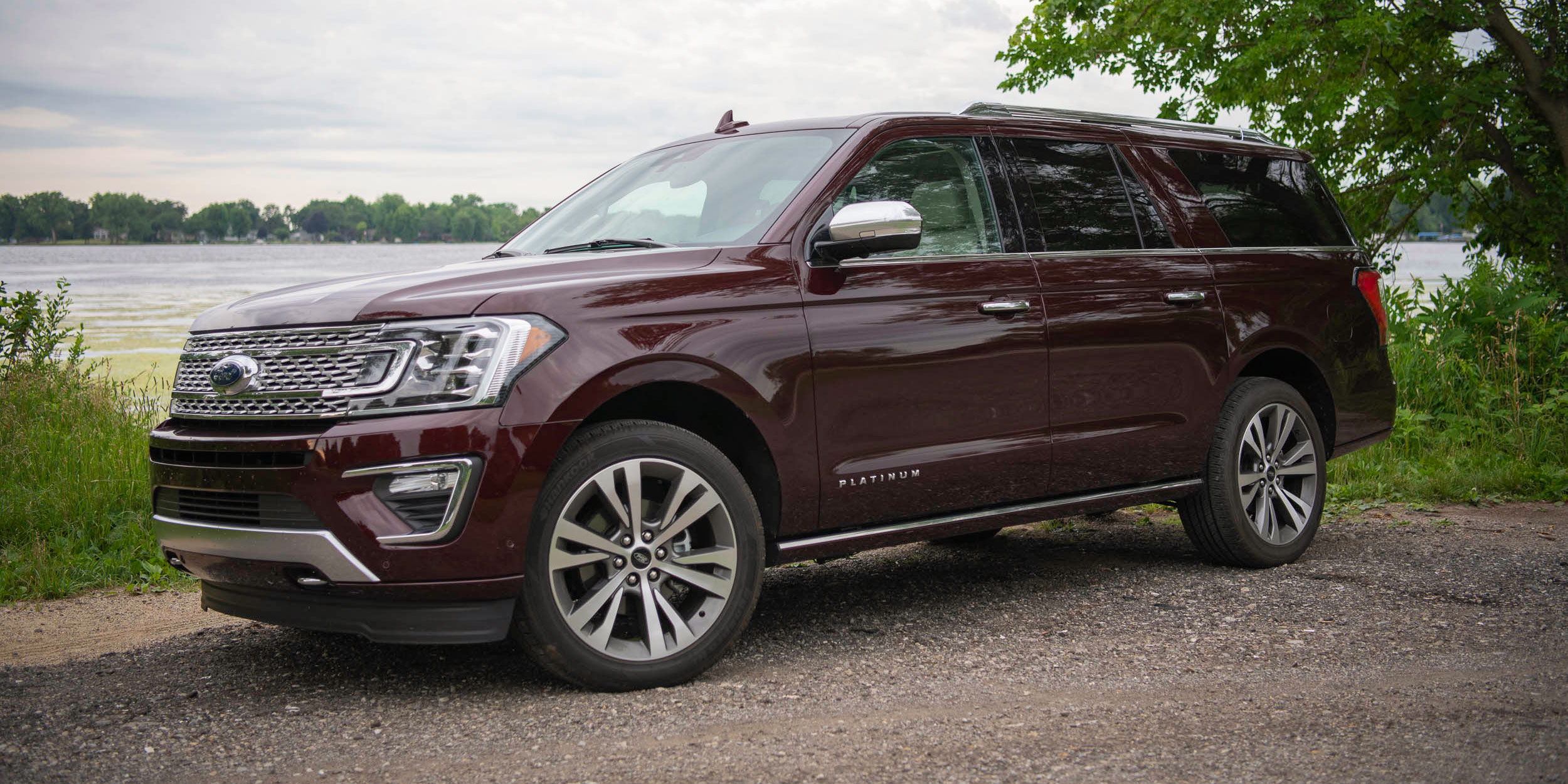 Words and photos by Jennifer Jensen
EXPECTATIONS
I expected to hate the Ford Expedition.
First off, it's huge, massive, grandiose. You can fit at least 75 people inside. And their luggage. And maybe a house. It takes about ten minutes to walk from the front bumper all the way to the back bumper.
If you're shorter than six-feet you might need a stepladder to reach the retractable side step to make it in to the cavernous interior where the overly large theme continues.
I mean, seriously, you need a Big Gulp to fit in the oversized cup holder. Regular coffee mugs need not apply. Then again, there are two cup holders in each of the front doors so I guess your Starbucks order can find a home there.
In fact, there are cup holders in the doors of the second row. There are cup holders everywhere. And some more cup holders in the second row armrest.
The armrest in between the front seats is large enough to hold puppies, full-grown cats or small children. It easily swallows purses and bags along with empty bags from the drive through. And a spare pair of shoes. And a matching outfit.
There are also outlets and plugs everywhere. You can plug in your laptop, smart phones, dumb phones, and even your hairdryer and curling iron so you and your front passenger can get your hair done on the way to the office.
Then again, why not just use the Expedition Max as your office?
Who wants something like this?
THE AUDIENCE
It is easy to assume that the Ford Expedition is targeted to families with ten children. Or maybe just five children. Or maybe the Von Trapps. But the Expedition has so much more to offer than a family school bus.
For starters, under the hood resides no gas-guzzling V8 but Ford's EcoBoost twin-turbo V6. It is good for 375 horsepower and 470 lb-ft of torque. It's not enough to move mountains, but with the optional tow package it's enough to pull around an extra 9,000 pounds.
That engine is paired with a 10-speed automatic gearbox. I remember when you were the cool kid on the block if your bicycle had ten speeds. Why in the world would you need ten speeds in a truck? Try fuel economy.
We put on more than 400 miles in our week with the Expedition Max and averaged 19.2 miles per gallon. That 10-speed helped.
You can watch the gear shifts in the instrument panel and it is sort of like a video game. Take off from a stoplight and it's 1, 2, 4, and 6th gear by 20 mph. You will be cruising in 8th gear at a paltry 32 miles-per-hour.
But give credit where credit is due. I never felt like the transmission was hunting for a gear. It always finds the right one for the demand placed on the engine.
IT GETS BETTER
In the Ford Expedition Max you sit higher than anything else on the road unless it is professional grade. That ride height paired with walls of windows provides a commanding view of the environment around you and the tiny little cars you can run over.
The interior fit and finish is better than any other Ford we have been in of late. Ford is spending their time, energy and money on trucks and it shows.
In our Platinum (top trim) Edition there is leather everywhere including quilted leather on the doors along with contrasting stitching.
The front seats are heated and cooled with a massage feature added in for good measure. The second row seats are heated as well. They also have their own HVAC controls but those passengers will have to massage each other.
A massive panoramic sunroof spans several feet over the cabin and makes the roomy interior appear even larger.
Most importantly, the cabin is quiet. Way quieter than I imagined it would be and even more so than it deserves to be. The inside of the Expedition Max should be a reverberating chamber of noise with kids screaming over the road noise generated from the chassis hauling around more than three tons of hefty SUV.
But it's not. It is quiet enough in the cabin for the driver to calmly speak to people in the last row.
The Expedition Max is basically a living room that you can take with you. It's just missing cable TV. Oh wait, I forgot, it does have WiFi so you can stream Netflix or YouTube or whatever you want.
Yup. Living room on wheels.
GO ANYWHERE
The Ford Expedition has all sorts of tech to help it go where you need to.
There are several drive modes: normal, eco and sport. Yeah, sport. I'm still trying to figure that one out.
The list goes on. There is also tow/haul with loads more buttons and switches on the dash to help with trailering.
Hold on, there's more! Additional driving modes are: Mud/Ruts, and also Sand/Grass/Gravel/Snow.
These different driving modes do all sorts of stuff to the transmission and the four-wheel-drive system but what they really do is make me want to drive through culverts and over concrete walls. Because the Expedition probably could.
The instrument cluster can even show steering angle, pitch and roll angles. It's very cool to see how far the vehicle is leaning to the side or front if you venture off the paved path.
The PRNDL is a twisty knob instead of a big stick projecting out of the center console. I will say that it frees up more space in that area and makes it appear even bigger. Just what the Expedition needed!
The suspension is quite nice providing a smooth and comfortable ride over even the roughest of surfaces.
The Expedition does have auto stop/start but there is a nice button right on top of the dash to turn the system off. Thank you Ford.
MAXIMUM EXPEDITION
The Expedition Max stretches the body about one foot over that of the standard Expedition. It also provides a larger fuel tank. A full tank of gas at the end of our time with the beast showed a range of 524 miles. That's real world!
We did "truck stuff" for a full week. Things like helping friends move or getting groceries for your entire neighborhood.
We took the Expedition Max to the dump to off load old TVs and furniture. While there we drove on a scale and the Max hit a max-like weight of 6,500 pounds! That makes the fuel economy and range all the more impressive.
COMPLAINTS
The Expedition has a nice touchscreen running Ford's Sync. It works great but in the massive dashboard the screen looks puny. A larger screen would be nice. With that much real estate available, why not use it?
I thought I would hate the engine, but I didn't.
I thought I would hate the ride, but it's controlled and comfortable.
I thought it would be loud and annoying, but it's quiet and serene.
I guess my only other real complaint is the price. Big vehicles come with equally big price tags and this Expedition Max was no exception with an as-tested price of $84,065 including destination.
That's a whole pile of dollars but you do get one of the best products Ford makes.
SERIOUSLY THE BEST
Ford knows trucks. That much is clear.
I love the Ford Raptor. The Ranger is very nice, though I wish Ford would bring the Ranger Raptor to our shores. Did you hear that Ford? BRING THE RANGER RAPTOR! We all know that the F-150 is the best-selling vehicle yadda yadda, so on and so forth. All this means is that Ford does know trucks.
I always approach vehicles with an eye bent on performance. How quickly can I get to 100 mph? How fast can I get around a race circuit? That kind of performance. Pedal to the metal performance.
However, the Ford Expedition Max made me rethink what performance is. Performance as in, what can the vehicle do for you in your ownership experience? What is it going to be used for? How does it perform in that environment?
That brings us back to the question of who would want one of these.
Of course that family with 10 kids would want one of these magic bus rides. It is easy to picture mom and dad comfortably ensconced in their cooled leather seats while getting their backsides gently rubbed, the kids screaming in the back.
But again, the Expedition is more than a bus.
We used to have a horse. Our daughter was a competitive rider and we had a rather large Friesian (about 17 hands) monster horse. This Expedition would have been perfect for horse shows.
We could have very easily towed the horse and trailer, put our daughter's saddle and riding gear in the back end of the truck BEHIND the third row of seats and had two rows of comfortable cruising space or a changing room.
If more room was needed in the back just push a button located in the tail and the third row will electrically lower down (left, right or both). You can even put down the second row seats from the back end (those aren't showy electric though, just pull a lever and they plop down with authority).
Or perhaps the Expedition is meant for someone who goes racing on the weekends. Tow your race car to the track, arrive refreshed with your back completely buttered and relaxed from the massage, race the weekend away then cushy-ride yourself back home with all your new trophies stowed in the back.
Looking at the Expedition Max as a non-truck person it was easy to go into this review thinking I would hate it. But this vehicle is impressive in its capabilities and it completely won me over.