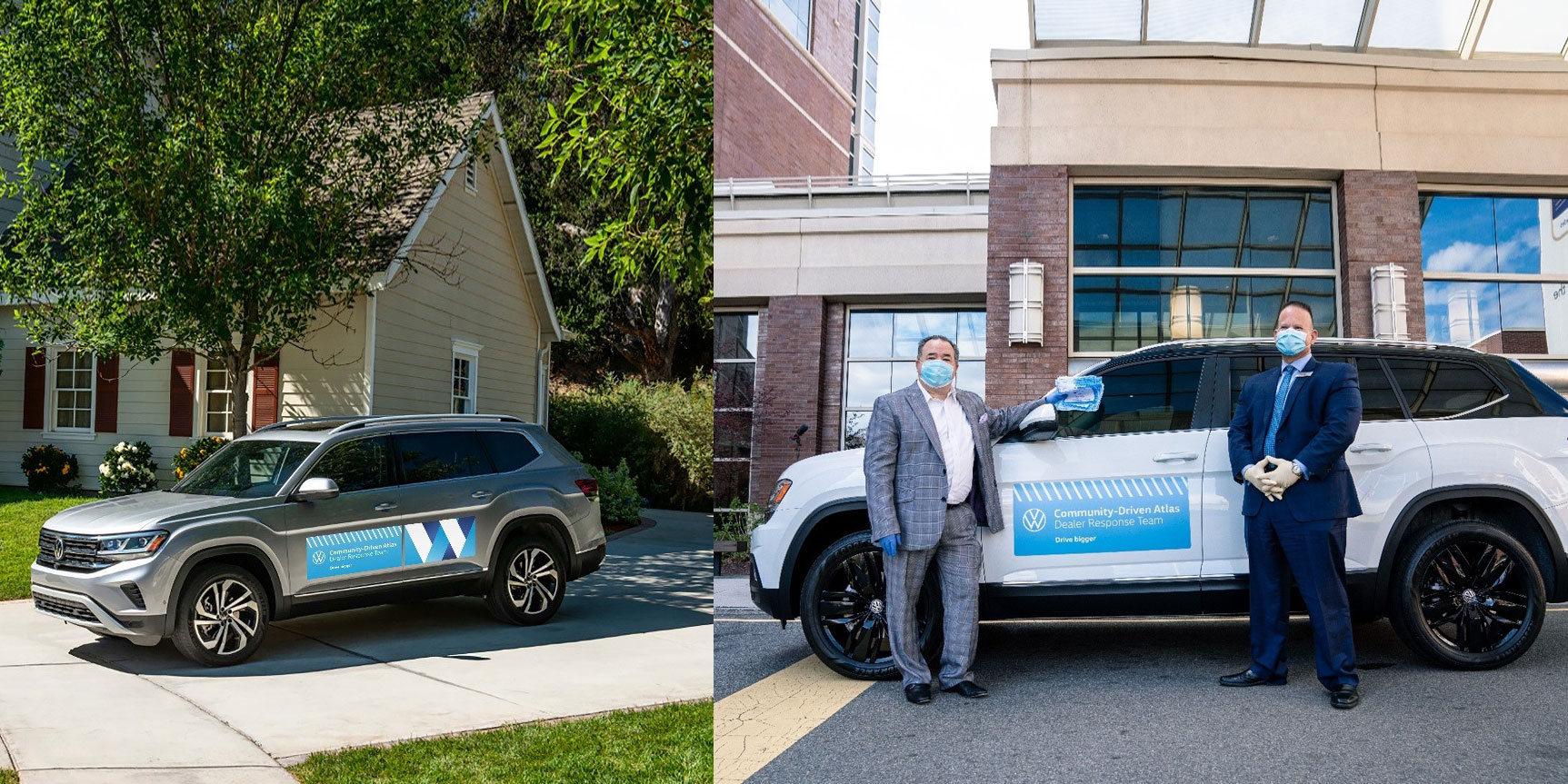 Volkswagen and its network of dealerships are supporting local communities during COVID-19 through the Community-Driven Atlas Initiative, a program that allows dealerships the ability to re-purpose their service loaner vehicles for community service endeavors like delivering food, masks and other essential goods to individuals in need.
"We have been involved with a number of organizations in our communities for years now," said Kristen Walker, marketing director for Coastal Volkswagen. "But we've seen the increased demand on services and the complications in delivering these services to residents in the last few months. We appreciate the opportunity to take advantage of the Volkswagen programs because it has allowed us to be useful in ways we might not have been able to before."
Since April, many dealers across the U.S. have participated in the program and are helping their local communities in unique and inspiring ways. Some are delivering community meals, while others are providing commuter transportation, but in the end, all are choosing to "Drive Bigger" and help out their neighbors during this critical time of need.
Check out just a few of the ways Volkswagen dealers are stepping up for their community:
Coastal Volkswagen: Located in Hanover, Mass., Coastal Volkswagen deployed its fleet of Volkswagen Atlas vehicles to several nonprofits in their area including Wellspring Multiservice Center, a nonprofit that recently expanded its food pantry services to deliver food to families that rely on schools to provide their children with free or low-cost meals. "When it became clear that schools were going to stay closed, we knew we could help," said Walker.
Eager to assist, five employees from Coastal Volkswagen stepped up and volunteered to make deliveries for the organization and serve approximately 20 families each week.
Cherry Hill Volkswagen: As part of the program, Cherry Hill Volkswagen donated and delivered 70 pizzas and 100 cheesesteaks to a local hospital in Camden, N.J., which fed 170 people in the medical center's COVID response department. Thanks to the spacious interior of the Atlas, it was an easy process. "The car is so versatile," said Amanda DiMattia, CEO of Cherry Hill Imports Auto Group. "The Atlas can handle a car full of people or a car full of food, in this case. It was awesome for this opportunity."
DiMattia was excited about the Drive Bigger campaign when it launched last year. While the last few months have put new pressures on everyone, it has also been an incredible opportunity to put the company's ethos into practice. "We always want to do something more and that is what Drive Bigger is all about. I am excited to see us continue this momentum," she said.
Jack Daniels Volkswagen: Colleagues at Jack Daniels Volkswagen in Fair Lawn, N.J. were excited to give back to their local community. General Manager Don Chittum and Chief Operating Officer John Nunley used an Atlas to make two donation drops to essential workers this spring.
"It was enlightening to see what everyone is doing during this time," said Chittum. "Enlightening really is a great word for it. We are in a bubble at the dealership, so it was good to step away and see what people are going through. It was very eye-opening."
The Jack Daniels dealership team delivered weighted blankets, certificates for car cleaning and respirator masks to a local hospital. Chittum, Nunley and other volunteers were able to spend the day with the center's nurses and doctors, who thanked them for the donations and shared their perspectives on the pandemic.
Additionally, Jack Daniels Volkswagen delivered lunch to 140 police and correction officers at the local sheriff's department. "Giving back to the community was a great feeling," said Chittum.