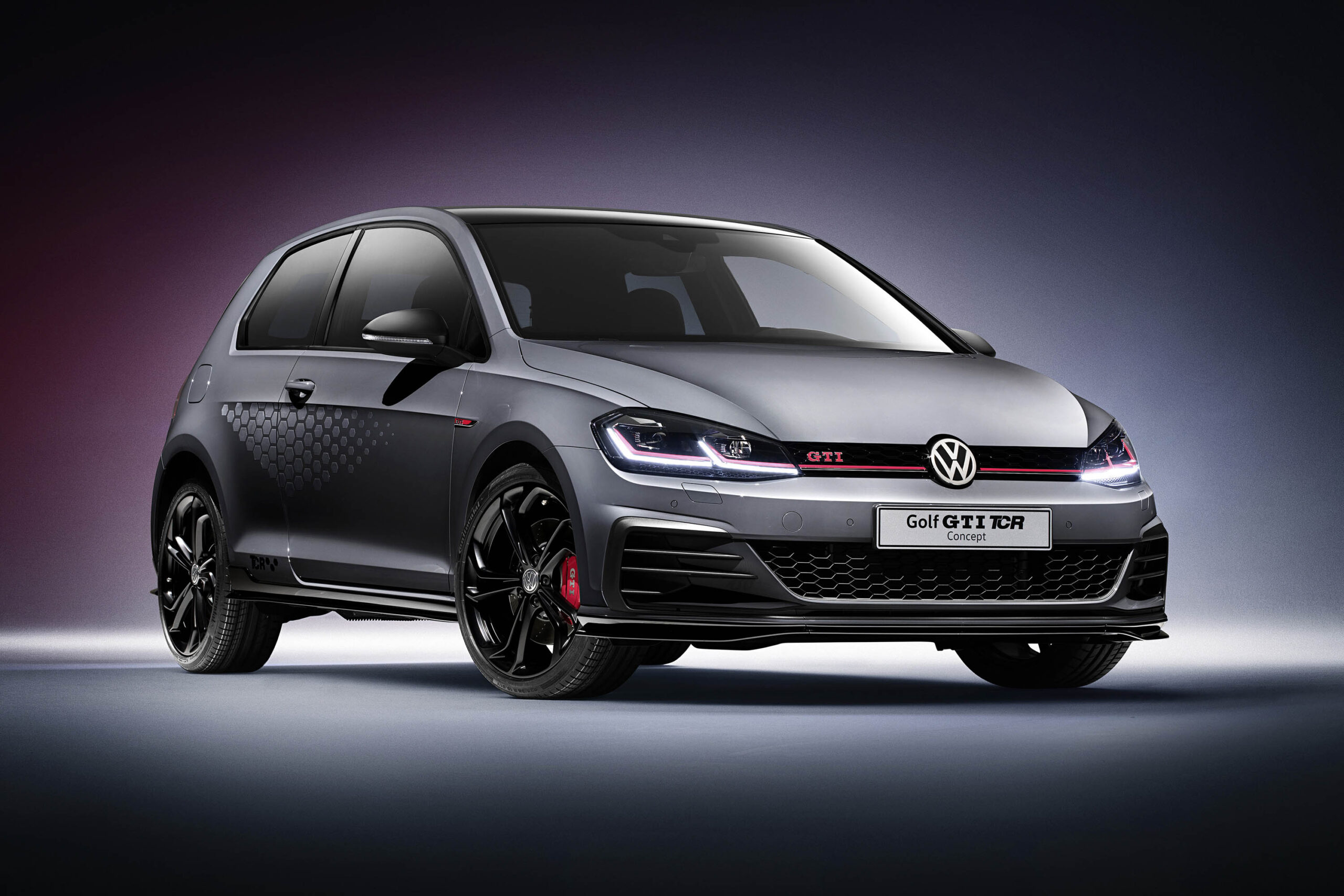 THE NEAR-PRODUCTION-READY, ROADGOING VERSION OF THE TCR RACECAR DELIVERS 286 HORSEPOWER AND A TOP SPEED OF 164 MPH
Wolfsburg / Reifnitz, May 2018 — At this year's GTI Meeting at Wörthersee from May 9-12, Volkswagen will present a new milestone in the history of the cult compact car: the Golf GTI TCR Concept, which has a top speed of 164 mph and is almost ready for production. The special edition is a roadgoing version of the racing car with the same name.
Unveiling the GTI TCR concept, Jürgen Stackmann, Sales, Board of Management of Volkswagen AG, said: "Atthe moment, the Golf GTI TCR Concept – an athlete derived from racing – is a study. But at the end of the year,we want to make this GTI vision come true."
The new top GTI is a compelling expression of design, power and performance. The 2.0-liter turbocharged engine of the new Golf GTI TCR delivers 290 PS/286 horsepower, with maximum torque of 273 pound-feet produced from 1,600 rpm. Power is transmitted to the front wheels via a standard 7-speed DSG® dual-clutch automatic transmission and a limited-slip differential. The factory-set maximum speed is 155 mph, but this can be increased to 164 mph by opting to remove the electronic top-speed limiter.
Numerous individual features add to the Golf GTI TCR's sporty character. The new top Golf GTI model has 18-inch "Belvedere" forged aluminum-alloy wheels as standard, with newly designed 19-inch alloys as an option. Lurking behind the large aluminum-alloy wheels are perforated brake discs together with special calipers and pads that are designed to slow the production vehicle just as effortlessly as the race car.
If desired, particularly enthusiastic drivers can order a package that pushes the performance of the Golf GTI TCR even higher: In addition to removing the speed limiter and the availability of 19-inch wheels, it includes a sports chassis setting and DCC® adaptive damping. It allows the electronically adjustable dampers to be adjusted at the touch of a button and provides the option to choose between sporty, comfort or normal chassis settings.
Externally, the most powerful GTI yet has a new front bumper that feeds air into the vehicle's two additionalradiators and also features a sharply contoured front splitter. A new side skirt extension is continued through the rear of the car, joining the distinctively designed diffuser and the integrated exhaust tailpipes. TCR lettering above the side skirts is also featured, along with optional GTI-style honeycomb trim for the side of the vehicle.
Inside, the sport seats have unique microfiber and fabric covers, with a red central motif that is repeated with the contrast stitching on the steering wheel and shifter. When the doors are opened, the TCR logo is projected on to the ground and the stainless steel rocker trim has a red illuminated element.