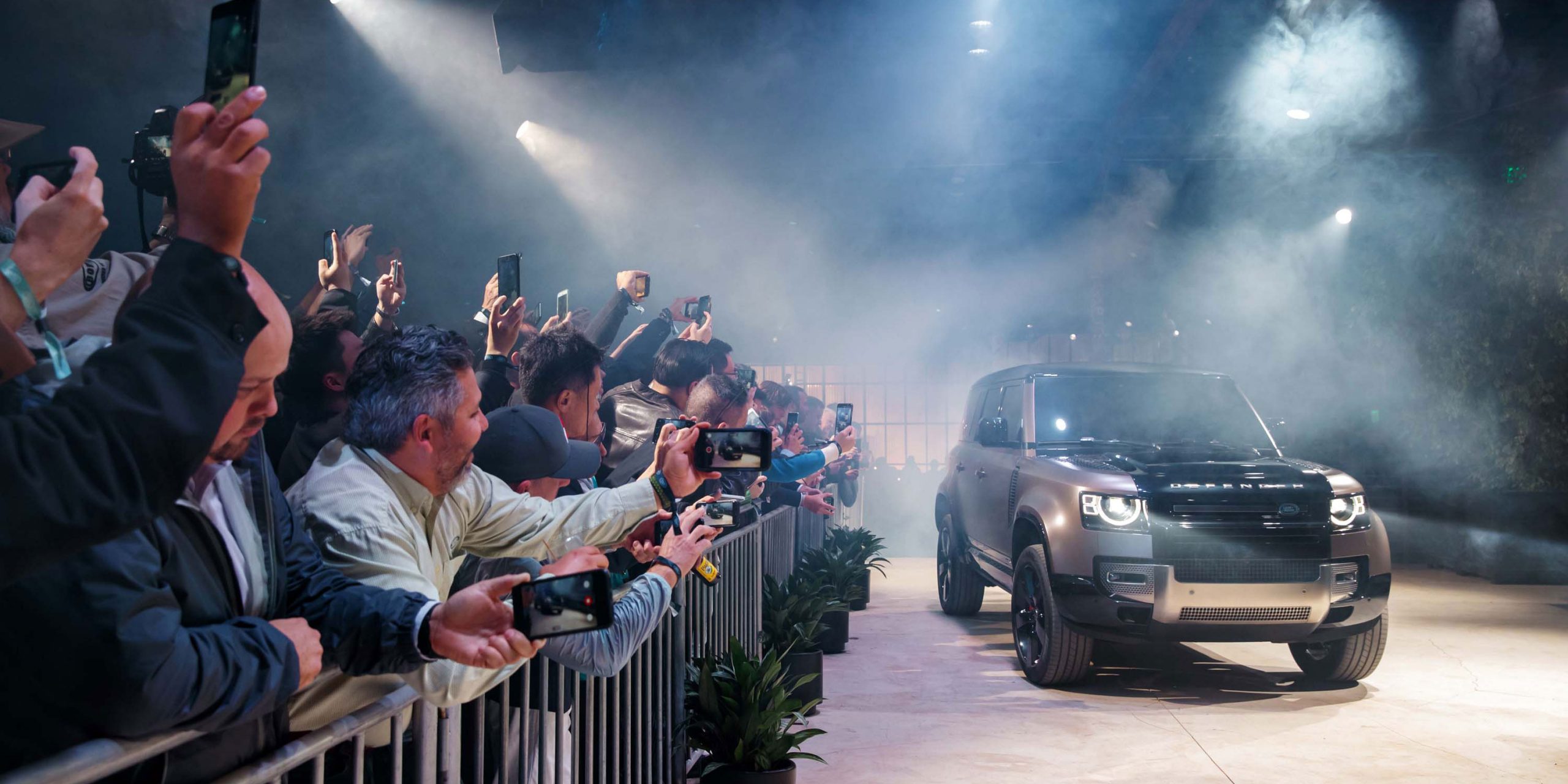 Evening celebration featured a special performance by Grammy Award-winning artist and Defender enthusiast John Mayer, announcing an upcoming partnership with Land Rover and The Atlantic
Mayer performed hits "New Light," "Carry Me Away" and "Waiting on the World to Change" to a packed house
Former Olympic skier Lindsey Vonn; Olympic gold medalist hockey player Meghan Duggan; Olympic snowboarder Chris Corning; and Marcus Wainwright, CEO of fashion brand Rag & Bone were in attendance to celebrate the U.S. debut of the New Land Rover Defender
The custom Defender filmed in the upcoming James Bond movie "No Time to Die," set to release in April 2020, made its global debut at the event
4xFAR live music festival in January will combine award-winning musical performances with adventure experiences, offering consumers the first opportunity to experience the New Defender
The New Defender is an icon reimagined for the 21st century and designed for personalization with four distinct Accessory Packs and the widest range of individual accessories ever offered by the Land Rover brand
The Defender 110 will be available in Spring 2020 priced from $49,9001 in the U.S., while the Defender 90 First Edition will be available in Summer 2020 priced from $65,1001. The full range of Defender 90 models will be available in Fall 2020, priced in the mid $40,000s
(LOS ANGELES) – November 21, 2019 – Tuesday evening, at a preview of the 2019 Los Angeles Auto Show, Land Rover revealed the New 2020 Land Rover Defender for the first time in North America. The event was highlighted by a special performance by Grammy Award-winning artist and Defender owner and enthusiast, John Mayer, who performed top hits including "New Light," "Carry Me Away" and "Waiting on the World to Change."
Mayer's performance to a packed house at Rolling Greens Nursery offered guests a sneak peek into a new partnership with Land Rover and The Atlantic. Kicking off in 2020, the partnership will focus on the spirit of exploration, following John Mayer through the country's National Parks.
Also in attendance to celebrate the new Land Rover Defender making its North American debut were Land Rover ambassadors and brand enthusiasts including former Olympic skier Lindsey Vonn; Olympic gold medalist hockey player Meghan Duggan; Olympic snowboarder Chris Corning and Marcus Wainwright, CEO of fashion brand Rag & Bone. Celebrity guests included television personality and actor Wilmer Valderrama, actor Max Greenfield and UK singer-songwriter Pixie Lott.
"The event kicked off our strategy to bring the New Defender to market in the U.S., through partnerships and events, which are designed to appeal to a broader customer demographic, while also recognizing and celebrating our long-standing brand loyalists," said Kim McCullough, Vice President, Marketing, Jaguar Land Rover North America.
The event kicked off the brand's unique strategy to bring the New Defender to market in the U.S., showcasing partnerships, events and a unique go-to-market strategy designed to appeal to a broader customer demographic that recognizes long-standing brand loyalists while also attracting new customers to the Defender nameplate.
The event offered guests a number of interactive experiences including 4xFAR Karaoke in anticipation of the upcoming 4xFAR festival which will combine award-winning musical performances with lifestyle, culinary and adventure experiences. The 4xFAR festival will be the first opportunity for consumers to experience the New Defender and will take place January 18-19, 2020 in Southern California's Coachella Valley.
4xFAR will feature an eclectic and diverse forward-thinking music lineup that blurs genre lines, led by Grammy-winning artists Anderson .Paak & The Free Nationals along with a Mark Ronson & Q-Tip DJ set, as well as two-time Grammy nominated live electronic duo Sofi Tukker. The festival will include an adventure area created with partner Outside, as well as intimate athlete and ambassador programs from Land Rover partners including professional volleyball player Gabby Reece and famed big-wave surfer Laird Hamilton, the United States Equestrian Federation, Former Olympic Skier Lindsay Vonn and U.S. Ski & Snowboard.
The weekend will also feature curated art and design activations, interactive photo moments, VIP amenities and a 4xFAR marketplace which will offer an array of exclusive branded and curated goods and apparel. In a nod to the past, the weekend event will also include special displays of heritage vehicles from the brand's storied 71-year history.
The custom Defender from the upcoming Bond film, "No Time to Die," came straight from the set — dents, scratches and all – to make its global debut at Tuesday evening's event. "No Time to Die" is planned for release in April 2020 and is the first movie to feature the New Defender.
The event also featured the new LEGO Technic Land Rover Defender, which was being assembled by LEGO Master Builder Chris Steininger. The 2,573-piece model combines the boundless creativity of LEGO and the instantly recognizable silhouette and unrivalled capability of the New Defender.
Since 2009, Land Rover has been on a transformational journey with new products and expansion of the Range Rover and Discovery families, resulting in U.S. sales growing from 26,000 units in 2009 to over 92,000 units in 2018. The previous generation model of the Defender ceased global production in 2016 and has been absent from the U.S. market for more than 20 years; last being offered for the 1997 model year.
The New Defender will be available in 2020 in '110' and '90' body styles. The Defender 110 will be available in Spring 2020 priced from $49,9001 in the U.S., while the Defender 90 First Edition will be available in Summer 2020 priced from $65,1001. The full range of Defender 90 models will be available in Fall 2020, priced from the mid $40,000s.