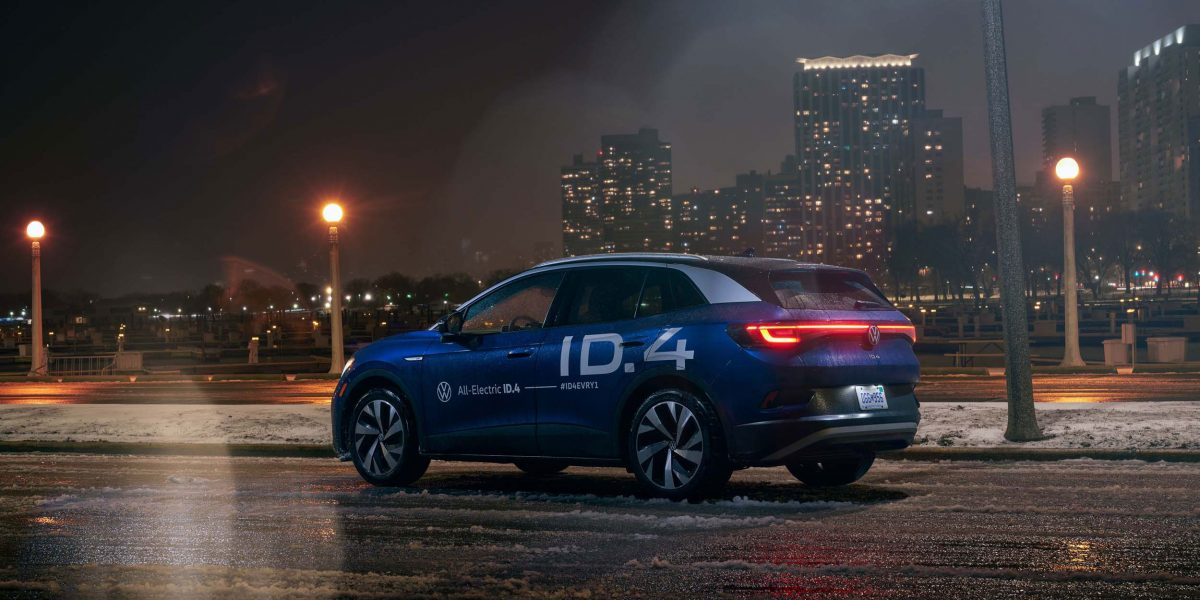 6,700-mile-plus trip started in NYC mid-March and finished in Sacramento on Tuesday, March 30
Drive team crossed 19 States plus the nation's capital in a variety of weather conditions in effort to show drivability of VW ID.4
All-electric compact SUV deliveries began last month
Herndon, VA — Volkswagen of America completed a drive across the U.S. last week with the all-electric Volkswagen ID.4 EV. Starting in New York City mid-March, the small team crossed the States on a predominantly southern route, wrapping up the drive on schedule in 18 days in Sacramento, California.
"We proved exactly what we set out to do with this drive, which was to show that with a little planning, covering long distances in an EV can be easy," said Dustin Krause, Director, e-Mobility, Volkswagen of America. "We met so many people on the road and were able to show off the ID.4 to the U.S., just as deliveries are starting to happen at dealerships. The ID.4 performed flawlessly and we're hoping this trip reiterates that electric vehicles and EV charging networks are ready for the masses."
The route included stops in Philadelphia, Washington, D.C., Cleveland, Chicago, Nashville, Atlanta, Savannah, Orlando, New Orleans, Dallas, Austin, Marfa, El Paso, Tucson, Phoenix, Joshua Tree, LA, San Jose, San Francisco and Sacramento, among other cities. The vehicle was charged at 32 Electrify America charging stations, among a few other opportunities that included overnight charging at selected hotels.
The small team navigated more than 6,700 miles and created a daily vlog series to show highlights from each day, viewable on https://www.youtube.com/VolkswagenUSANews. A short documentary showing a broader look at the trip will launch in the coming weeks as well.
Electrify America is the nation's largest open DC fast charging network with more than 560 charging stations and more than 2,400 DC fast chargers, including two cross-country routes to take electric vehicle drivers from Washington, D.C. to LA and Jacksonville to San Diego. To help meet current and future demand, Electrify America continues to expand rapidly, with plans to install or have under development approximately 800 total charging stations with about 3,500 DC fast chargers by December 2021.
The ID.4 is Volkswagen's first all-electric SUV and the brand's first electric world car. It offers sporty yet comfortable driving, a spacious interior and cutting-edge controls, displays, infotainment and assist systems. The vehicle is currently offered in the U.S. with an 82kWh (gross) battery and a rear-mounted AC permanent-magnet synchronous motor with 201 horsepower and 229 pound-feet of torque. The EPA-estimated range for the ID.4 Pro S and 1st Edition models is 250 miles.
The ID.4 offer structure is simple—four trims and one package. The entry-level Pro model is well equipped, with features typically found on higher trims baked in for added value. Pricing starts at an MSRP of $39,995, and offers a potential Federal tax credit of up to $7,500. Starting later in 2021, the all-wheel-drive ID.4 will be available with an MSRP of $43,675. Vehicles are now beginning to arrive into dealer showrooms. Customers can also start the reservation process in advance at www.vw.com with a fully refundable $100 initial reservation fee plus a subsequent $400 vehicle deposit that is required to complete the reservation process.