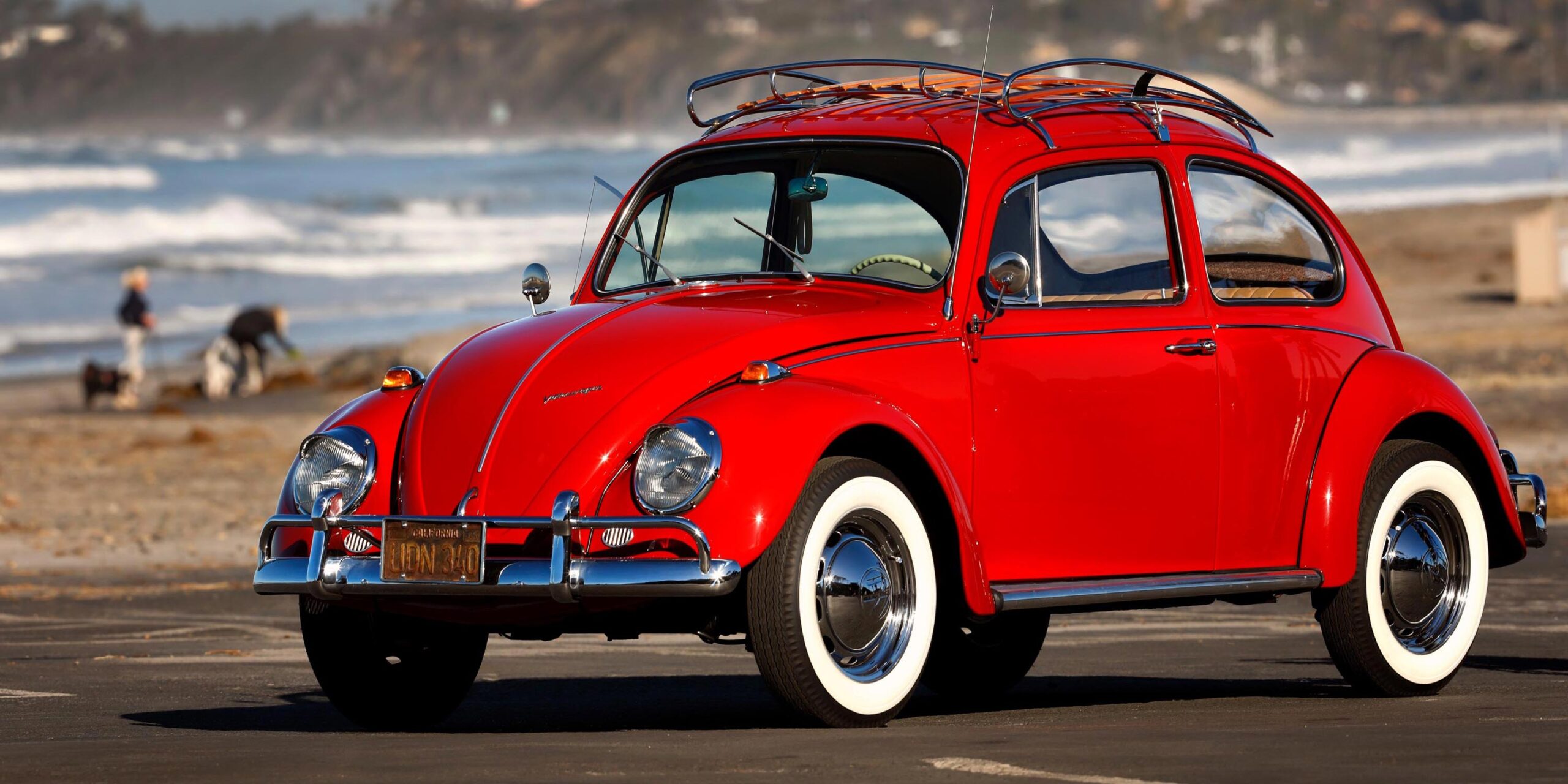 VW BEETLE OWNER OF 51 YEARS REUNITED WITH 'ANNIE' AFTER ONCE-IN-A-LIFETIME FACTORY RESTORATION – ELEVEN-MONTH PROJECT WITH PUEBLA TEAM MEMBERS CELEBRATES A DEDICATED CALIFORNIA BEETLE OWNER
Herndon, VA (December 7, 2018) – Kathleen Brooks bought her first Beetle in December 1966 in Riverside, Calif.—a red 1967 model she quickly named "Annie." Ever since, Annie has been Kathleen's daily transportation, racking up more than 350,000 miles over 51 years, or enough to circle the globe 14 times, and Kathleen, now 73, still drives Annie to work.
After hearing about Kathleen and Annie's special relationship last year, Volkswagen's North American Region undertook a unusual project—offering to restore Annie at the North American home of the Beetle at the Puebla, Mexico, factory. Over the past 11 months, a team of some 60 Volkswagen employees and trainees reworked Annie back to factory-quality specs, with several custom touches that celebrate Kathleen's dedication. This week, Kathleen and Annie were reunited, and Kathleen met key members of the Volkswagen team that led the restoration.
"We often hear stories of dedicated Volkswagen owners, but there was something special about Kathleen and Annie that we felt we needed to honor," said Derrick Hatami, Executive Vice President, Sales and Marketing, Volkswagen of America, Inc. "The original Beetle launched our business in the United States. This isn't just a Beetle, it's a member of her family, and after all the time our employees have spent with this special vehicle, we feel Annie is a part of our family as well."
Brooks works with breast-cancer patients and survivors to provide comfort and cosmetic care during treatment and recovery. A three-time breast cancer survivor herself, Brooks says for over five decades Annie was a constant conversation starter with Beetle fans and owners, but also "always there for me." "I've said many times she and I are so much alike because she's old, she's faded, she's dinged, she's dented, she's rusted, but you know what? She keeps running," says Brooks with a laugh. "And as long as I take as good care of her as I can, she's going to continue to run."
Even with Brooks' best efforts, Annie had several needs when her restoration began in Puebla early this year, from a floor pan rusted through to the ground in spots to suspension, transmission and electrical challenges. Over 11 months, the Puebla team replaced roughly 40 percent of Annie's parts and restored 357 original pieces, down to recreating the stickers that Brooks had added to the body and windows over the years. To properly restore her faded red paint, the team matched the original shade from the inside of the glovebox, sandblasted the body, repaired with a mix of period-correct and updated parts, and then reassembled.
Several parts of the vehicle were restored with better than their original factory parts, from the disc brakes that were an upgrade on later Beetles produced in Mexico to the AM/FM/Bluetooth stereo designed to mimic the look and feel of original Beetle radios. The wiring was completely redone; the transmission rebuilt and suspension upgraded. The engine was completely disassembled, cleaned, updated and rebuilt. Even the seats received a special touch, with "Kathleen" and "Annie" embroidered in a classic VW font over new leather. And to tie the car to the modern era, the car's toolkit and jack was painted in deep sea teal metallic, the color of the 2018 Beetle Coast edition.
The goal, says project manager and mechatronics engineer Augusto Zamudio, was not to create a museum quality Beetle, but to bring Annie back to a state where Kathleen could drive and enjoy her for many more years to come.
"When Annie arrived, our team members quickly understood the connection Kathleen had with her car and embraced this project wholeheartedly," said Steffen Reiche, CEO of Volkswagen of Mexico. "Restoring this car posed a number of challenges, but also provided a demonstration of the dedication we put into every Volkswagen we build."
When Brooks parted with Annie, she wrote a heartfelt note to the Puebla team members thanking them for their efforts and asking them to take care of her special car. Zamudio says the feeling is mutual – and the team wrote Brooks back a note of their own.
"This was a labor of love for all of us. It was emotional to see Annie go after all the time we have spent working on her, but we are happy Kathleen and her can be reunited."