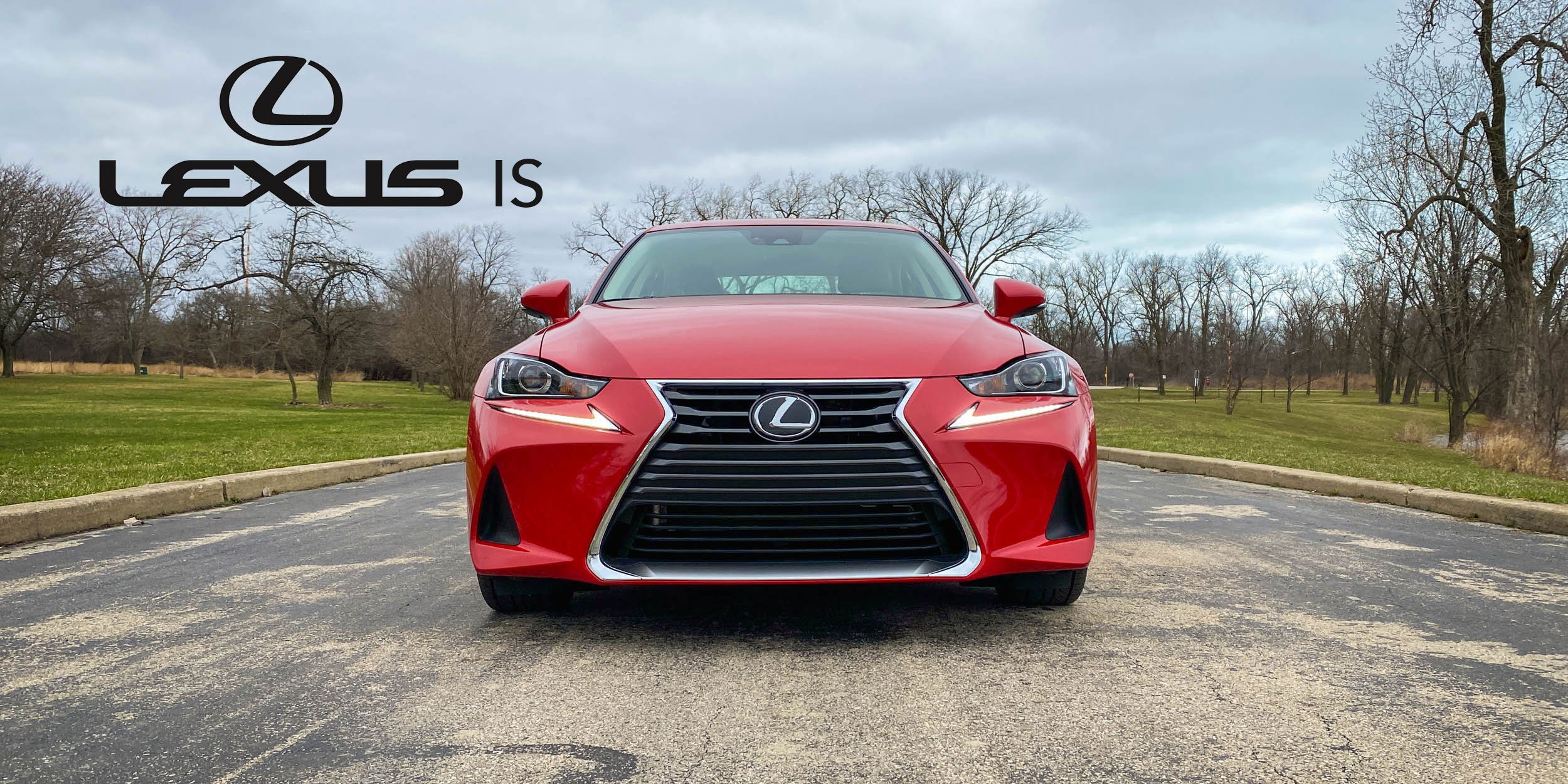 2020 Lexus IS 300: Still a solid sedan, but time for an update
Words and photos by Jill Ciminillo
The Lexus IS has always been my favorite car in the lux-level Japanese automaker's lineup. It's small enough to be fun and nimble, but large enough to fit average-sized rear-seat passengers and real cargo in the trunk.
I still like it for 2020, but it doesn't get any significant updates for this model year. So, the Lexus IS is getting a little long in the tooth with older Lexus technologies, dated interior trimmings and an alpha numeric nomenclature that doesn't line up.
300 vs 350 doesn't make sense
The IS has two engine options that no longer match the numeric portion of the badging, and that makes me a little crazy.
The base engine is a 2.0-liter, 4-cylinder and only appears in the IS 300 rear-wheel-drive model. As soon as you upgrade to all-wheel drive, you get a 3.5-liter V-6 engine – but it's still an IS 300. Then, the IS 350 RWD/AWD gets the same 3.5-liter V-6 but it is retuned to add more horsepower.
I hate it when things don't make sense. This doesn't make sense. Why not call the base model IS 200 and give both the RWD and AWD models the 2.0-liter engine? You know, kind of like Lexus used to in the second-generation vehicles.
That would make sense.
Right-sized power
Our test vehicle was the IS 300 AWD, so it delivered 260 horsepower and 236 pound-feet of torque. If you're curious, that's 19 more horsepower and 22 less pound-feet of torque than the base engine, and that's 51 horsepower and 41 pound-feet of torque less than what you'll get in the IS 350.
Nomenclature weirdness aside, the IS 300 AWD is a nice power package.
Because of the petite size of the IS, it didn't feel like it lacked the gusto to get you going, but I wouldn't call it effortless or fast. It's merely right-sized for this vehicle and makes your drive more comfortable than sporty.
Then again, I remember the days of the IS F (2008 – 2014) and its 5.0-liter V-8 engine. That was fast and gleefully fun to drive.
Nimbleness and comfort
My test week sadly lacked fun roads, and I spent my time in the Lexus IS in the mundanity of quarantine life. I had a couple of highway treks to go grocery shopping and volunteer, and I even took one long drive to the northern suburbs of Chicago so I could drive along the water heading back south. But that was about it.
Thus, while I had decent seat time, I couldn't tell you how it does on twisty bits or during aggressive highway driving – in the time of quarantine, aggressive highway driving is a bad idea lest someone gets into or causes an accident. Our hospitals can't handle that right now.
So, I settled for sedate. The IS is a competent and quiet highway cruiser, and it's comfortable – at least for a petite driver – for long periods of time behind the wheel.
I thought everything was well placed and easy to reach, but I couldn't help wondering how someone bigger and taller would feel behind the wheel. It was perfect for me, contoured for me. And I'm only about 5-feet-tall.
For anyone taller than average, I think the cockpit might be a bit claustrophobic.
Time for a tech update
In terms of technology, the Lexus IS is a tad outdated, and it lacks the Apple CarPlay/Android Auto connectivity more recently refreshed models – like the Lexus RX —  have received. One bonus to using older tech: The dreaded trackpad we hated in the Lexus NX 300 F Sport hasn't reared its ugly head yet.
Instead, the IS makes use of the "mouse" controller we last saw in the Lexus GS 350 F Sport. While the mouse is certainly clumsy, it's vastly superior to the trackpad, which is an exercise in imprecise frustration. Ironically, the mouse is an optional feature called "Remote Touch" and is included with the navigation or premium audio packages.
I've never seen or used the standard center console controller, but in pictures, it looks way easier to use than Remote Touch.
The standard Lexus Safety System+ is also out of date. The 2020 IS does have the important basics with pre-collision alert system, high-speed adaptive cruise control, lane departure alert with steer assist and intelligent high beams. But Lexus is now on a 2.0 version of this system, which adds low-light and cyclist detection, all-speed adaptive cruise control, road sign assist and lane trace assist.
For those who are safety conscious, it's worth noting that the Lexus IS dropped off the Insurance Institute for Highway Safety Top Safety Pick list back in 2018 because the agency's criteria got more strict and the IS tech didn't change.
By design
Thus far I feel like I'm passive-aggressively pounding on the Lexus IS tester – and I don't mean to do that. I really did like it.
The flashy no-cost Redline paint was a breath of fresh air after a spate of gray-ish test vehicles I've had recently. The exterior design is sharp and looks contemporary to the other models in the Lexus lineup – even though it's been 7 years since the IS has been redesigned.
The interior is classically designed, which means it has stood the test of time. The test vehicle had navigation, which included an up-level 10.3-inch screen. The center stack is simple and intuitive with hard buttons for the HVAC controls.
I like the Lexus signature analog clock on the center stack, and the behind-the-wheel gauges are a nice mix of analog and digital.
I'm particularly fond of the reverse stitching on the steering wheel, dash, center stack arm rest and gear shift. It looks elegant and upscale.
The one design element that shows some age, however, is the brushed plastic surrounding the gearshift and HVAC controls.
What's on tap for the future?
While I generally like the drivability and comfort of the 2020 Lexus IS 300, it is definitely overdue for an update. It was all-new for 2013 and received a refresh for 2016.
If rumors are true, however, the next generation could arrive for the 2021 or 2022 model year.
Car and Driver recently posted a series about vehicles worth waiting for, and in the write up on the next-gen Mazda6, there was a nugget about the next-generation IS/RC. It's rumored that Toyota's partnership with Mazda could bring an inline 6-cylinder engine to the duo.
Now, wouldn't that bring sexy back?